Marathon Petroleum Corp. (NYSE:MPC) broke out on 5 January at 42.09 and confirmed on 14 April at 54.26. Thus, garnering a LTN Cash Pile Buy signal with at 1yr price target at 75.06/share.
The stock is currently trading at 54.26 with in its 52 wk trading range of 22.75 – 59.93. The consensus price target is at 62.33.
The Key support is at 53.99 and the resistance is light through 62.43. A Key technical indicator turned Very Bullish last Friday.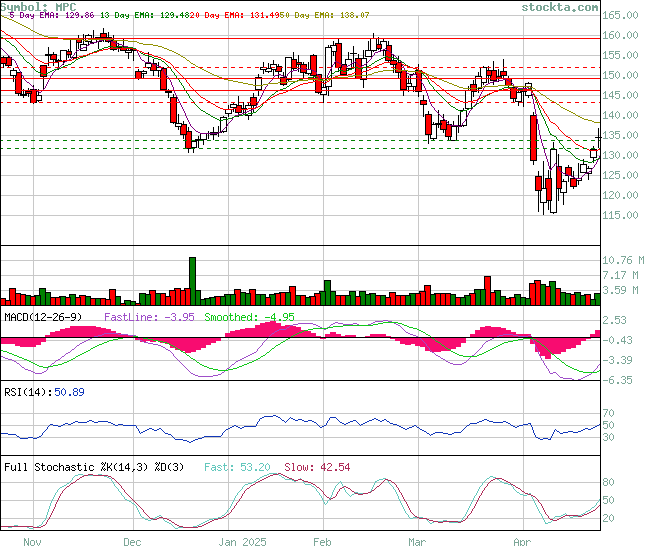 Marathon Petroleum Corporation, together with its subsidiaries, engages in refining, marketing, retailing, and transporting petroleum products primarily in the United States.
It operates in 2 segments: Refining & Marketing, and Midstream.
The Refining & Marketing segment refines Crude Oil and other feedstocks at its refineries in the Gulf Coast, Mid-Continent, and West Coast regions of the United States; and purchases refined products and ethanol for resale. Its refined products include transportation fuels, such as reformulated gasolines and blend-grade gasolines; heavy fuel oil; and asphalt. This segment also manufactures aromatics, propane, propylene, and sulfur. It sells refined products to wholesale marketing customers domestically and internationally, buyers on the spot market, and independent entrepreneurs who operate primarily Marathon branded outlets; and transportation fuels through long-term fuel supply contracts to direct dealer locations, primarily under the ARCO brand.
The Midstream segment transports, stores, distributes, and markets crude oil and refined products through refining logistics assets, pipelines, terminals, towboats, and barges; gathers, processes, and transports Nat Gas; and gathers, transports, fractionates, stores, and markets natural gas liquids. The company also sell refined products for export to international customers.
As of 31 December 2020, it operated 7,090 branded outlets in 35 states, the District of Columbia, and Mexico through independent entrepreneurs. The company also operates Crude Oil and refined product pipelines.
Marathon Petroleum Corporation was founded in Y 1887 and is HQ'd in Findlay, Ohio.
Have a healthy week, Keep the Faith!