Kratos Defense and Security Solutions Inc. (NASDAQ:KTOS) broke out on 23 November at 23.81 and confirmed on 5 January at 26.91, garnering an HeffX-LTN buy rating with a target price at 37.00/share.
There is Strong support at 19.79 and light resistance at 29.11.
Our Key technical indicators are all turning Very Bullish in here.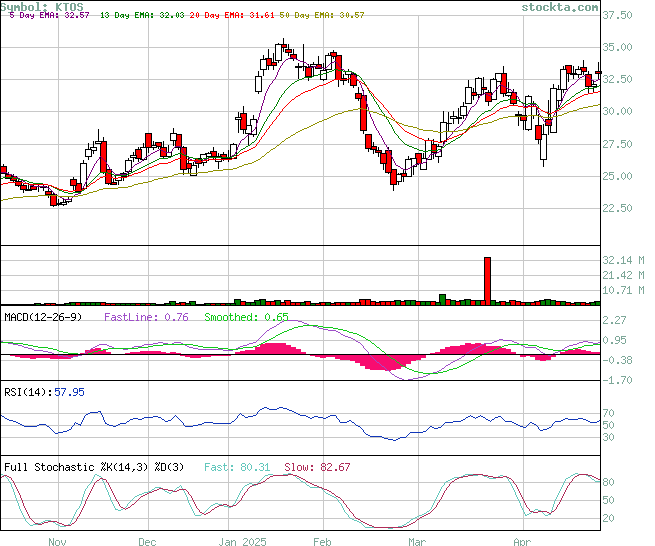 Kratos Defense & Security Solutions, Inc. provides mission critical products, solutions, and services in the United States and internationally.
The company operates in 2 segments, Kratos Government Solutions and Unmanned Systems.
The Kratos Government Solutions segment offers microwave electronic products; space, training, and cybersecurity products, C5ISR/modular systems; turbine technologies; and defense and rocket support services. It is also involved in engineering, developing, and testing of gas turbines, propulsion components, engines, and other systems for military and commercial applications, as well as focuses on development and production of jet engines for tactical weapon systems and jet unmanned aerial systems.
The Unmanned Systems segment provides unmanned aerial systems, and unmanned ground and seaborne systems.
The company serves the Department of Defense, intelligence agencies, and other national and homeland security related agencies; local, state, and foreign governments; and domestic and international commercial customers.
Kratos Defense & Security Solutions, Inc. was founded in Y 1994 and is HQ'd in San Diego, California.
Have a healthy day, Keep the Faith!
The following two tabs change content below.
Paul Ebeling
Paul A. Ebeling, a polymath, excels, in diverse fields of knowledge Including Pattern Recognition Analysis in Equities, Commodities and Foreign Exchange, and he is the author of "The Red Roadmaster's Technical Report on the US Major Market Indices, a highly regarded, weekly financial market commentary. He is a philosopher, issuing insights on a wide range of subjects to over a million cohorts. An international audience of opinion makers, business leaders, and global organizations recognize Ebeling as an expert.   
Latest posts by Paul Ebeling (see all)