UK FTSE 100 (.FTSE) BoE in Focus, Election Polls Highlight Commanding Conservative Lead
ollowing the largely weekly gain in 9-months for the FTSE 100, the index has seen a marginal pullback to be among the underperforming indices this week. A slight recovery in the Pound curbed further gains for the index as focus turns towards the UK general election.
Majority of opinion polls have shown the conservatives with a commanding lead ahead of the labour party, raising the possibility that Boris Johnson may gain a majority in parliament.However, we are of cognizant of the fact that polling data has been somewhat inaccurate in recent times (2015 and 2017 the most obvious examples) therefore the outcome is uncertain.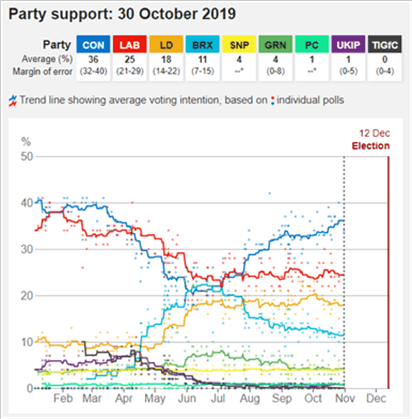 BBC
Looking ahead to next week, much of the focus will center around the Bank of England Monetary Policy report, which is likely to see the central bank reiterate a slightly dovish bias amid the ongoing political uncertainty, while there is also a risk of a more explicit dovish signal.
Technical Indicators
Overall, the bias in prices is: Sideways.
The projected upper bound is: 7,465.17.
The projected lower bound is: 7,146.63.
The projected closing price is: 7,305.90.
Candlesticks
A white body occurred (because prices closed higher than they opened).
During the past 10 bars, there have been 7 white candles and 3 black candles for a net of 4 white candles. During the past 50 bars, there have been 26 white candles and 24 black candles for a net of 2 white candles.
Momentum Indicators
Momentum is a general term used to describe the speed at which prices move over a given time period. Generally, changes in momentum tend to lead to changes in prices. This expert shows the current values of four popular momentum indicators.
Stochastic Oscillator
One method of interpreting the Stochastic Oscillator is looking for overbought areas (above 80) and oversold areas (below 20). The Stochastic Oscillator is 46.0113. This is not an overbought or oversold reading. The last signal was a sell 1 period(s) ago.
Relative Strength Index (RSI)
The RSI shows overbought (above 70) and oversold (below 30) areas. The current value of the RSI is 54.08. This is not a topping or bottoming area. A buy or sell signal is generated when the RSI moves out of an overbought/oversold area. The last signal was a buy 61 period(s) ago.
Commodity Channel Index (CCI)
The CCI shows overbought (above 100) and oversold (below -100) areas. The current value of the CCI is 46. This is not a topping or bottoming area. The last signal was a sell 2 period(s) ago.
MACD
The Moving Average Convergence/Divergence indicator (MACD) gives signals when it crosses its 9 period signal line. The last signal was a buy 8 period(s) ago.
Rex Takasugi – TD Profile
FTSE 100 INDEX closed up 54.040 at 7,302.420. Volume was 21% below average (neutral) and Bollinger Bands were 29% narrower than normal.
Open     High      Low     Close     Volume___

7,248.3807,307.1807,248.3807,302.420 582,076,480
Technical Outlook 

Short Term:          Neutral

Intermediate Term:   Bullish

Long Term:           Bullish
Moving Averages: 10-period     50-period     200-period

Close:          7,280.87       7,256.03       7,283.72

Volatility:           11             14             14

Volume:      722,024,192    764,966,720    724,393,408
Short-term traders should pay closer attention to buy/sell arrows while intermediate/long-term traders should place greater emphasis on the Bullish or Bearish trend reflected in the lower ribbon.
Summary
FTSE 100 INDEX is currently 0.3% above its 200-period moving average and is in an upward trend. Volatility is extremely low when compared to the average volatility over the last 10 periods. There is a good possibility that there will be an increase in volatility along with sharp price fluctuations in the near future. Our volume indicators reflect volume flowing into and out of .FTSE at a relatively equal pace (neutral). Our trend forecasting oscillators are currently bullish on .FTSE and have had this outlook for the last 3 periods.
The following two tabs change content below.
HEFFX has become one of Asia's leading financial services companies with interests in Publishing, Private Equity, Capital Markets, Mining, Retail, Transport and Agriculture that span every continent of the world. Our clearing partners have unprecedented experience in Equities, Options, Forex and Commodities brokering, banking, physical metals dealing, floor brokering and trading.