Investing like a savvy investor during a Bear market often yields better returns, but it means avoiding emotional-driven decisions.
The benchmark that Wall Street uses to determine a Bear market is when the stock market takes a 20 – 22% decline. But following the strategies of millionaires or successful hedge funds is often the Key to a successful investing strategy before and after it reaches that mark.
Unfortunately, today, tabloid and irresponsible journalism, is causing panic through unwise coverage that is dominating MSM, compounded by instant commentary and nonsense on social media. This prays on human fear and uninformed investors.
Daily event cancellations, containment of countries, regions or zones caused by the Coronavirus, rapid decline in equity values, treasury yields at record lows, Crude Oil prices dissolving into the $20's bbl range, caused by Russian and Saudi self-interest to crush a highly leveraged US shale oil industry.
At the same time, sensationalistic social media modify and magnify negative sentiment, thus creating uncertainty and fostering fear.
Markets always react poorly to fear and uncertainty.
The amount of time an individual has in the market is more important than timing in the market.
The worst investing missteps we see are when people try to outsmart the market by selling stocks during periods of uncertainty like Y 2008/2009 or December 2018.
When investors take their money out of the market, they have to be right twice: 1. when they sold their stocks and 2. when they start investing again in the market.
Maintaining perspective is a Key and how rich people keep their money, Bear markets do not last forever, but they usually last longer than a month.
Trust must be rebuilt in leaders and organizations, meaning back to basic actions and communications to rebuild that trust.
We are in tough times now, and, tough times call for tough actions.
1st Truth: Monday's dive of more than 2,000 pts, or 7.8%, on the DJIA, was the single largest point day drop, according the MSM. But it was not close to the largest percentage drop, a much more important statistic. That was on 19 October 1987, when the DJIA was cut by 23% in 1 day, that is the record.
2nd Lead by Example: Top C-Suite executives of every public company should purchase a significant number of shares of their companies' stock, relative to their compensation and announce it.
3rd: Companies with existing stock buyback programs should look for ways to maximize value in here.
4th Directors Step Up: Under SEC rules, directors can buy company stock equivalent to 33% of their annual cash compensation. If they do not, they should exit the board.
5th: Companies that can, should reaffirm guidance.
6th Communicate Sincerely: Executives must be visible and vocal with all constituents including employees, customers, investors, regulators, partners and suppliers, media and others about what is happening in the company, operational changes or actions in different geographic areas.
7th: Company boards should stretch, committing to current dividends and ongoing investments, partially in research and development.
8th Bring things into Perspective: The Coronavirus is spreading. It will continue for a while. But, so far 30 people have died from it in the US since January. That compares to 41 people murdered each month in Chicago during Y 2019 and thousands that die of opioid addiction annually. And, compares to more than 14,000 dead and 250,000 hospitalized during the 2019-2020 flu season, according to the Center for Disease Control (CDC). And about 121,500 people have been infected worldwide and 4,383 have died, according to a Reuters tally of government announcements.

All of the above will go a long way in restoring confidence in American financial markets and provide global leadership.
It is also time EU and Asian business and political leaders to step up and demonstrate this same leadership to calm market hysteria in this global economy, not like what we heard today from Germany's Angela Merkel and the WHO's Director General Tedros Adhanom Ghebreyesus
American history teaches us about financial crisis, in every case, US financial markets rallied and continued to grow, following every crisis without fail.
Do not sell American Markets short.
Wednesday, the major US stock market indexes finished at: DJIA -1653.30 at 23364.92, NAS Comp -486.22 at 7858.04, S&P 500 -170.79 at 2711.44
Volume: Trade on the NYSE came in at 1.8-B/shares exchanged
NAS Comp -11.4% YTD
S&P 500 -15.2% YTD
DJIA -17.5% YTD
Russell 2000 -24.2% YTD
HeffX-LTN's overall technical for the major US stock market indexes is Neutral to Bearish in here. The market is severly oversold.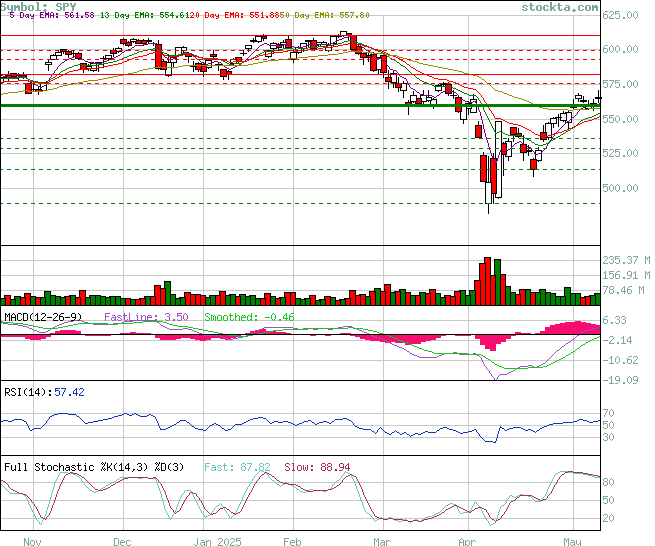 Looking ahead: Investors will receive the Producer Price Index for February and the weekly Initial and Continuing Claims report Thursday.
Stay tuned…