In that Winter dream, there you are huddled around an ice-sculpted table in an igloo-bar, seated comfortably on a fur-covered ice stool as you sip an  hand-crafted icy drink from frosty glass carved from ice, all while you trade stories with your friends or fellow travelers about the day's adventures in the SubZero outside.
The Big Q: Your kind of holiday?
The Big A: Then a stay in an ice hotel can make that dream a reality far away from any thoughts of global warming.
These are the world's 'Ice Palace' hotels:
Hotel de Glace & Snow Village, Québec City, Canada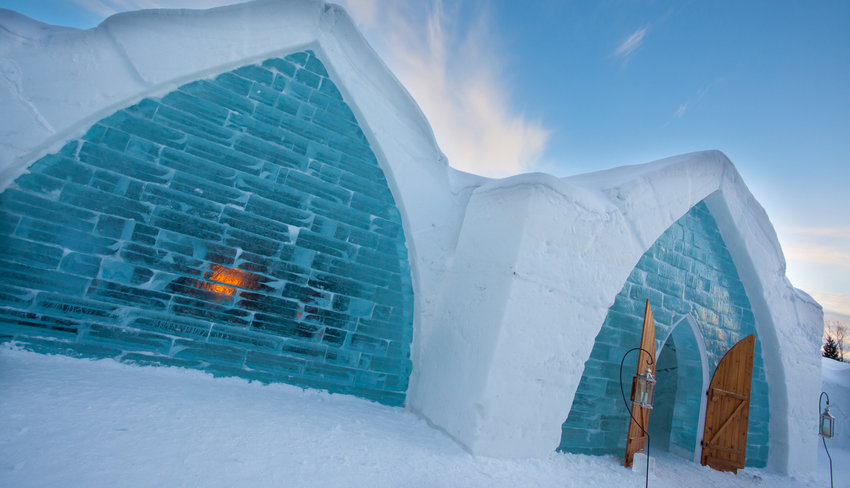 This French-Canadian city debuted North America's 1st ice hotel in Y 2011. The concept of Hotel de Glace is a total ice experience with everything sculpted from ice and snow.
Open for Québec City's coldest Winter months (January – March), this hotel offers 30 different ice-rooms, famed for elaborate ice sculptures, in which the temperature never exceeds 5 C (41 F); polar sleeping bags and thermal mattresses are provided.
The Snow Village keep guests inside with a 250-person capacity ice bar as well as an ice restaurant, complete with ice tables and ice chairs serving gourmet Nordic dishes.
Adults can cut loose during DJ hosted parties at the ice bar and the whole family can enjoy the weekly firework display. Need a night off from the cold? Then head to the "Ice-Breaker" room where you can watch a film or comedy show, of course, sans ice.
Hotel of Ice, Balea Lac, Romania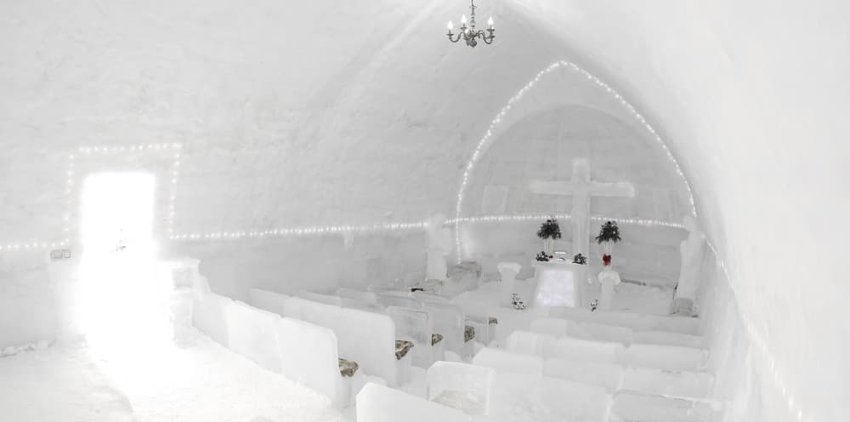 This  hotel is nestled in the Carpathian Mountains atop a glacier at 6,700 ft above sea level.
This is Romania's "newest" hotel as it's rebuilt every Winter with ice from the nearby Balea Lake.
The hotel's design follows an ever-changing theme, giving this hotel an intriguing appeal year after year.
Each of the 12 rooms are decked out with ice-sculpted beds, tables, shelves, couches and chairs, all draped in fur.
The temperature in the rooms fluctuate between -2 C to +2 C (28 F – 35 F). Enjoy creative cocktails at the bar and feast on holiday favorites in the intimate restaurant boasting a seasonal-inspired menu.
Guests can enjoy cold-weather activities such as snow-shoeing, skiing, sledding, and ice skating in this serene, snow-covered setting.
The neighboring ice church, complete with frosty pews, is open to everyone and also performs baptisms.
ICEHOTEL, Jukkasjarvi, Sweden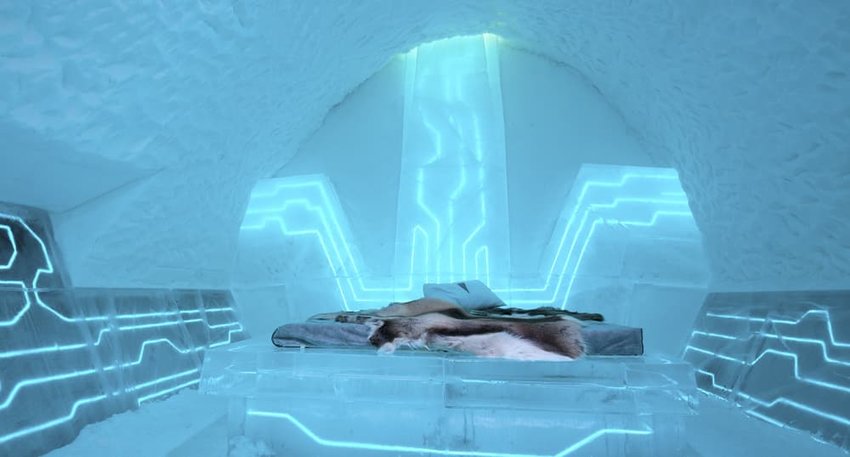 Artfully crafted and open year-round, ICEHOTEL is a wonder all it own.
Settled in a quiet, snow-clad forest 200 km north of the Arctic Circle, the hotel is rebuilt each year with a new theme and design.
As 1 of the few ice hotels that isopened year-round, the ICEHOTEL 365 serves as a permanent structure that is cooled by solar panels during the Summer months.
Watch the Northern Lights over the Torne River, from which the ice is harvested to construct the hotel every year. Take an ice-sculpting class, meet sled dogs or take a snowmobile tour.
Snow Castle, Kemi, Finland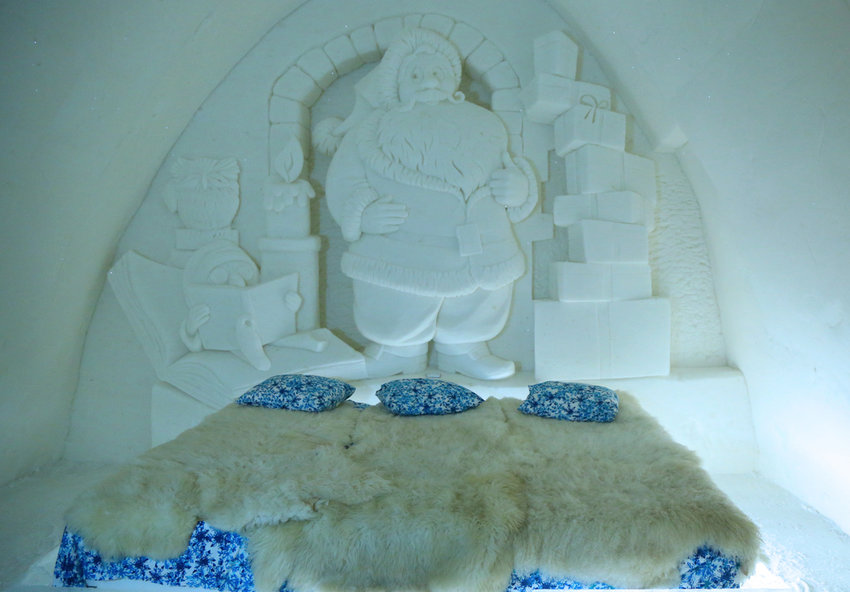 Looking for a sophisticated ice experience? Then Snow Castle may be it. 
The hosts at the snow castle make guests feel like royalty as they lead guests along the turret-lined entrance-way into a fairy-tale palace made solely from the frozen sea water from Bothnian Bay.
The castle, perched on a hill overlooking the bay, boasts 12-foot high walls and massive ice sculptures placed throughout the grounds by local artists.
The hotel also features an art gallery and a matrimonial ice chapel.
The rooms are really where this hotel's attention to details stand out; the walls are made to look like large granite bricks reminiscent of an ancient fortress and sculptures carved right into the wall dominate the superior rooms.
Breakfast is served in the heated castle lounge and the on-site restaurant and ice bar boast extravagant menus.
The city center of Kemi is just 500 meters away and Kalli Ski Center is just up the road.
Iglu-Dorf, Zugspitz, Germany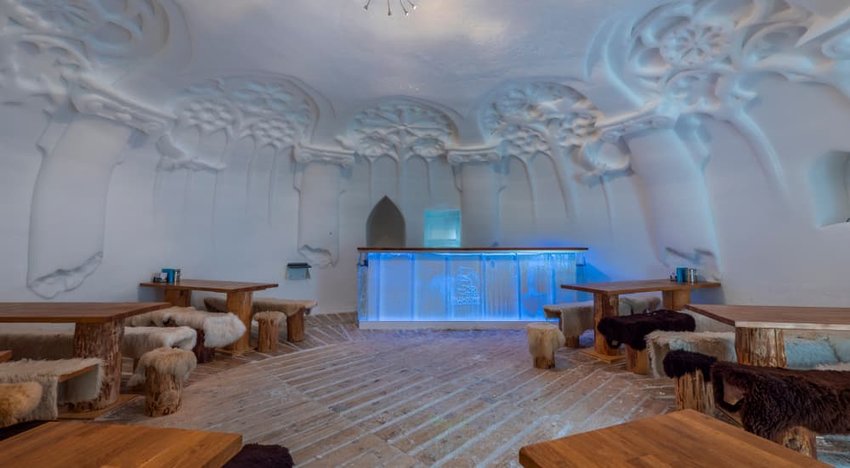 This hotel is the choice for families or a group of friends who love to ski and are up for an adventurous journey to reach the destination.
Set against the Zugspitze Glacier, this igloo village offers both family and romantic rooms, plus a bar and restaurant made entirely of ice.
Located in close proximity to one of the most popular ski destinations in Germany, the village is great for skiers looking for more adventure.
Eskimska Vas offers lots of entertaining Winter activities like snow sculpture construction, classic igloo construction, snowshoeing, Arctic Winter Games and much more. Try the open-air Jacuzzi buried in the snow to warm up after a long day of adventuring in the ice.
Burrrrr…
The following two tabs change content below.
HEFFX has become one of Asia's leading financial services companies with interests in Publishing, Private Equity, Capital Markets, Mining, Retail, Transport and Agriculture that span every continent of the world. Our clearing partners have unprecedented experience in Equities, Options, Forex and Commodities brokering, banking, physical metals dealing, floor brokering and trading.
Latest posts by HEFFX Australia (see all)