Tesla's (NASDAQ:TSLA) CEO, Elon Musk, Set Himself Up for a Fall
$TSLA, $F
Tesla (NASDAQ:TSLA) Chief Executive Officer Elon Musk says he can make 500,000 cars next year, wild, Yes?
That is a dramatic increase for the EV (electric-car) company, which made a little more than 76,000 in Y 2016. And might make about 90,000 this year.
The Key, he says is his new Model 3, a $35,000 sedan, about half the price of its current cars, scheduled to start deliveries sometime next year.
At his target, Musk would have to sell more vehicles than the BMW 3 Series and the Mercedes C class combined.
Automotive analyst say that is not in the cards, and as we all know that follow him, the brash hype inclined Mr.Musk has a history history of not ever making his declared deadlines, are they actually goals or just 'Ink".
The shares are roaring and trading at all time highs, Imagine, up start Tesla is trading at a higher valuation than industry giant Ford (NYSE:F) Nutz!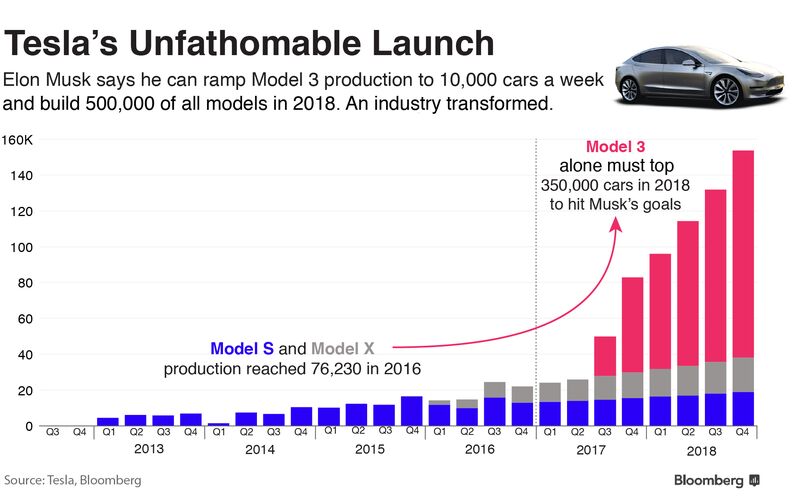 | | | | | | | | |
| --- | --- | --- | --- | --- | --- | --- | --- |
| Symbol | Last Trade | Date | Change | Open | High | Low | Volume |
| NASDAQ:TSLA | 301.7 | 4 April 2017 | 3.18 | 296.89 | 304 | 294.53 | 5,679,265 |
HeffX-LTN Analysis for TSLA:
Overall
Short
Intermediate
Long

Bullish (0.29)

Neutral (0.23)

Bullish (0.35)

Bullish (0.29)
Stay tuned…
The following two tabs change content below.
Paul Ebeling
Paul A. Ebeling, polymath, excels in diverse fields of knowledge. Pattern Recognition Analyst in Equities, Commodities and Foreign Exchange and author of "The Red Roadmaster's Technical Report" on the US Major Market Indices™, a highly regarded, weekly financial market letter, he is also a philosopher, issuing insights on a wide range of subjects to a following of over 250,000 cohorts. An international audience of opinion makers, business leaders, and global organizations recognizes Ebeling as an expert.
Latest posts by Paul Ebeling (see all)