Tesla (NASDAQ:TSLA) Misses Again as Cash Runs Out
$TSLA
Tesla fails to deliver again.
Tesla management says they are a Quarter away from production goals, they are really light years away if ever.
Last week, Tesla (NASDAQ:TSLA) pushed back a Key production target for its pivotal M-3 sedan again, raising Big Questions about whether the electric-car maker may need to raise more cash.
The fledgling EV maker, Chaired by hymeister Elon Musk-led rentier company now expects to assemble 5,000 of their entry level cars a week by the end of June, delaying plans to reach that mark by another 3 months.
Tesla did not come close to achieving that Key goal to manufacture that many EV a week by the end of Y 2017.
Tesla's slowed ramp up in manufacturing M-3s leads me and other automotive analysts to see another capital raise coming.
The carmaker has been burning more than $1-B a Quarter as it's had trouble scaling up output despite spending heavily on robots, assembly lines and tooling for a entry level sedan, who's MSRP starts at $35,000.
Those of us Tesla Bears point to this as but another missed promise. Perhaps a capital raise may not be required, but Mr. Musk has no choice it appears, and must seek more cash to mitigate risks of the fate of his fledgling car company.
Shayne and I believe a capital raise will be necessary for Tesla in Y 2018, as the company will burn through $4.2-B this year and assumes the company will attempt raise $2.5-B in an equity offering, likely in Q-3.
Tesla reported deliveries of 1,550 virtually hand made M3's in last Quarter of 2017, trailing analysts' average estimate for about 2,900 units.
Including Model S sedans and Model X crossovers, Tesla delivered a total of 29,870 vehicles during Q-4 of 2017.
In the months leading up to launching the M-3, Tesla raised at least $1.2-B through an offering of stock and convertible debt in March and another $1.8-B by tapping the junk-bond market in August.
Buyers of Tesla's bonds have taken a hit, and it would likely cost Tesla more to borrow in that market again. The 5.3% notes were yielding 6.09% last Thursday after the price of the debt dropped.
We would expect existing Tesla lenders are concerned that the company pushed back production goals and it continues to be a I am from Missouri "show-me" story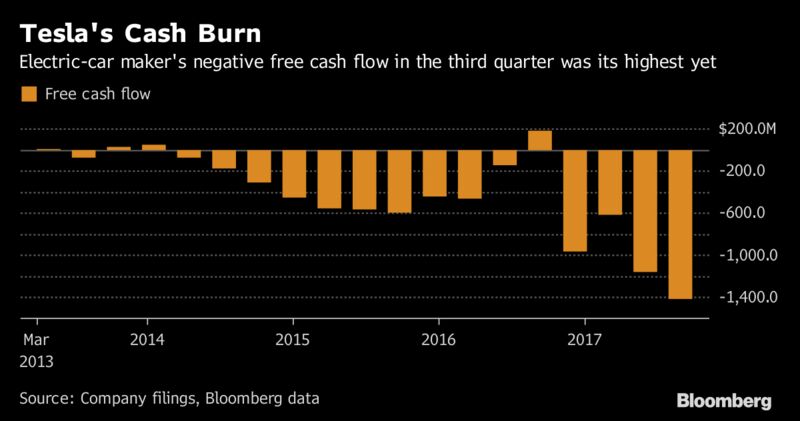 In a statement Wednesday, Tesla thanked customers "who continue to stick by us while patiently waiting for their cars."
"Tesla has really lofty goals for automation," said an analyst at ARK Investment Management, which holds Tesla shares. "When and if you have it right you can ramp really quickly, but getting to that phase is the hard part."
Tesla reported 860 Model 3 sedans were in transit to customers at the end of December 2017. The company said it made progress on speeding up manufacturing of the sedan late last month, producing 793 units in the last 7 working days.
As we have seen, Tesla is always a Quarter away, and now you have to wait 6 months to get your report card on your investment thesis, Musk is always kicking the can down the road.
The Big Q; Where is the 'romance' in investing in Tesla?
The Big A: There is none, the savvy are just playing the market in the stock only, the short interest is one of the largest in the market betting on a failure. As the world's automotive giant stalk Tesla to slay it.
Have a terrific weekend
The following two tabs change content below.
HEFFX has become one of Asia's leading financial services companies with interests in Publishing, Private Equity, Capital Markets, Mining, Retail, Transport and Agriculture that span every continent of the world. Our clearing partners have unprecedented experience in Equities, Options, Forex and Commodities brokering, banking, physical metals dealing, floor brokering and trading.
Latest posts by HEFFX Australia (see all)