The Stock Market, "Nothing New Under the Sun."
$DIA, $SPY, $QQQ, $VXX
 The DJIA dove almost 1,600 points, bottomed and bounced, as expected.
Late Monday afternoon, Tom Farley, President of the New York Stock Exchange, said the stock market functioned correctly despite the tumult late in the afternoon. "There's nothing new under the Sun."
The was a crush of programmed selling in the market, Mr. Farley said just moments before the closing bell, which saw the DJIA down 1,175 points after earlier bottoming down nearly 1,600-points before recovering almost 500 points.
Having been at this game for 40 years, it is impossible to say for sure what was at work when the DJIA dove as much as 1,597 points, but the deep dive felt like the machines were at work in here. For 15 mins just after 3:00p EST in New York a deluge of market sell orders came so fast that it seemed like no human could have been responsible.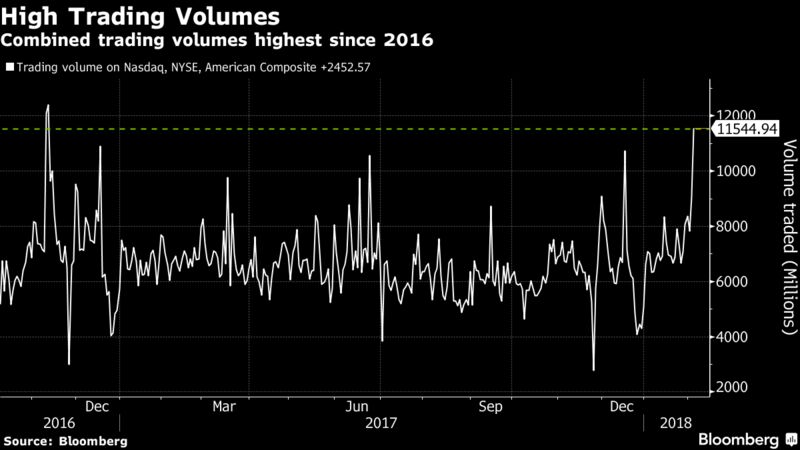 The S&P 500, which last week capped a record streak of never falling more than 3% from any past point, ended the day down 4.1%, bringing its loss since last Monday to 7.8% just shy of entering correction mode..
Shayne and I hold that a 1,600-point intra-day dive is due more to algorithms and high-frequency quant trading than any macro events or humans exiting.
Futures on the DJIA and S&P 500 were up about 1.0 as of 7:45p EST in New York.
Markets are cautious in here and have been for the past 10 trading sessions. Bond yields had been rising and stock valuations are approaching marks last seen in 1990/2000 frame.
Much of Monday's selloff was rational particularly coming after last week's fall in which the DJIA fell 666 points Friday, we expected the pull back to extend.
Keen observers looking for an electronic cause focused on the roughest part of the fall, a 15-min stretch starting about 1 hr before the close. That is when an orderly selloff gathered speed, taking the DJIA from down about 700 points to down 1,597, where it bounced.
What is scary is the speed at which the index fell. The drop in the morning was caused by humans, but the free-fall in the afternoon was caused by the machines. It brought back the same reaction that we had in Y 2010, when we all asked the Big Q:  What is going on here?
It may never be clear what accelerated the action, and we are still not sure what caused the flash crash on 6 May 2010.
Today, most of the theorizing about the deep dive centered not on the market's machinery or infrastructure, but on the automated quant strategies that gained popularity with the advent of electronic markets over the past 10 years.
Billionaire hedg fund manager, Ray Dalio, is shrugging off the recent declines across several major equity and bond markets, as are all savvy money managers.
"These big declines are just minor corrections in the scope of things," he wrote Monday. "There is a lot of cash on the side to buy on the break, and what comes next will be most important."
Stock indexes in Japan, Australia and New Zealand sank at least 1.5 percent in Asian trading, while yields on 10-year Treasury notes hovered around 2.847% after climbing above 2.88% earlier Monday.
"Fiscal stimulation is hitting the gas, which is driving the economy forward into the capacity constraints, which is triggering interest rate increases that are hitting the brakes, first in the markets and later in the economy," he wrote. This is "classic late-cycle behavior," when monetary policy is difficult to get right, leading to recessions, Mr. Dalio said.
"This is happening sooner than we expected," he added.
Monday, the major US stock market indexes came in at: DJIA -1175.21 at 24345.75, NAS Comp -273.42 at 6967.52, S&P 500 -113.19 at 2648.94
Volume: Trade on NYSE at: 1.32-B/shares exchanged
NAS Comp +0.9% YTD
S&P 500: -0.9% YTD
DJIA: -1.4% YTD
S&P Midcap 400 Index: -2.7% YTD
Russell 2000: -2.9% YTD
HeffX-LTN Market Indexes Technical Analysis
| | | | | | |
| --- | --- | --- | --- | --- | --- |
| Date | Symbol | Price | Technical Analysis | Support | Resistance |
| 5 February 2018 | QQQ | 160.82 | Neutral (0.22) | 159.02 | 161.45 |
| 5 February 2018 | DIA | 254.93 | Bullish (0.37) | 253.85 | 256.19 |
| 5 February 2018 | SPY | 275.45 | Bullish (0.37) | 274.61 | 276.46 |
Particular suspicion landed on trading programs tied to volatility, mathematical measures of which exploded as the day progressed.
How pervasive such strategies are in the US stock market is a point of debate, though everyone agrees they are big.
After a similar downdraft struck equity markets in August 2015, JPMorgan (NYSE:JPM) said shifting signals from market volatility and share prices threatened to unleash $300-B of selling pressure on equities.
Since then, it's become de rigueur to implicate systematic strategies whenever a selloff lands on investors. The firm's chief derivatives strategist said signals sent to systematic traders, 1st by last week's slowdown in the rally and then the Cboe Volatility Index (VIX), played a central role in Monday's fall.
"Midday today, short-term momentum turned negative, resulting in selling from trend-following strategies," he wrote in a note to clients. "Further outflows resulted from index option gamma hedging, covering of short volatility trades, and volatility targeting strategies. These technical flows, in the absence of fundamental buyers, resulted in a flash crash at ~3:10p today."
Theories on how machines interact with share prices have evolved since the days of the Flash Crash, the market rupture of 6 May 2010 (refereed to above), in which the DJIA average fell about 1,000 points before reversing. Back then the expectation was that something had gone wrong on the electronic exchanges where shares trade, that has been denied this time.
There were no busted trades, no repricing. It was just an avalanche of orders around 3 o'clock-ish."
Nowadays the 1st suspicion alights on computerized traders who operate worldwide 24/7.
And a case can be made that the machines are doing the same thing any human trader would do given a certain set of economic facts, just faster.
Inputs into automated strategies sound complicated but often are just versions of signals familiar to earlier generations: momentum indicators that show if an advance is getting ahead of itself or a decline is turning into a plunge.
There were a lot of stops, old fashioned market stops triggered and some algorithm trading. This was a technically driven day.
Watch the Dow 50-Day MA. at 25,130 it might be the magnet.
Stay tuned…
The following two tabs change content below.
Paul Ebeling
Paul A. Ebeling, polymath, excels in diverse fields of knowledge. Pattern Recognition Analyst in Equities, Commodities and Foreign Exchange and author of "The Red Roadmaster's Technical Report" on the US Major Market Indices™, a highly regarded, weekly financial market letter, he is also a philosopher, issuing insights on a wide range of subjects to a following of over 250,000 cohorts. An international audience of opinion makers, business leaders, and global organizations recognizes Ebeling as an expert.
Latest posts by Paul Ebeling (see all)