Chevron (NYSE:CVX) is the integrated Crude Oil leader and a safe way for investors looking to be positioned in the energy sector. The company is a US-based integrated Oil & Gas company, with worldwide operations in exploration and production, refining and marketing, transportation and petrochemicals. The company pays a sizable dividend and has a solid place in the sector when it comes to Nat Gas and LNG.
Chevron, which is among the companies with the largest corporate debt, recently became the latest major Crude Oil company to cut spending after halting its $5-B-a-year share buyback and halving spending in the Permian Basin, which means a large decrease in projected output from America's biggest shale region.
The California-based Crude Oil giant has said that it would lower projected 2020 capital spending by 20%, or $4-B. The Permian Basin will account for the largest single element of that reduction.
Shareholders receive a 5.73% dividend, which will remain at current marks. The BofA Securities price target is 97, and the Wall Street consensus target is $90.71. Chevron stock finished Friday's trading at 89,16/share, and as I write, is trading pre-open at 90.99, or +2.05%.
The stock has support at 85.51 and Key resistance at 89.48, and then at 109.33.
A clear brake above 109.33 augurs to a move to the January highs at 120ish and higher, HeffX-LTN is Bullish overall CVX.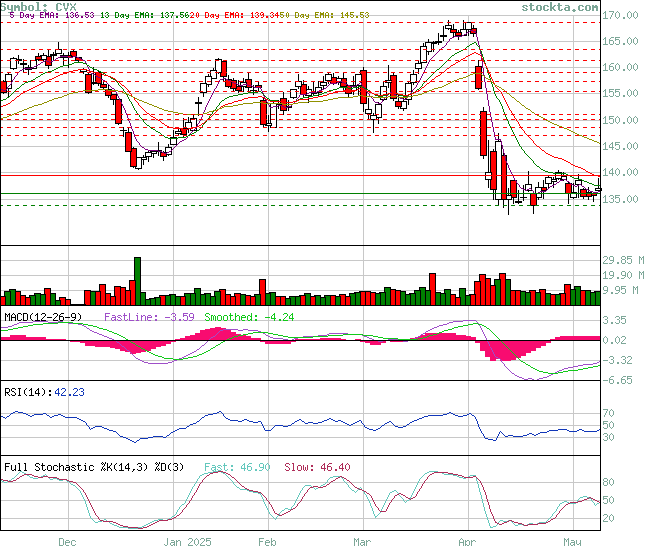 Have a healthy week, Keep the Faith!
The following two tabs change content below.
Paul Ebeling
Paul A. Ebeling, a polymath, excels, in diverse fields of knowledge Including Pattern Recognition Analysis in Equities, Commodities and Foreign Exchange, and he is the author of "The Red Roadmaster's Technical Report on the US Major Market Indices, a highly regarded, weekly financial market commentary. He is a philosopher, issuing insights on a wide range of subjects to over a million cohorts. An international audience of opinion makers, business leaders, and global organizations recognize Ebeling as an expert.   
Latest posts by Paul Ebeling (see all)