Papa John's (NASDAQ:PZZA) stock has risen 42% over the past month.
Papa John's International Inc. says its pizzas and new Papadia flatbreads were flying out of its kitchens during the month of April, driving record sales for the month.
"April was the best month in the company's history," Papa John's CEO Rob Lynch said after the company reported Q-1 earnings last Wednesday. The pizza maker has been around for about 35 years.
"Companies providing special services like delivery will persevere and do very well. Texas and Georgia are starting to reopen but we are continuing to see customer demand for delivery at home."
On the earnings call, CEO Lynch said there was a business slowdown in March as large gatherings and sporting events, like the NCAA basketball tournament were canceled.
Papa John's North America Franchising segment consists of franchise sales and support activities and derives its revenues from sales of franchise and development rights and collection of royalties from franchisees located in the US and Canada.
With C-19 coronavirus chaos-assisted sales increases and lowered input costs, management indicated the health of franchise restaurants is currently the best in 3 yrs, and recorded the highest April AUVs and system-wide sales in Papa John's 35-yr history. Moreover, median franchise unit profitability in Q-1 was the highest in 8 Qs, despite net commodity cost inflation.
Papa John's stock investors receive a 1.14% dividend.
HeffX-LTN's price target is 105.80. The stock has made a strong V shaped recovery off of its 18 March low at 28.55. All of our Key technical indicators are Very Bullish across the board and into the Long Term
The consensus target was at 71.08, and shares closed Friday at 81.20, and are up 0.07 pre-market Monday.
There is Strong Support at 61.93 and the Resistance is Nil in here.
Happy People Really Like Pizza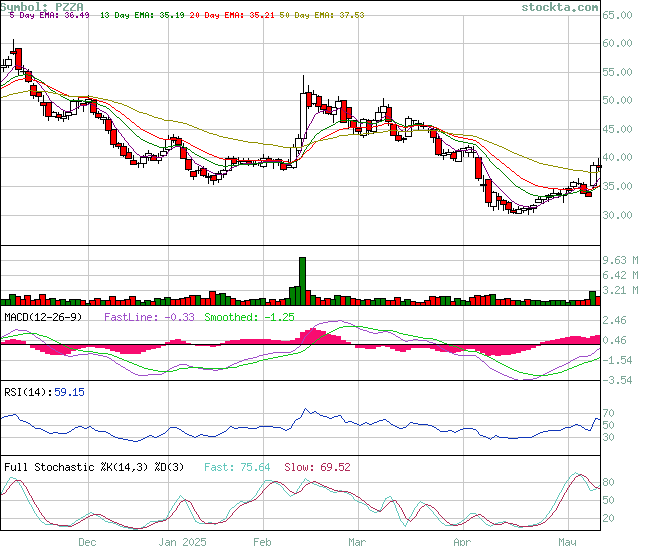 Papa John's International, Inc. operates and franchises pizza delivery and carryout restaurants under the Papa John's trademark in the United States and internationally. It operates through four segments: Domestic Company-Owned Restaurants, North America Commissaries, North America Franchising, and International Operations. The company also operates dine-in and delivery restaurants. As of 29 December 2019 it operated 5,395 Papa John's restaurants, which included 598 company-owned and 4,797 franchised restaurants. The company was founded in Y 1984 and is HQ'd in Louisville, Kentucky.
Have a healthy week, Keep the Faith!
The following two tabs change content below.
Paul Ebeling
Paul A. Ebeling, a polymath, excels, in diverse fields of knowledge. Pattern Recognition Analysis in Equities, Commodities and Foreign Exchange, and he it the author of "The Red Roadmaster's Technical Report on the US Major Market Indices, a highly regarded, weekly financial market commentary. He is a philosopher, issuing insights on a wide range of subjects to over a million cohorts. An international audience of opinion makers, business leaders, and global organizations recognize Ebeling as an expert.   
Latest posts by Paul Ebeling (see all)