#cash #cell #buy #burn #sports #biopharma
Vericel Corp. (NASDAQ:VCEL) broke out on 4 September at 16.90, it has yet to confirm, so this an early Buy call, as a Key technical indicator just turned Bullish.
The Key support is at 15.19 and the Key overhead resistance is at 19.62, a strong close over that mark opens the path to 27 as the resistance is light thru 23.78.
Shares are trading Tuesday at this writing a 19.08 and have a consensus price target of 26.48, my call is at 27 into 2021.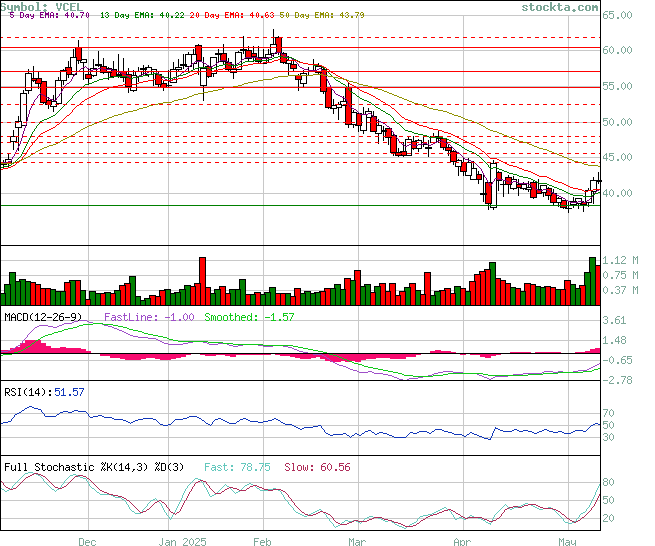 Vericel Corporation, a commercial-stage biopharmaceutical company, researches, develops, manufactures, and distributes cellular therapies for sports medicine and severe burn care markets in the United States. It markets autologous cell therapy products comprising MACI, an autologous cellularized scaffold product for the repair of symptomatic, and single or multiple full-thickness cartilage defects of the knee; and Epicel, a permanent skin replacement humanitarian use device for the treatment of patients with deep-dermal or full-thickness burns.
The company also develops ixmyelocel-T, a patient-specific multicellular therapy that has completed Phase IIb clinical trial for the treatment of advanced heart failure due to dilated cardiomyopathy. In addition, its preapproval stage product includes, NexoBrid, a registration-stage biological orphan product for debridement of severe thermal burns.
The company was formerly known as Aastrom Biosciences, Inc. Vericel Corporation was founded in Y 1989 and is HQ'd in Cambridge, Massachusetts.
Have a healthy day, Keep the Faith!