#cash #bioscience #StrongBuy
AnaptysBio Inc. (NASDAQ:ANAB) broke out on 14 October at 20.37, and confirmed on 27 October at 27.93.
Thus, garnering a Strong Buy with a target price of 100 as all Key technical indicators have turned Very Bullish.
The Key support is at 20.22 and there is no overhead resistance.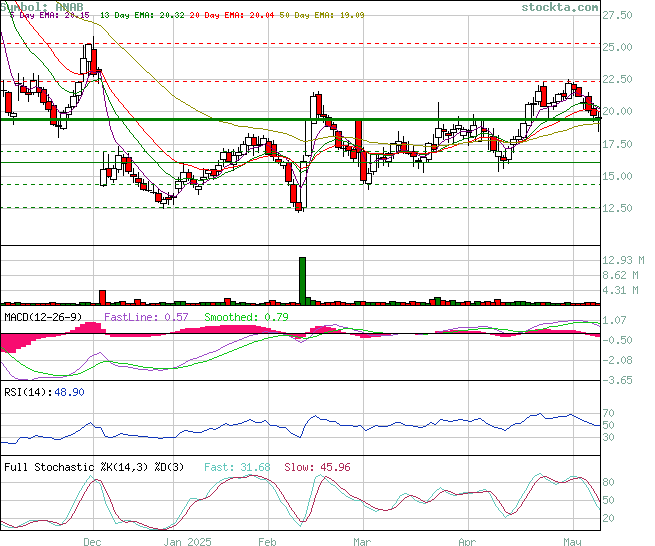 AnaptysBio, Inc., a clinical stage biotechnology company, engages in developing therapeutic product candidates for inflammation and immuno-oncology indications.
The company's products include Etokimab, an anti-interleukin (IL)-33 program for the treatment of atopic dermatitis, eosinophilic asthma, and chronic rhinosinusitis with nasal polyps; ANB019, an anti-IL-36 receptor for generalized pustular psoriasis and palmoplantar pustular psoriasis; and anti-inflammatory checkpoint modulators for inflammatory diseases. It is also developing immuno-oncology products, including TSR-042: anti-PD-1, TSR-022: anti-TIM-3, TSR-033: anti-LAG-3, and TSR-075: anti-PD-1/LAG-3 bispecific; and CC-90006: anti-PD-1 agonist for psoriasis, as well as other products for inflammation.
AnaptysBio, Inc. has an immuno-oncology partnership with TESARO, Inc. and TESARO Development, Ltd.; and collaboration with Celgene Corporation.
The company was formerly known as Anaptys Biosciences, Inc. and changed its name to AnaptysBio, Inc. in July 2006.
AnaptysBio, Inc. was founded in Y 2005 and is HQ'd in San Diego, California.
Have a healthy day, Keep the Faith!
,
The following two tabs change content below.
Paul Ebeling
Paul A. Ebeling, a polymath, excels, in diverse fields of knowledge Including Pattern Recognition Analysis in Equities, Commodities and Foreign Exchange, and he is the author of "The Red Roadmaster's Technical Report on the US Major Market Indices, a highly regarded, weekly financial market commentary. He is a philosopher, issuing insights on a wide range of subjects to over a million cohorts. An international audience of opinion makers, business leaders, and global organizations recognize Ebeling as an expert.   
Latest posts by Paul Ebeling (see all)