#silver #miners #prices #verybullish
Pan American Silver Corp. $PAAS raised to Buy from Neutral and its price objective was raised to 50.75 from 34.50. April Breakout confirmed on 26 June. PAAS is trading at 35.85 premarket Friday morning vs a 52 wk high of 10.61-37.86.
My overall technical outlook for PAAS is Very Bullish, as all Key technical indicators are aligned from higher prices in here.
Support is deep from 34.34 and resistance is Nil.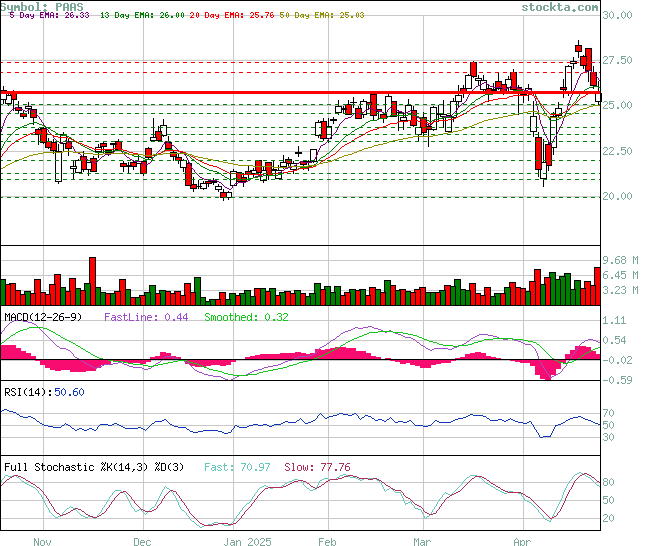 Pan American Silver Corp., together with its subsidiaries, engages in the exploration, development, extraction, processing, refining, and reclamation of silver mines in Canada, Mexico, Peru, Argentina, and Bolivia.
It also produces and sells gold, zinc, lead, and copper.
The company holds interests in the La Colorada, Dolores, Huaron, Morococha, San Vicente, Manantial Espejo, Escobal, Shahuindo, La Arena, and Timmins mines.
Pan American Silver Corp. was founded in Y 1994 and is HQ'd in Vancouver, Canada.
Have a healthy weekend, Keep the Faith!
The following two tabs change content below.
Paul Ebeling
Paul A. Ebeling, a polymath, excels, in diverse fields of knowledge Including Pattern Recognition Analysis in Equities, Commodities and Foreign Exchange, and he it the author of "The Red Roadmaster's Technical Report on the US Major Market Indices, a highly regarded, weekly financial market commentary. He is a philosopher, issuing insights on a wide range of subjects to over a million cohorts. An international audience of opinion makers, business leaders, and global organizations recognize Ebeling as an expert.   
Latest posts by Paul Ebeling (see all)