Dave & Buster's Entertainment Inc. (NASDAQ:PLAY) was hammered over the course of the C-19 coronavirus chaos, but things may be turning around for this company, as the stock turned Bullish on 12 June.
SunTrust Robinson Humphrey upgraded Dave & Busters to a Buy rating from Hold and raised its price target to 22 from 17.
The firm was encouraged by faster than expected reopening plans, steadily improving sales at reopened stores and the company's new extremely flexible operating model that is driving incremental profits at low volumes down 80% to 90% from pre-C-19 marks.
Seeing long-term cost savings and stronger than expected development in the Ys 2020 and 2021 earnings. While sales are sensitive to increased C-19 coronavirus chaps concerns, lean operations and strong liquidity are mitigating the Southside risk.
Other analysts weighed in on Dave & Busters as too, as follows:
BMO Capital Markets rates it as Market Perform and a 15 price target.
Jefferies has a Hold rating with an 11.50 target price.
Longbow Research's Buy rating comes with an 18 price target.
Excluding Friday's move, Dave & Buster's stock had vastly underperformed the S&P 500 and DJIA with about a 64% retreat YTD.
Dave & Buster's stock traded up 11% to 16.24 in a 52-wk trading range of 4.61 to 48.80. The consensus price target is at 14.65.
We like PLAY for a return to its January 2020 highs at 47ish long term, our overall technical outlook has turned Bullish with a Very Bullish bias, there is Strong Support at 14.43 and little resistance between Friday's close at 16.24 and 46.62.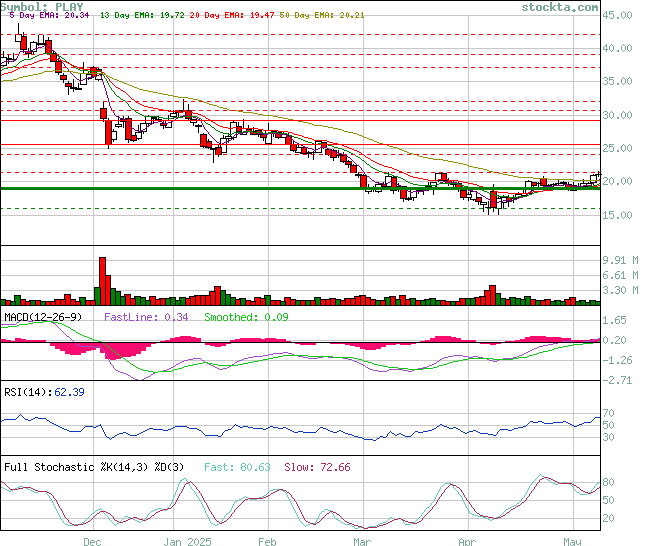 Dave & Buster's Entertainment, Inc. owns and operates entertainment and dining venues for adults and families in North America.
Its venues offer a menu of entrees and appetizers, as well as a selection of non-alcoholic and alcoholic beverages; and an assortment of entertainment attractions centered on playing games and watching live sports, and other televised events.
The company operates its venues under the Dave & Buster's name. As of 2 February 2020, it owned and operated 136 stores located in 39 states, Puerto Rico, and one Canadian Province.
The company was founded in Y 1982 and is HQ'd in Dallas, Texas.
Have a healthy week, Keep the Faith!