Viavi Solutions (NASDAQ:VIAV) intuitive instruments, systems and technologies helps service providers and IT organizations manage the network lifecycle for complex 5G and Fiber networks.
Given the progress related to its field work and its compelling valuation, we are looking at it closely as our Key indicators turn from Neutral to Bullish and Very Bullish.
There is Strong Support is at 12.04 and Key resistance at 14.05. The stock broke out on 29 May and is trading above the I-cloud. Our outlook augurs a Strong Buy.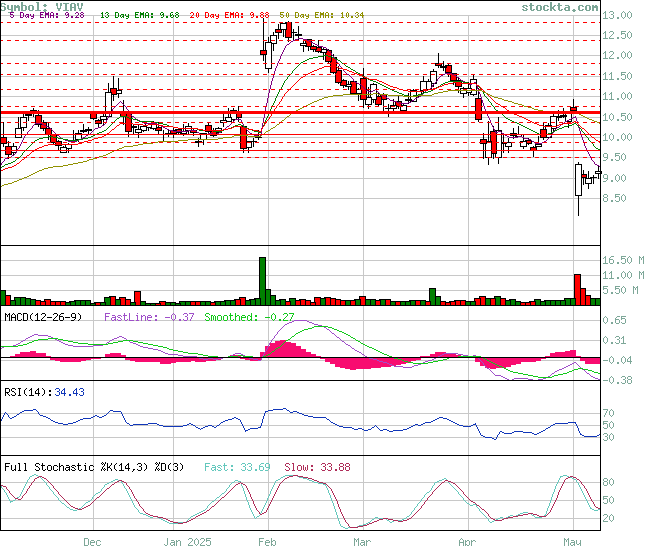 The field instruments segment was hit hard by C-19 coronavirus chaos.
On its latest earnings call management highlighted that within the revenue shortfall in the NSE group, the portion attributable to lower demand in Q-1 largely related to field instruments, which remains largely a book & ship business for every Quarter.
Production equipment has seen modest headwinds, more specific to end-markets with severe challenges, but have still been more resilient relative to Field instruments, which are impacted by the absence of technicians in the field.
Now with the easing of social distancing measures and outdoor field work restrictions will allow demand for test and measurement equipment to recover in the near-term.
This is Key for VIAV as field instruments make up 60% of its core NE revenue. Long-term, the demand should remain largely unimpacted and Very Bullish.
On Top of this any M&A activity could serve as a major catalyst for shares. "The test & measurement landscape remains fragmented relative to suppliers and the disruption offers an opportunity for VIAV to further consolidate its position. Recent actions to establish a $300-M short-term credit line despite ample liquidity hints to similar intent."
On VIAV's valuation: With VIAV shares now trading at 219X TTM EPS, unlike most companies in the coverage universe that are trading at premiums to their recent year valuation multiples on account of credit for trough earnings during the medical malpractice chaos, there looks to be an opportunity for investors to position themselves for a nice move to the Northside.
Based on all of the above our model is Bullish long term and the price target 18/20, within the next 12 months.
Viavi Solutions Inc. provides network test, monitoring, and assurance solutions to communications service providers, enterprises, network equipment manufacturers, civil government, military, and avionics customers worldwide.
The company operates through 3 segments: Network Enablement (NE), Service Enablement (SE), and Optical Security and Performance Products (OSP) segments.
The NE segment offers testing solutions that access the network to perform build-out and maintenance tasks. This segment provides solutions that include instruments, software, and services to design, build, activate, certify, troubleshoot, and optimize networks; and instrumentation for communication and safety. It also offers support and professional services, such as repair, calibration, software support, and technical assistance for the products; and system integration projects, including project management, installation, and implementation, as well as product and technology training, and consulting services.
The SE segment provides embedded systems and enterprise performance management solutions for communication service providers, enterprises, and cloud operators with visibility into network, service, and application data. Its solutions include instruments, microprobes, and software, which monitor, collect, and analyze network data to reveal the actual customer experience and to identify opportunities for new revenue streams and network optimization.
The OSP segment offers optical products for anti-counterfeiting, government, industrial, automotive, and consumer electronic markets, including 3D sensing applications. The company was formerly known as JDS Uniphase Corporation and changed its name to Viavi Solutions Inc. in August 2015. Viavi Solutions Inc. was founded in Y 1923 and is HQ'd in San Jose, California.
Have a healthy weekend, Keep the Faith!