Southwest Airlines continues to expand routes, remains a low-cost leader and is also 1 of the Top airline picks on Wall Street.
Southwest Airlines Inc. (NYSE:LUV) operates a passenger airline that provides scheduled air transportation services in the US and near-international markets. It was one of the airlines with the fewest delays last year.
As of 31 December 2019, the company operated a total of 747 Boeing 737 aircraft, and it served 101 destinations in 40 states, the District of Columbia and the Commonwealth of Puerto Rico, as well as 10 near-international countries, including Mexico, Jamaica, the Bahamas, Aruba, the Dominican Republic, Costa Rica, Belize, Cuba, the Cayman Islands, and Turks and Caicos.
LUV recently had a massive stock sale to raise cash and improve its balance sheet.
Analysts noted this in a recent research report: Southwest Airlines completed a $3.9-B capital raise which brings total liquidity to $14.8-B after all the government payroll support funds. At a cash burn of $34-M per day, the company has enough liquidity to get through the next 435 days Vs 320 days for Delta and 225 days for United.
Even with a slow recovery, we expect Southwest to end Y 2020 with $10-B in cash and $1.5-B in net debt, Strong!
The company has suspended its dividend until September 2021.
We have a 60 price objective. The posted consensus target was last seen at 38.94, and Tuesday's last trade of Southwest Airlines stock came in at 38.01.
Key support is at 31.52, and major resistance is at 55.16. All of our Key technical indicators are Very Bullish and we are Bullish across the board.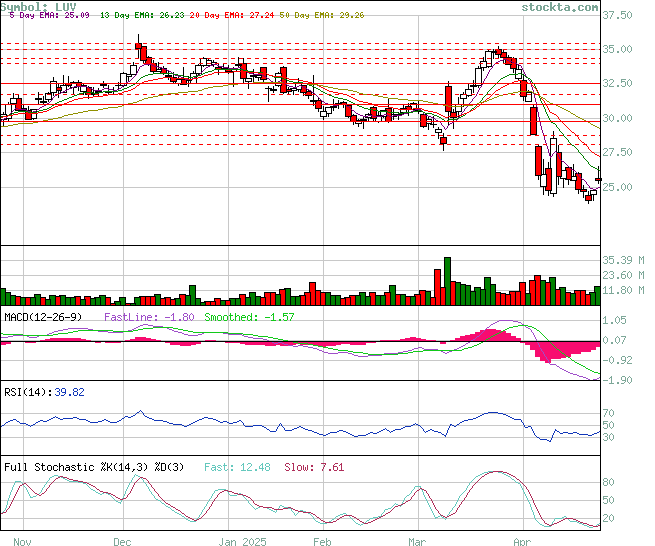 Have a healthy day, Keep the Faith!