Ooma Inc. (NYSE:OOMA) is a Buy now given is a great opportunity to get in on the ground floor of a growing smart cloud niche before the market realizes its Huge potential. Its suite of UCaaS services is expansive and expected to find wide acceptance in the business and residential sectors.
Shares closed Thursday at 15.08. + 1.18, just shy of its 52 wk highs in a V-shaped recovery off of a virus chaos sell off low, and have a market consensus price target at 19.60.
OOMA broke out on 21 May and confirmed the move on 15 June, our Key indicators have turned Very Bullish. There is Strong Support at 13.84 and the resistance is Nil. We are Very Bullish OOMA and see the stock at 23/25 by years end.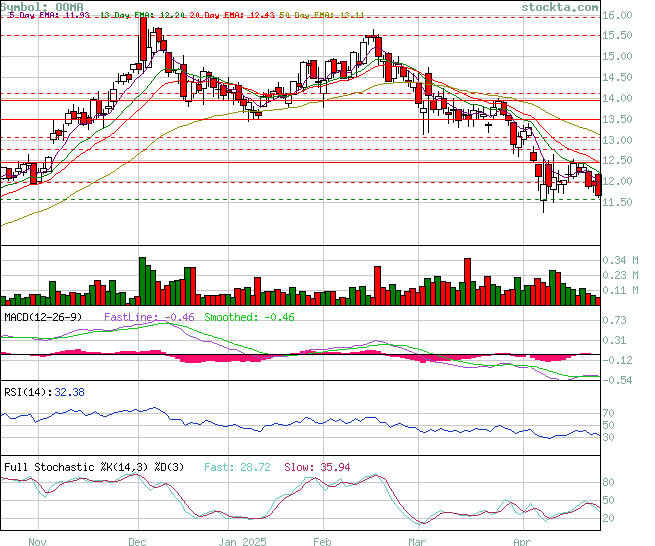 Ooma, Inc. creates connected experiences for businesses and consumers in the United States, Canada, and internationally.
The company's smart cloud-based software-as-a-service and unified-communications-as-a-service (UCaaS) platforms serve as a communications hub, which offers cloud-based communications solutions, smart security, and other connected services.
Its business and residential solutions deliver PureVoice high-definition voice quality, advanced functionality, and integration with mobile devices; and platform helps to create smart workplace and homes by offering communications, monitoring, security, automation, productivity, and networking infrastructure applications.
The company's products and services include Ooma Office, a multi-user communications system for small and medium-sized businesses; Ooma Office Mobile HD app to make, receive, and transfer phone calls; Ooma Office Pro that offers services, including call recording, enhanced call blocking, voicemail transcription, and support for overhead paging systems for businesses; and Ooma Enterprise, an UCaaS offering.
It also provides Ooma Telo, a home communications solution designed to serve as the primary phone line in the home; Ooma Telo 4G. a solution that provides home phone and internet service; Ooma Telo Air, a solution that connects to the Internet wirelessly using the home's Wi-Fi network and can be paired with mobile phones to answer incoming mobile calls from any phone in the home; and Ooma HD3 cordless handset.
In addition, the company offers Ooma Premier Service, a suite of advanced calling features to enhance the capabilities of Ooma Telo; and Ooma Mobile HD app that allows users to make and receive phone calls and access Ooma features and settings with iOS or Android device over a Wi-Fi or cellular data connection.
Further, it provides Ooma Smart Security, a security and monitoring platform; and Talkatone mobile app.
The company offers its products through direct sales, distributors, retailers, and resellers, as well as online. Ooma, Inc. was incorporated in Y 2003 and is HQ'd in Sunnyvale, California.
Have a healthy week, Keep the Faith!
The following two tabs change content below.
Paul Ebeling
Paul A. Ebeling, a polymath, excels, in diverse fields of knowledge Including Pattern Recognition Analysis in Equities, Commodities and Foreign Exchange, and he is the author of "The Red Roadmaster's Technical Report on the US Major Market Indices, a highly regarded, weekly financial market commentary. He is a philosopher, issuing insights on a wide range of subjects to over a million cohorts. An international audience of opinion makers, business leaders, and global organizations recognize Ebeling as an expert.   
Latest posts by Paul Ebeling (see all)