The notion of dining at Michelin-Starred restaurants evokes visions fine food and $$$$$, but there are some spots that will not break your bank.
So, if you are in Southeast Asia, and looking to try the cheapest Michelin-starred restaurant in the world, you will need a plane ticket to Singapore and standing in lengthy queues.
The original Liao Fan Hong Kong Soya Sauce Chicken Rice and Noodle is located in a Singapore hawker center, so you will not be online or on the phone months in advance hoping for a reservation.
The demand for chef Chan Hon Meng's chicken rice dish exploded after its inclusion in Singapore's Inaugural 2016 Michelin Guide, prompting him to open a new location just meters away, and now he has his eye on global expansion.
Liao Fan Hong Kong Soya Sauce Chicken Rice and Noodle
The original Liao Fan Hong Kong Soya Sauce Chicken Rice and Noodle is located in the Chinatown Food Centre, and expect queues to form long before its 10:00a opening time. This humble food stall has kept its 1 Michelin Star for 3 years running and earned the title of world's cheapest Michelin-Starred restaurant as you could eat for S$2 or around US$1.42.
The new location in Singapore is called Liao Fan Hawker Chan and is part of chef Chan's new partnership that is helping fund its global expansion.
This location is more of a sit-down restaurant, and still sees long lines, but it does stay open until 8:00p as opposed to the 3:30p closing time of the hawker center location.
Both locations are closed on Wednesdays. Liao Fan Hawker Chan earned a Bib Gourmand nod in the Michelin Guide, but it does not have a Michelin star like the original location does. There are now 2 more locations in Singapore that stay open until 8:00p and 9:00p.
If you do not have any plans to visit Singapore anytime soon, you can try Chef Chan's famous Hong Kong soya sauce chicken and rice in Taiwan, Thailand, the Philippines, Australia and even Kazakhstan.
Chef Chan Hong Meng
Chef Chan Hong Meng grew up in Malaysia and is the son of 2 farmers. His parents grew produce and raised livestock. Chan developed a love of cooking through preparing the family's meals. He developed the philosophy that food should be affordable and simple. When he was 15 anni, Chan left home and headed to Singapore looking for work. He landed an apprenticeship with a chef from Hong Kong who helped him develop the soya sauce chicken recipe. Chef Chan opened his award-winning food stall in Y 2009.
Chef Chan has since partnered with Hersing Culinary, the group that helped the world's cheapest Michelin-Starred restaurant, Tim Ho Wan, go global.
Eating at Liao Fan Hong Kong Soya Sauce Chicken Rice and Noodle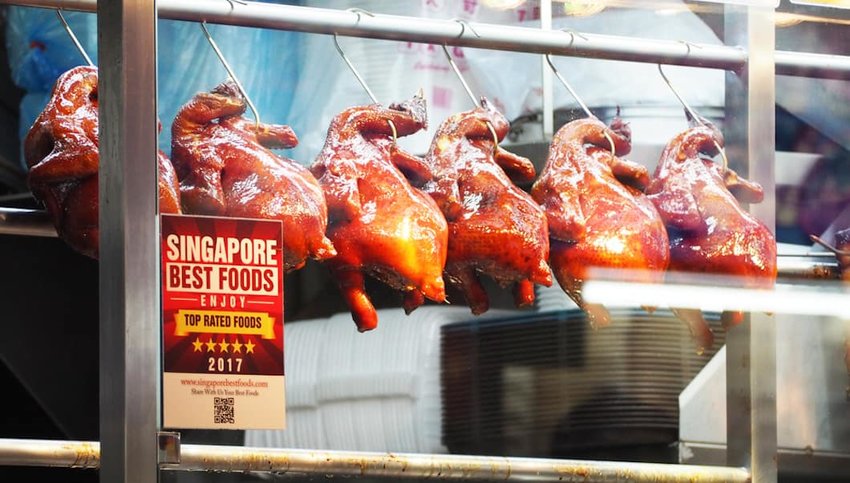 If you happen to pick a day when Chef Chan is there, you will get to see him in action.
Watch him chop different meats: chicken, roast pork, char siew or pork ribs to include in your dish. Then choose your carb: rice, hor fun, or mee kia.
The chicken and rice combo is 'the star' of the show here, with skin that crackles as you bite into the succulent and tender meat. It is recommended to go early as there are a limited number of chickens available each day, so once they sell out, you will be turned away.
Other dishes and sides at the hawker center location include wonton soup, Thai-style tofu and oyster sauce vegetables.
The Big Q: Is is really worth the Wait?
The Big A: Chef Chan has landed in the Singapore Michelin Guide 3 years running, so the reviewers definitely agree the quality has not suffered since its initial inclusion.
HungryGoWhere Singapore's critics recently revisited Chef Chan's original location.
According to its reviewer, Chef Chan is rarely present these days as his wife and 2 helpers primarily run the stall while he is overseeing the restaurants. With all the growth, only the chickens are braised onsite now while all other meats are transported from their main roasting kitchen nearby. And, you are not likely to find mostly locals lined up like years past. It's primarily tourists who are in town to try the world's cheapest Michelin-Starred restaurant.
None of this means you should necessarily skip trying the famous chicken and rice if you are in Singapore. If the queue is not too long, line up. You can see for yourself what makes Chef Chan's food so special that Michelin reviewers continue to award his hawker center stall a Michelin Star.
Enjoy the best Chef Chan has to offer, it is really good!
The following two tabs change content below.
HEFFX has become one of Asia's leading financial services companies with interests in Publishing, Private Equity, Capital Markets, Mining, Retail, Transport and Agriculture that span every continent of the world. Our clearing partners have unprecedented experience in Equities, Options, Forex and Commodities brokering, banking, physical metals dealing, floor brokering and trading.
Latest posts by HEFFX Australia (see all)