Shanghai overtook Hong Kong as the world's top initial public offering (IPO) destination in the first three months of the year, but mega deals waiting in the wings for calmer markets could yet shake up the full-year rankings.
The Shanghai exchange's stellar performance in the first quarter was in part due to the 30.7 billion yuan (US$4.5 billion) IPO launched by Beijing-Shanghai High Speed Railway, the operator of the rail link between China's two biggest cities.
Companies raised US$7.27 billion on the Shanghai Stock Exchange, boosted by US$3.68 billion worth of technology start-ups listing on its Science and Technology Innovation board (Star). New York's Nasdaq stock market came in third, with US$5.2 billion in IPO proceeds.
Hong Kong, the world's top IPO exchange in 2019, dropped to sixth place in the first quarter. However, the city is not out of the race.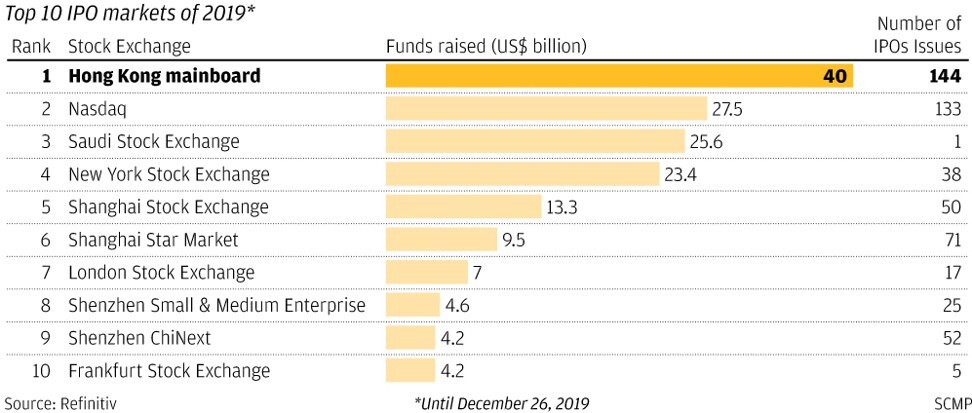 Companies in sectors that are more resilient to the economic impact of the novel coronavirus pandemic – such as e-commerce, health care, biotechnology, and some financial institutions – are planning to launch deals in Hong Kong during the second half of the year, IPO bankers and accountants said.
Companies that could potentially make their market debut in Hong Kong this year include Tencent Holdings-backed WeDoctor. The online health care provider has picked Credit Suisse, JP Morgan and China Merchants Bank to handle its IPO, according to people familiar with the offering.
Other potential market debutants include JD Logistics, Chinese e-commerce giant JD.com's logistics arm, Tianjin-based China Bohai Bank and Hillhouse Capital-backed liquid detergent maker Blue Moon.
Shanghai is now the world's top IPO market.
To be sure, the IPO market is likely to remain sluggish in the coming months as volatile markets have made valuations and pricing of new shares challenging. The HSI volatility index, a so-called fear gauge,hit 64.8 on March 16 this year, the highest point since the index launched in 2011.
Companies in virus-hit sectors is likely to postpone listings to later in the year, helping Hong Kong climb the rankings. Edward Au, co-leader of Deloitte China's national public offering group, said sectors deemed most vulnerable, including food and beverage, hospitality, travel and leisure, accounted for nearly a fifth of the IPO applications vetted by the Hong Kong exchange during the first quarter.
"If issuers want to get their deals listed in Hong Kong within this year, the latest they have to file would be by July or mid- August," Au said. "If by then, the virus has not come under control, it will be challenging to launch sizeable deals."
Hopes for a busy run in the final months of the year are predicated on governments curbing the spread of deadly Covid-19 disease around June.