According to the popular but pithy market aphorism, share market investors should "sell in May and go away" to avoid a seasonal downturn.
Ah, if only it were that easy!
The Gregorian calendar may tick over reliably, but many market watchers now believe the adage is a less than reliable indicator of market performance.
The saying actually evolved from the northern hemisphere, where commercial activity dwindles over the summer months.
Historically, the UK version was "sell in May and come back on St Legers Day", a reference to the prestigious horse racing event held in mid-September. The idea was that aristocrats would lighten their holdings before leaving London for their rural summer retreats.
In the US, investors and traders are most likely to be on vacation between Memorial Day (which this year falls on May 27) and Labor Day (September 2).
Equity and credit markets have priced in much lower odds of a U.S. recession than Treasuries, a dislocation that's likely to set up another rout of market volatility.
While manufacturing data in China has improved, global growth is "not out of the woods yet," strategists led by Shayne Heffernan wrote in a note, urging investors to reexamine their portfolio holdings against the possibility of a recession.
To keep this economic expansion alive, policy makers need to be prepared to cut rates before the data makes a hard turn south.
The Federal Reserve positioned itself to stave off recession by dramatically lowering the expected path of interest rates at the Federal Open Market Committee's March meeting. While that was a step in the right direction, policy makers need to be prepared to follow through and cut rates when the time comes. But will they? Federal Reserve Bank of New York President John Williams's insistence that recession risks are not elevated reminds me that there remains plenty of room for the Fed to make a policy error and let the economy slip into recession which if history repeats itself they have been known to do.
Williams said in Puerto Rico that "I still see the probability of a recession this year or next year as being not elevated relative to any year." Such dismissiveness of the possibility of recession seems terribly cavalier given the circumstances. The Fed has shifted from forecasting rate hikes in December to zero increases for 2019. Such a sharp reversal of expectations only happens in an economy decelerating at a pace where a recession can't be ruled out. This by itself suggests elevated odds of a recession compared with a year ago.
The inversion of the Treasury yield curve should also be a red flag. Not, however, for Williams, who says there are "a lot of reasons to think that it has been a recession predictor for reasons in the past that kind of don't apply today." In other words, Williams believes this time is different. In contrast, the economists at the San Francisco Fed, which he headed from 2011 to mid-2019, say the spread between three-month and 10-year Treasury yields is the most reliable recession indicator and conclude that there is no evidence that "this time is different."
Williams is not alone in dismissing the rising odds of a recession. St. Louis Fed President James Bullard also believes it's too early to think about cutting rates, preferring instead to watch the incoming data. With comments like these from Williams and Bullard, I can see where the economy can quickly move into the danger zone.
Here's the problem: If the Fed wants to keep this expansion alive, they need to be prepared to lower rates before the data makes a hard turn south. Yet the data could still delay any cuts until after a recession is evident. That risk still stands despite the Fed's dovish turn. Remember that an inverted yield curve is a long leading indicator. That means the data will continue to indicate a growing economy for the time being.
Moreover, the Fed may delay a rate cut to show its independence in response to pressure from the Trump administration for easier policy. President Donald Trump blamed the prospect of slower growth on the Fed's rate hikes while Larry Kudlow, director of the National Economic Council, just called for a 50-basis-point rate cut. That last rate increase in December placed the Fed in a bad spot from both an economics and political perspective.
My generally optimistic outlook hinges on the contention that the Fed wants to kill your recession call. They made big steps in that direction following the December rate boost by shifting to a patient policy stance, signalling that we are mostly likely at the peak of this cycle and that they do not intend for restrictive monetary policy. That said, a policy error remains on the table, and we should be watching for signs that the Fed wants fairly conclusive evidence of economic weakness before cutting rates. By then, though, it may too late to keep the next recession at bay.
Signs A Recession Is Coming? Maybe Not
Whether or not a recession will occur soon depends on who you ask.
Take the Conference Board's Leading Economic Index, for instance. It examines 10 leading economic indicators to arrive at a growth or decline rate for the economy, and it helps predict recessions in the months leading up to the downturn. In November, the LEI grew by 0.2, which signals that our economy is still humming along though growth has slowed a bit.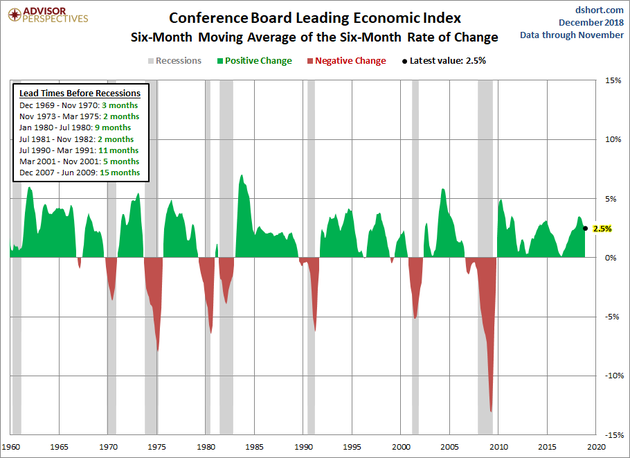 Then again, other common economic measures say otherwise. Here are a few reasons why we might actually experience a recession soon.
1. Stock Market
Stock market performance is often considered a strong indicator of overall economic health. And historically, stock market peaks have preceded economic downturns by an average of seven to eight months (the actual range is a lot wider). On Oct. 3, the Dow Jones hit its highest closing record for the 15th time in 2018 at 26,828.39, following the record-setting day prior.
Less than three months later, the stock market experienced the worst December since the height of the Great Depression.
Even so, you should take these "signs" with a grain of salt. As the late Nobel Prize-winning economist Paul Samuelson joked decades ago, "the stock market has predicted nine of the last five recessions." Certain stock market behaviour can signify a recession is coming, but by no means heralds one.
2. Yield Curve
A somewhat more reliable indicator is the yield curve on U.S. Treasury securities. "Historically, when the yield curve inverts ― the interest rate on shorter-term treasury bonds is higher than the interest rate on longer-term Treasury bonds ― a recession can sometimes follow," said Shayne 'Jack' Heffernan, CEO and Fund Manager of Heffx Inc.
How closely are the two correlated? Let's just say the curve was inverted prior to the past seven recessions. In early December, the front-end of the yield curve inverted for the first time in more than a decade, meaning the yield on 5-year Treasury notes dropped below the 2- and 3-year notes.
3. Job Market
Another major number that could point to an imminent recession is unemployment. And counter-intuitively, it's a low rate of unemployment that often signals a slowdown.
Recently, unemployment dropped to 3.7 percent ― a nearly 50-year low. Wages are also growing at the fastest rate since 2009. According to Forbes, strong job market statistics like these indicate that we're reaching the end of the latest economic cycle rather than the beginning. In fact, an unemployment rate below 4 percent ― which is quite rare ― has often immediately proceeded past recessions.
4. Timing
Finally, as mentioned above, recessions are a normal part of the economic cycle. "While it's not a very technical indicator, a long run of economic expansion can tell us something, too," Shayne 'Jack' Heffernan said. "We haven't had a recession or bear market since 2008-2009. The economy has been expanding (albeit slowly) since then. So have the stock markets."
For these reasons, Shayne 'Jack' Heffernan said, we might actually be overdue for slowing economic growth, if not a recession.
What Does This Mean For You?
Shayne 'Jack' Heffernan added recessions impact the average person in two major ways. The first is unemployment: "When a recession hits, generally it's accompanied by rising unemployment," he said.
The second is spending. "If a person is able to keep their job, they probably won't be completely confident in spending their money on things like TVs, cars, homes and services because of all the negativity that accompanies a recession," Shayne 'Jack' Heffernan said. "Our economy is very dependent on consumer consumption of goods and services and folks tend to 'hunker down' during recessions because they fear losing their job."
That means regardless of when the next recession hits, it pays to be prepared.
Build up your emergency fund.
Your top concern during a recession should be staying on top of your bills and ensuring you have a reliable source of income.
"Everyone should have an emergency fund of three to nine months of mandatory expenses, depending upon their circumstances,"
Know your risk tolerance.
Though it can be difficult to predict your own behaviour during certain situations, you should ask yourself what you'd do if the market were to drop by 10, 20 or even 50 percent. "If the answer sounds like 'I'd sell everything to preserve what's left,' alarm bells should go off," Shayne 'Jack' Heffernan said. "It's a sign your portfolio doesn't match [your] risk tolerance."
If that's the case, you should reexamine your asset allocation. "Better to come up with an allocation you can live with through thick and thin now, rather than wait for markets to drop and sell your assets at fire sale prices,"
Shayne 'Jack' Heffernan said.
Sell in May and Go Away rings true for May, 2019.
The following two tabs change content below.
HEFFX has become one of Asia's leading financial services companies with interests in Publishing, Private Equity, Capital Markets, Mining, Retail, Transport and Agriculture that span every continent of the world. Our clearing partners have unprecedented experience in Equities, Options, Forex and Commodities brokering, banking, physical metals dealing, floor brokering and trading.
Latest posts by HEFFX Australia (see all)