Rising Sales and FCF Pushed Up Alibaba Group Holding Limited (NYSE:BABA)
Many people are concerned about the Chinese coronavirus outbreak and the steps the government is taking to contain it. And obviously, Alibaba (NYSE:BABA), the Chinese e-commerce giant, is directly affected. BABA stock has already fallen 9% from its peak as a result.
BABA stock has a $558 billion market value, and this drop represents a hit of over $50 billion. The company is likely to be hit pretty hard during its first quarter.
Since the virus outbreak became big news, the expected effect on Alibaba began to take over investors' fears.
Rising Sales and FCF Pushed Up Alibaba
Up until then, BABA's earnings and free cash flow (FCF) were rising dramatically.
For the last 12 months (LTM), quarterly FCF growth had been slowing. That is, up until recently. The chart I have prepared below shows that in the past several quarters, Alibaba was moving forward.
In the last two calendar quarters of 2019, growth was in the high teens (including my estimate of its fourth-quarter numbers).
This chart shows how powerful Alibaba's free cash flow has been.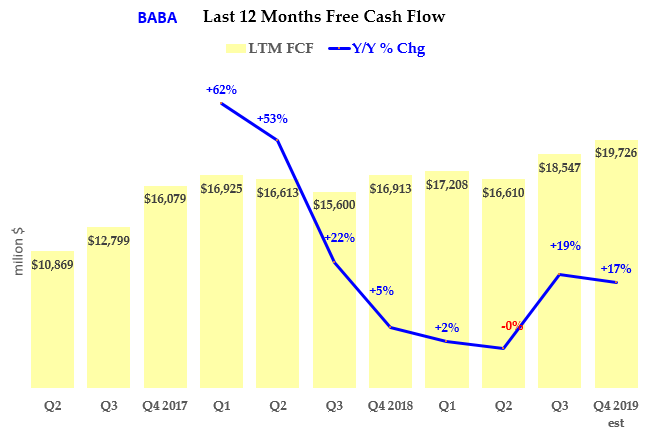 That growth, however, could be in jeopardy with the huge coronavirus outbreak in China. But will the company really lose $50 billion in profits over the virus outbreak, as the drop in its market value implies?
Not likely. That would represent over three quarters of its FCF generation capability. So that leads me to believe there may be an opportunity here for clear-thinking investors.
Being Contrarian About Disasters
The most important thing to remember about disasters is that they end. It turns out that recovery can actually bring a big surge in economic activity.
Part of the reason is pent-up demand. For example, China has locked down many cities. Normal economic activity is stunted. However, online activity with companies like Alibaba is likely to not be suffering as much as traffic to brick and mortar retailers.
It turns also turns out that the Chinese government is likely to take efforts to spur economic growth once the virus starts to slow down. That could also have a beneficial effect on sales for companies like Alibaba.
So, in a contrarian sort of way, it turns out that the best thing for BABA stock is this crisis. The market looks forward and discounts the next six to nine months ahead.
Don't forget that BABA stock has already fallen from its peak, likely discounting a lot of the bad news that can be expected over that timeframe.
Technical Indicators
Overall, the bias in prices is: Upwards.
The projected upper bound is: 218.87.
The projected lower bound is: 199.22.
The projected closing price is: 209.04.
Candlesticks

A white body occurred (because prices closed higher than they opened).
During the past 10 bars, there have been 6 white candles and 4 black candles for a net of 2 white candles. During the past 50 bars, there have been 30 white candles and 20 black candles for a net of 10 white candles.
A doji star occurred (where a doji gaps above or below the previous candle). This often signals a reversal with confirmation occurring on the next bar.
A long lower shadow occurred. This is typically a bullish signal (particularly when it occurs near a low price level, at a support level, or when the security is oversold).
Momentum Indicators

Momentum is a general term used to describe the speed at which prices move over a given time period. Generally, changes in momentum tend to lead to changes in prices. This expert shows the current values of four popular momentum indicators.
Stochastic Oscillator
One method of interpreting the Stochastic Oscillator is looking for overbought areas (above 80) and oversold areas (below 20). The Stochastic Oscillator is 48.2681. This is not an overbought or oversold reading. The last signal was a buy 3 period(s) ago.
Relative Strength Index (RSI)
The RSI shows overbought (above 70) and oversold (below 30) areas. The current value of the RSI is 42.82. This is not a topping or bottoming area. A buy or sell signal is generated when the RSI moves out of an overbought/oversold area. The last signal was a sell 10 period(s) ago.
Commodity Channel Index (CCI)
The CCI shows overbought (above 100) and oversold (below -100) areas. The current value of the CCI is -110.This is an oversold reading. However, a signal isn't generated until the indicator crosses above -100. The last signal was a buy 1 period(s) ago.
MACD
The Moving Average Convergence/Divergence indicator (MACD) gives signals when it crosses its 9 period signal line. The last signal was a sell 7 period(s) ago.
Rex Takasugi – TD Profile

ALIBABA GRP ADR closed down -3.440 at 208.580. Volume was 17% below average (neutral) and Bollinger Bands were 18% wider than normal.
Open     High      Low     Close     Volume___

208.540  209.800  205.040  208.580   2,853,388
Technical Outlook 

Short Term:          Neutral

Intermediate Term:   Bearish

Long Term:           Bullish
Moving Averages: 10-period     50-period     200-period

Close:            216.52         208.50         181.19

Volatility:           36             30             36

Volume:        3,170,043      3,821,893      3,520,616
Short-term traders should pay closer attention to buy/sell arrows while intermediate/long-term traders should place greater emphasis on the Bullish or Bearish trend reflected in the lower ribbon.
Summary
ALIBABA GRP ADR is currently 15.1% above its 200-period moving average and is in an downward trend. Volatility is extremely high when compared to the average volatility over the last 10 periods. There is a good possibility that volatility will decrease and prices will stabilize in the near term. Our volume indicators reflect volume flowing into and out of BABA.N at a relatively equal pace (neutral). Our trend forecasting oscillators are currently bearish on BABA.N and have had this outlook for the last 3 periods.
The following two tabs change content below.
HEFFX has become one of Asia's leading financial services companies with interests in Publishing, Private Equity, Capital Markets, Mining, Retail, Transport and Agriculture that span every continent of the world. Our clearing partners have unprecedented experience in Equities, Options, Forex and Commodities brokering, banking, physical metals dealing, floor brokering and trading.