$NFLX $DIS $T $CMCSA $ZM
There is a complex problem awaiting the streaming entertainment industry when it emerges from the coronavirus chaos.
The Big Q: Is it possible to make money in entertainment streaming?
The hockey stick rise of Netflix Inc. (NASDAQ:NFLX) has warped the US entertainment media industry, forcing companies such as Walt Disney Co.(NYSE:DIS) and AT&T Inc.(NYSE:T) that have enjoyed healthy profits to embrace a broken business model.
That being: spend billions of dollars to create an endless supply of content, then sell monthly access to this deluxe all-you-can-watch buffet for a bit more than the cost of a McDonald's Happy meal.
Analysts from Cowen & Co estimate that while Netflix's annual rate of churn is 10% to 20%, it may be as high as 50% for other streaming services.
Having so many options might sound like a treat for consumers, but it has not worked out that way.
The Southside of the proliferation of streaming apps is that some of the most sought-after TV content now lives behind paywalls.
You need different accounts for CBS All Access, Disney+, HBO Max, WWE Network and so on. Their low prices would be great if you could do with just 1 service, but most families require more.
The race to attract and retain subscribers was challenging enough before the coronavirus shut down entire swathes of our economy.
Now, consumers are rethinking how much content they need and what is a worthwhile household expense. When all a country can do is sit home and gorge on movies and TV, a free trial to stream Netflix or any other services is worth its hrs of content in gold.
The Big Q2: Will new users halt once those free trials are up?
When we return to some type of normal, the economic realities are going to hit these services.
To make streaming viable in a post-COVID-19 world, it has to become less frustrating for users and less painful for media's CFOs.
After observing what's worked for some streaming companies and other types of entertainment services there are 3 ideas the industry should explore to make profits, they are as follows;
Incorporate ads to keep subscription fees low — but do so in new, inventive ways that are less intrusive than long stretches of commercial time,
Reintroduce content and Internet bundles to alleviate some of the cost and inconvenience of managing multiple subscriptions, which would discourage customers from canceling, and,
Make streaming-video apps more of a social community akin to Instagram and TikTok in order to promote more usage.
Netflix viewers have become accustomed to not having to sit through ads, they like it. But that approach probably cannot work long-term if consumers want an affordable service with a constant flow of fresh content that is written and produced at high levels. Ultimately streaming companies must make money and not in the debt-fueled, cash-flow-burning ways of Netflix.
The TV business works better when the consumer is the product, able to be sized up by advertisers hoping to activate their shopping reflexes. Not all consumers hate ads as much as they profess to, or at least not to the extent that they hate overpriced subscriptions.
Surveys by consumer-research firms have repeatedly shown that the biggest gripe among cable-TV subscribers is how much they pay.
Already, tens of millions of people have embraced free, ad-supported streaming services, such as Pluto TV and Tubi.
So far, Netflix has not changed tunes on ads.
Co-founder/CEO Reed Hastings says that the company doesn't want to try to compete with Google and Facebook Inc. in the controversial business of tracking a user's whereabouts and other highly personal data sought by advertisers. That may be true, but Netflix does not want to alienate customers while it's sin growth mode and enjoying such a wide lead over all rivals.
In April, Comcast Corp.'s (NASDAQ:CMCSA) NBC Universal held a soft launch for its Peacock streaming service that gives viewers the option of watching with or without interruptions.
Hulu has shown that the Goldilocks choice is in the middle, a low subscription price coupled with ad revenue. Most Hulu subscribers are on its basic $6/month plan that includes ads, and Hulu is said to make more money off those customers than the those who pay $12 for ad-free streaming.
Regional stay-at-home orders have changed things.
Some of the biggest advertisers: auto manufacturers and insurers, travel websites, resorts, + now have little reason to spend on air time. TV ad budgets have evaporated.
Market-research company EMarketer predicts this spending will drop as much as 29% in just 1-H of Y 2020, that is a $12-B cut to its original forecast.
But, as the world resumes normalcy, lots of advertisers will still be looking at streaming audiences, and streaming apps will welcome their dollars.
John Stankey, who will become AT&T's CEO on 1 July has called ads and high-quality streaming content "a winning combination."
Making ads a fixture of premium TV apps will require some creativity, though. Comcast has promised to limit Peacock's own ad load to 5 mins per hour. But the best solution may be in changing what form a promotional spot takes.
Hulu has notably experimented with new ways to present ads, such as displaying them when a user pauses a video.
Bundles may seem like another annoying remnant of the cable-TV era, but if done right they could improve the streaming experience.
Disney is an example of how it can work: Even though Disney+ already has more than 50-M subscribers, the app, which charges $7/month or $70/yr will eventually suffer for not having enough variety beyond children's animated features and Marvel and "Star Wars" content. This is why its $13/month bundle with Hulu, the same rate as a standard Netflix subscription is proving to be Disney a more practical Netflix substitute.
AT&T is pursuing its own bundle, too, with plans to use the forthcoming HBO Max as a freebie for some wireless customers to keep them loyal.
Likewise, Peacock premium with ads does not cost anything extra for subscribers to Comcast cable or internet packages.
Structuring bundles, while investing in more dynamic billing and cancellation processes, could be the difference between keeping a customer and losing one.
The big lesson the entertainment industry should take away from this medical emergency chaos is that there is value in being able to provide human connection.
TV services are making life on lockdown more bearable, but it is the video conferencing tools like Zoom (NASDAQ:ZM) and social-media apps like Instagram and TikTok that are uniting folks and creating a sense of community.
A study published this month in the International Journal of Information Management found that, with free-to-play video games social features not only helped to keep users interested, and encouraged more in-app spending.
Netflix's "Tiger King" docuseries took social media by storm in recent weeks, as memes about the show went viral, and yet there was no way to experience that collective fascination on Netflix itself.
During sequester, families and friends have been jury-rigging ways to watch their favorite shows via video chat. There is now a Netflix Party extension for the Google Chrome browser that does this almost seamless.
HeffX-LTN's overall technical outlook for NFLX is Bullish with a Very Bullish bias in here.
Support is Key at 386.38 and there is light Resistance at 445.88. The stock finished at 415.27 off 4.58 in NY Friday.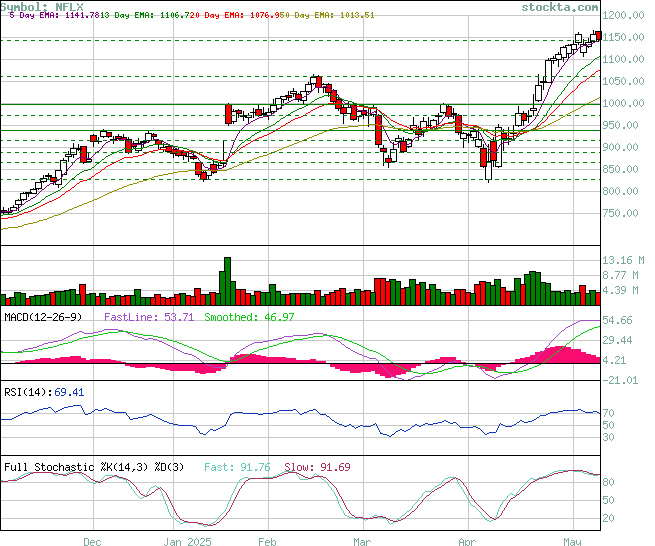 Even before the coronavirus chaos came on, the business model of streaming was looking for a change.
Maybe, the new normal be defined by most people spending more time with a remote control or device in hand, Hollywood is creative!
Have a healthy weekend, Keep the Faith!