Netflix, Inc. (NASDAQ:NFLX) Huge New Content Spending Not Adding Enough Subscribers
Netflix spent $13 billion on content last year, with 85% of new spending earmarked for originals. For that much money, they should be more than just "on track" to have originals be the majority of viewing in every category. The company acknowledged in the most recent quarter that its original content hasn't driven enough growth. From the Q2 2019 investor letter:
We think Q2's content slate drove less growth in paid net adds than we anticipated.
Rather than acknowledge the limitations of their strategy, however, Netflix appears determined to throw more money at the problem. Netflix hasn't given a specific content budget for 2019, but they expect content costs to continue growing at a similar trajectory, which would put the company on pace to spend $17.5 billion this year. As Figure 1 shows, Netflix's revenues are not growing fast enough to cover its rising expenses.
Figure 1: Subscriber Growth Is Not Enough to Cover New Content Spending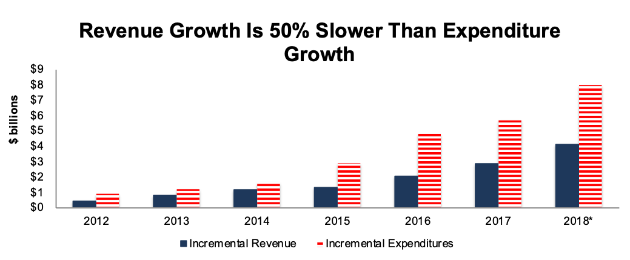 As a result of rising content costs, Netflix has been forced to raise its prices, which only serves to make the upcoming streaming services from Disney, Warner Media, and NBC Universal more viable. The company noted that subscriber growth missed forecasts by a larger amount in regions with price increases, so it's clear that higher prices are already impacting subscriber numbers.
Figure 2 shows that Netflix's cost to acquire new subscribers continues to rise. In 2012, the company spent $308 on marketing and additions to streaming content for each new subscriber. By 2018, that number rose to $539, an increase of 10% compounded annually. After Q2 2019, the cost to acquire a new subscriber is up to $581 TTM.
Figure 2: Content and Marketing Spending Per New Subscriber: 2012-TTM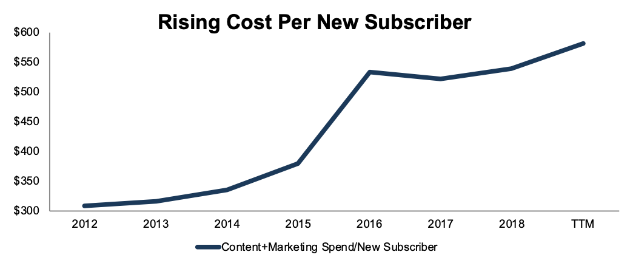 For a user paying the standard price of $13/month in the US, it takes almost 4 years to pay back that acquisition cost. Given that Netflix's subscriber growth is now coming solely from international markets, where prices are lower, the payback period will be even longer for most new subscribers.
This trend is undoubtedly the wrong direction for Netflix. The firm's content strategy causes it to lose more money and grow subscribers at a slower rate. It seems that it is only a matter of time before investors lose patience with Netflix's egregious cash burn when it is not translating into progress toward eventual profitability.
To maintain credibility, Netflix management needs to tell us how, exactly, it will make money. Enough with the number of Instagram followers. Give investors something tangible that creates confidence that there's a chance future profits can match or exceed the expectations baked into the current valuation of the stock. Otherwise, it is time to sell the stock.
Overall, the bias in prices is: Downwards.
Note: this chart shows extraordinary price action to the downside.
By the way, prices are vulnerable to a correction towards 351.34.
The projected upper bound is: 333.70.
The projected lower bound is: 285.45.
The projected closing price is: 309.58.
Candlesticks
A black body occurred (because prices closed lower than they opened).
During the past 10 bars, there have been 2 white candles and 8 black candles for a net of 6 black candles. During the past 50 bars, there have been 23 white candles and 27 black candles for a net of 4 black candles.
Momentum Indicators
Momentum is a general term used to describe the speed at which prices move over a given time period. Generally, changes in momentum tend to lead to changes in prices. This expert shows the current values of four popular momentum indicators.
Stochastic Oscillator
One method of interpreting the Stochastic Oscillator is looking for overbought areas (above 80) and oversold areas (below 20). The Stochastic Oscillator is 5.7424. This is an oversold reading. However, a signal is not generated until the Oscillator crosses above 20 The last signal was a sell 9 period(s) ago.
Relative Strength Index (RSI)
The RSI shows overbought (above 70) and oversold (below 30) areas. The current value of the RSI is 22.92. This is where it usually bottoms. The RSI usually forms tops and bottoms before the underlying security. A buy or sell signal is generated when the RSI moves out of an overbought/oversold area. The last signal was a sell 126 period(s) ago.
Commodity Channel Index (CCI)
The CCI shows overbought (above 100) and oversold (below -100) areas. The current value of the CCI is -182.This is an oversold reading. However, a signal isn't generated until the indicator crosses above -100. The last signal was a sell 7 period(s) ago.
MACD
The Moving Average Convergence/Divergence indicator (MACD) gives signals when it crosses its 9 period signal line. The last signal was a sell 5 period(s) ago.
Rex Takasugi – TD Profile
NETFLIX INC closed down -4.480 at 310.620. Volume was 154% above average (trending) and Bollinger Bands were 141% wider than normal.
Open High Low Close Volume___
312.000 314.540 305.810 310.620 17,725,334
Technical Outlook
Short Term: Oversold
Intermediate Term: Bearish
Long Term: Bearish
Moving Averages: 10-period     50-period     200-period

Close:            355.96         357.38         337.09

Volatility:           61             44             55

Volume:       11,656,599      6,543,662      9,874,744
Short-term traders should pay closer attention to buy/sell arrows while intermediate/long-term traders should place greater emphasis on the Bullish or Bearish trend reflected in the lower ribbon.
Summary
NETFLIX INC is currently 7.9% below its 200-period moving average and is in an downward trend. Volatility is extremely high when compared to the average volatility over the last 10 periods. There is a good possibility that volatility will decrease and prices will stabilize in the near term. Our volume indicators reflect moderate flows of volume out of NFLX.O (mildly bearish). Our trend forecasting oscillators are currently bearish on NFLX.O and have had this outlook for the last 2 periods. Our momentum oscillator is currently indicating that NFLX.O is currently in an oversold condition.
The following two tabs change content below.
HEFFX has become one of Asia's leading financial services companies with interests in Publishing, Private Equity, Capital Markets, Mining, Retail, Transport and Agriculture that span every continent of the world. Our clearing partners have unprecedented experience in Equities, Options, Forex and Commodities brokering, banking, physical metals dealing, floor brokering and trading.
Latest posts by HEFFX Australia (see all)