Over the years I have used Estee Lauder (NYSE:EL) as my Lipstick Indicator, as an economic indicator which suggests that consumers turn to less expensive 'luxury' items such as lipstick when they do not feel confident about the economic future, but in this coronavirus chaos, it was turned upside down since there is virtually no Hugging or Kissing with 6 ft of separation, aka social distancing.
This indicator was 1st proposed by Leonard Lauder, Chairman of Estée Lauder, in the wake of the 9/11 terrorist attacks. Mr. Lauder noticed that in the months following the attacks, his company's lipstick sales 2X'd. Further research showed that historically, surges in lipstick sales occurred during difficult economic times, revealing the Leading Lipstick Indicator to be a relatively reliable metric for determining consumer confidence.
While the Lipstick is not a precise measure of whether a recession is looming, it marks a shift in consumer confidence, as consumers, particularly women, will forego more expensive luxury purchases, such as clothing and accessories, in favor of a less expensive product, such as lipstick.
In this coronavirus things changed, and sales at EL fell from its high on 14 February at 215.01 to 144.08 on 23 March and all technical indicators were Bearish to Very Bearish, then on 15 March those indicators turned Bullish on the prospect that President Trump would open up the country, and people would Hug and Kiss again.
Friday EL closed at 174.60 on its way back to 215 mid term and then higher on the economy's full recovery. Strong support at 167.60 and Key resistance at 191.45.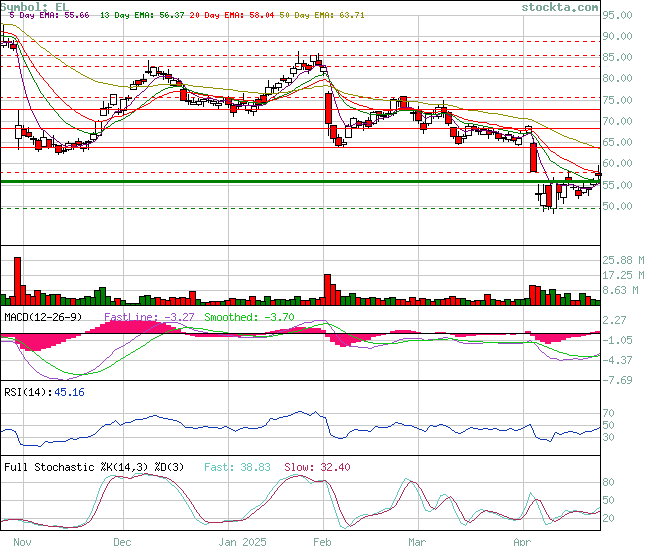 Since the advent of market tracking, many indicators based on the behavior of consumers to predict market trends have been proposed, Lipstick is a favorite of mine.
Have a healthy weekend, Keep the Faith!