Musk's 'Production Hell" Burns Tesla's (NASDAQ:TSLA) Cash a Record Pace
$TSLA, $F, $RACE
Elon Musk declared last week that he is designing a new sports car that could go from Zero to 60 mph in 1.9 secs signaling that he now want to compete with the world's #1 automotive brand, Ferrari (NYSE:RACE)
The hypemiester CEO does not consider that investors want to the company to focus instead on delivering on past promises and making money.
Over the past 12 months, the rentier EV maker has been burning cash at about $480,000/hour. At this pace, the company is on track to exhaust its current cash pile sooner rather than later.
The in the 'ether' investors do not seem concerned.
Tesla shares rose almost 3% to $317.81 Tuesday, giving it a market cap of $53-B Vs. Ford (NYSE:F) with a market cap of $48-B.
Tesla's need for fresh cash came into high vision last week when Elon Musk unveiled his latest scheme to raise money.
He is again asking customers to pay him upfront to order vehicles that may not be delivered for years or ever for that matter. His last run at this method was for the forlorn Model 3, where about 400,000 fans gave him $1,000.00 deposits on the non-luxury version of his EV Model S.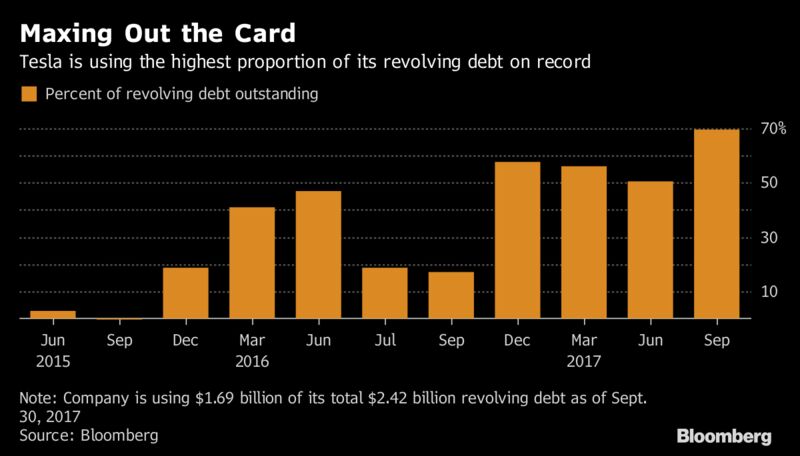 The Founders Series Roadster will cost buyers a $250,000 down payment even though it's not coming for more than 2 years, that's the Musk time frame, he has never made 1 come true.
Orders of those cars are capped at 1,000, meaning they alone could generate $250-M.
Tesla is charging $50,000 for a reservations of the regular Roadster.
Companies can also pre-order electric Semi trucks for $5,000, though the frame for production is not until Y 2019, then again if ever.
But, hang on, this a distraction from Tesla's real financial needs.
Elon Musk is burning through more that a B a Quarter  thanks to a misinvestment investment in making the Model 3, a $35,000 car that is currently in production Hell and not be out anytime soon, no revenue, income or margin there for investors to count on.
Analysts estimates Tesla will be required to raise at least $2-B in fresh capital by mid-2018.
Tesla says it has money to meet its target of producing 5,000 Model 3 sedans by the end of March.
After that date, the company expects to "generate significant cash flows from operating activities," Tesla said in its 1 November letter to shareholders.
Tesla's capital expenditures should also decline as the company pays off its expenses related to the Model 3, CFO Deepak Ahuja said on a conference call the same day.
A spokesman for Palo Alto-based Tesla, declined to elaborate.
This is the reality:
Tesla, Inc. aka Elon Musk, is already drawing down on more of its revolving credit facilities than ever before. And while the bond market is a possible route, it may not be especially welcoming in here.
Investors who bought $1.8-B of debt 3 months ago remain under water even after the notes recovered a bit from a low of 93.88 cents on the dollar early this month.
That may leave selling equity as the most viable option, thus dilute existing shareholders, and Mr. Musk, at 20%, is the biggest. But do we see him scowling, no, all of the pictures I see of him he seems to be laughing loud on the inside, while smiling and snickering in the outside.
HeffX-LTN Analysis for TSLA:
Overall
Short
Intermediate
Long

Bearish (-0.25)

Neutral (-0.07)

Neutral (-0.19)

Very Bearish (-0.50)
Stay tuned…
The following two tabs change content below.
Paul Ebeling
Paul A. Ebeling, polymath, excels in diverse fields of knowledge. Pattern Recognition Analyst in Equities, Commodities and Foreign Exchange and author of "The Red Roadmaster's Technical Report" on the US Major Market Indices™, a highly regarded, weekly financial market letter, he is also a philosopher, issuing insights on a wide range of subjects to a following of over 250,000 cohorts. An international audience of opinion makers, business leaders, and global organizations recognizes Ebeling as an expert.
Latest posts by Paul Ebeling (see all)