The virus outbreak has stabilized across the US, according to the head of the Centers for Disease Control and Prevention (CDC).
Parts of the US may be ready to ease emergency measures in May, said Dr. Tony 'Doom' Fauci, director of the National Institute of Allergy and Infectious Diseases.
UK Prime Minister Boris Johnson praised doctors for saving his life during his week-long hospitalization for Covid-19 treatment.
Key Developments
Coronavirus Tracker: Global cases reach 1.85-M, 104-K deaths
70 coronavirus vaccines in development globally
Spain reports smallest number of new infections since 20 March, non essential workers going back to work.
Dr Tony 'Doom" Fauci says US reopening could start 'in some ways' in May
Cruise passengers spend Easter on "ghost ship"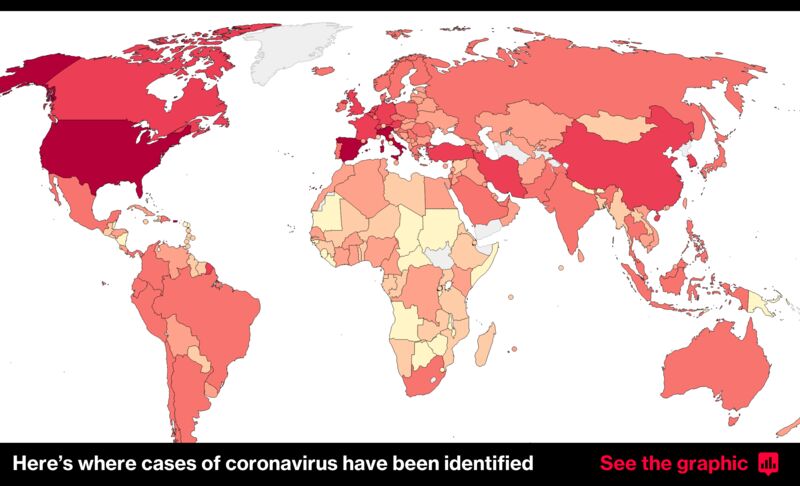 US Outbreak Stable, CDC Director Said
Coronavirus has stabilized across the US and is expected to show declines in days ahead, CDC Director Robert Redfield said on TV early Monday. The US will reopen slowly and in a prudent way, he said, without providing a timeline.
German Schools Should Reopen Soon, Adviser Said
The National Academy of Sciences recommends that primary schools and lower secondary education should be gradually reopened as soon as possible. If new infections stabilize and hygiene measures are followed strictly, the lockdown can be gradually eased, the scientific adviser to the German government said.
Coronavirus cases in Germany registered their smallest increase this month Monday, a sign the infection curve in Europe's largest economy may be flattening.
Dutch Deaths, Cases Moderate
Confirmed cases in the Netherlands rose by 4% to 26,551, below the seven-day average. The RIVM National Institute for Public Health and the Environment recorded 86 new fatalities, the lowest daily increase since March 26. The Netherlands now has 2,823 confirmed deaths. Hospital admissions rose a stable 2%.
Fed's Clarida Says Virus a Severe Hit But US Can Avoid Deflation
Fed Vice Chairman Richard Clarida said the central bank has the tools needed to keep the US out of a deflationary trap, even as the coronavirus deals a severe hit to the economy. "Demand is impacted very adversely, we're trying to offset that with our policy. I don't believe it's deflationary," Mr. Clarida said in an interview on TV. "I think we have the tools to keep the U.S. economy out of deflation and to support the economy through this challenging period."
Philippines Eases Ban on Nurses Seeking to Leave for Jobs Abroad
The Philippines is easing a ban on overseas deployment of health workers, allowing those with existing contracts abroad to leave, according to Foreign Affairs Secretary Teodoro Locsin.
Emirates Airline Plans Passenger Flights to More Cities
Emirates is planning to operate passenger services to more cities as the Dubai-based airline gradually ramps up operations that was shut following the coronavirus outbreak. It will operate flights to Jakarta, Manila, Taipei, Chicago, Tunis, Algeria, and Kabul in addition to its operations to London and Frankfurt, according to a airline statement.
Air France-KLM Seeks About EUR10-B in State Support
Air France-KLM group is seeking state support of about $11-B, including $7-B for Air France.
Athersys Says FDA Authorizes MultiStem Clinical Trial (6:06 a.m. NY)
Athersys said the US Food and Drug Administration authorized it to initiate a Phase 2/3 pivotal study to assess the safety and efficacy of MultiStem therapy in subjects with moderate to severe acute respiratory distress syndrome induced by Covid-19.
Erdogan Gets Over Lockdown Chaos Without Losing Cabinet Member
Turkish President Recep Tayyip Erdogan has rejected the resignation of his popular interior minister after the botched handling of a coronavirus lockdown, a maneuver that allowed him to both deflect blame for the foul-up while keeping a defender in his cabinet. The calling of a snap lockdown over the weekend started a rush of panic-buying that all but defeated the purpose of trying to stem a surge in virus cases and deaths.
Italy to Ask for Significant Deficit Deviation, Official Said
Italy's government will ask parliament to allow a significant deficit deviation given the health crisis, Deputy Finance Minister Antonio Misiani said according to an Ansa report. Italy will finance part of its next economic relief package, expected to be approved by the end of April, with European Union funds worth about EUR 10-B, Ansa reported based on Mr. Misiani's comments on TV Monday.
Spain Reports Fewest New Virus Cases in More Than 3 Wks
Spain reported the smallest number of new coronavirus infections since 20 March Monday and saw the daily death toll fall. Over the past 24 hrs, there were 3,477 new cases detected, bringing the total number to 169,496, the health ministry said. The country saw 517 more people die from Covid-19, bringing the total to 17,489.
Have a healthy day, stay home, Keep the Faith!