Mining Investment Bankers Seeking High Quality Junior Gold & Silver Targets
Heffernan Capital Management Launches American Gold Mining Ventures
Deal-making is starting to flow again in the mining sector, as the big producers return to the hunt after several years.
A commodities price downturn sent metal prices falling for at least 3 years forced many of the biggest miners to severely cut investments and sell assets to cut debt. Last year prices began to recover and the industry has started to emerge in an aggressive way.
Mining investment bankers have returned to their prime targets, the juniors, those who take on the risk of exploring and developing projects in the hopes a tie-up with a large operator.
The prospect of increased deal-making was a Hot Topic for the more than 20,000 geologists, miners, promoters and investors attending the 4-day Prospectors & Developers Association of Canada convention, the world's biggest mining gathering, which started Sunday in Toronto and finishes Wedesday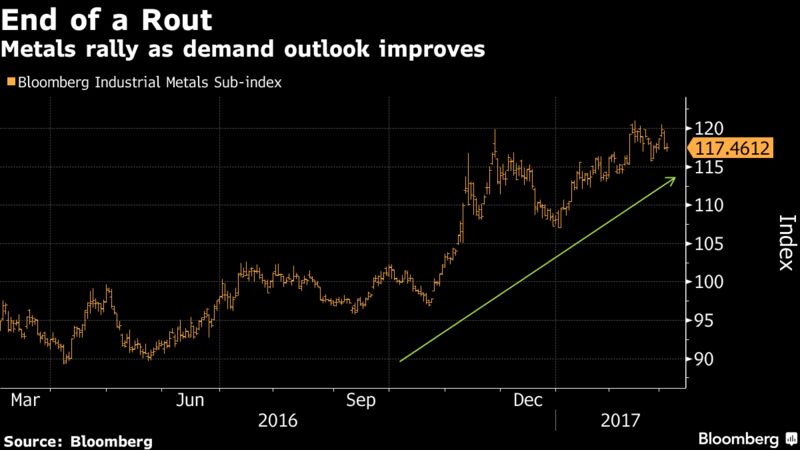 Mining companies and steel producers cut capital spending to $42.5-B in Y 2016, from $123.6-B in Y 2012, according to the data leaving many companies with few options to expand output except through deals with competitors.
Deal-making in mining is still way below its Y 2012 highs, transactions announced in the 1st 2 months of this year rose 41% to $7.6-B from Y 2016, according to the industry data.
That is the best start to a year since Y 2013, before Gold & Copper Bear's toppled markets.
Gold, Silver, Platinum and Palladium futures have climbed at least 7% this year, while all the main industrial metals, except Tin, have risen on the London Metal Exchange (LME).
Investors poured about $4.9-B into ETFs (exchange-traded funds) that track materials companies YTD, beating funds linked to technology firms, according to the data.
Money is coming in due to the improving demand outlook driven by economic stabilization in China and US President Donald Trump's $1-T infrastructure spending vow.
The nature of mining means active companies need to replace declining production or eventually they go into "liquidation mode"
Most companies do not have a decade to wait for permitting and development of Greenfield assets, so the hunt is on for advanced-stage projects.
"Evidence of a change in sentiment in the industry can be seen at the PDAC conference this week, where there's more activity and the mood is better than last year," said  Brett Heath, CEO of Metalla Royalty & Streaming, Ltd. (www.metallaroyalty.com)
Mining needs investment, said Shayne Heffernan of Heffernan Capital Management. "You cannot just keep chewing up the ore bodies and not invest in finding new ones."
Many of the large Gold miners, including industry leaders Barrick Gold (NYSE:ABX) and Newmont Mining Corp.(NYSE:NEM), are turning attention to developing or expanding internal projects.
Mining executives noted that they have learned from the mistakes of the past when they loaded up on high-cost projects, leaving them stuck with unprofitable assets when metals entered a Bear market.
Both Newmont, Barrick executives stressed the need to focus on margins rather than volume, the approach is now surgical.
In one of the biggest deals announced this year, Glencore Plc (OTCMKT:GLCNY) bought Israeli billionaire Dan Gertler out in a $960-M transaction to boost its ownership of 2 giant Congolese Cobalt and Copper mines.
Also, some other companies are signaling they want to jump into deals too. But, as metal prices bounce back, many producers have shelved plans to sell assets
Nevertheless, rising metal prices plus an improving global economy and better credit conditions will add to pressure to make deals.
Access to new capital and ratings back on a positive trajectory, I expect companies to return to M&A markets and project development work in an effort to address looming metal deficits.
The Big Q:  How much the bankers and miners will do differently this time around?
The Big A: We wait, we see, but if they start making too much money too fast it may they may not be as disciplined as should be.
HeffX-LTN Analysis for GLD:
Overall
Short
Intermediate
Long

Neutral (0.08)

Neutral (-0.04)

Neutral (0.17)

Neutral (0.11)
HeffX-LTN Analysis for SLV:
Overall
Short
Intermediate
Long

Neutral (0.14)

Neutral (-0.01)

Neutral (-0.04)

Bullish (0.47)
Stay tuned…
The following two tabs change content below.
HEFFX has become one of Asia's leading financial services companies with interests in Publishing, Private Equity, Capital Markets, Mining, Retail, Transport and Agriculture that span every continent of the world. Our clearing partners have unprecedented experience in Equities, Options, Forex and Commodities brokering, banking, physical metals dealing, floor brokering and trading.