No matter what you here, this market is not overvalued and barring any unexpected bad non-economic news, will continue to head due North.
The current P/E ratio for the S&P 500 is 22ish.
That is in line with the 12-month forward P/E ratio based on analysts' expected EPS.
The 25-yr MA is 25 and with the secular decline in interest rates, the sustainable P/E ratio is likely to continue to move up and above 25.
Simply the inverse of the P/E ratio shows us how stocks compete with long-term bonds and at about 4.5%, it is about 3X the yield on long-term bonds.
That is more than adequate reward compensation for the risk.
Current stock prices should be sustained by the expected pace of economic recovery and should go higher through the Summer and into the Fall as the economy continues to recover from the Medical Malpractice chaos.
The market is reflecting optimism that some solution can be reached regarding the C-19 coronavirus vaccine, treatment or a combination of effective testing to fully open the economy.
Investors are optimistic that there will not be an uncontrolled 2nd wave that forces another lockdown.
Thursday, the major US stock market indexes finished flat to unchanged at: DJIA +11.93 at 26281.82, NAS Comp -67.10 to 9615.84, S&P 500 -10.52 to 3112.22
The Bull paused to refresh Thursday, as the S&P 500 declined 0.3% in a flat session snapping a 4-session winning streak. The DJIA posted a 0.1% gainer, the NAS Comp declined 0.7%, and the Russell 2000 closed flat. 
As I write this report the S&P 500 futures are +14.75 at 3,125.35.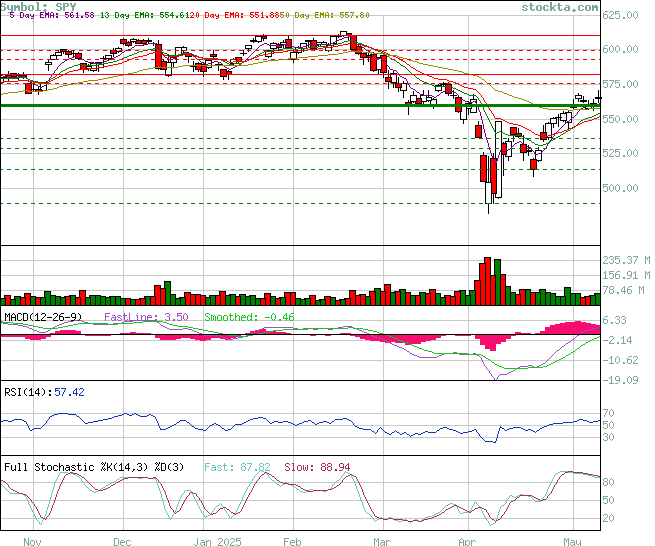 Volume: Trade on the NYSE came in at 1.2-B/shares exchanged
NAS Comp +7.2% YTD
S&P 500 -3.7% YTD
DJIA -7.9% YTD
Russell 2000 -13.0% YTD
HeffX-LTN's overall technical outlook for the major US stock market indexes is Very Bullish in here
Looking Ahead: Investors will receive the Employment Situation Report for May (NFPs) and Consumer Credit for April Friday. 
Have a healthy weekend, Keep the Faith!