Like Tesla's (NASDAQ:TSLA) Stock, its Bonds 'Tanked' Too
The '420' Tweet has raised pointed question from The Street about his judgement, is it impaired?
Like its stock price, Tesla (NASDAQ:TSLA) bonds have given up all of the gains they made after the company CEO, Elon Musk shocked investors with the '420' Tweet on 7 August, saying he had "funding secured" for a possible buyout deal at 420/share, suggesting the credit market has scaled back the chances of a deal, and data showed activity on the equities options market also indicates those investors also are skeptical of a deal
Tesla's high-yield debt trades at around 87.5c on the USD, down from 93.0c on 7 August, according to Thomson Reuters data.
Tesla's convertible bonds due in Y 2021 are trading around 107.20c on the USD, down from 120.46c on 7 August.
Convertible bonds give bondholders the right to trade their debt for equity after shares rise over a certain price.
Bondholders are paid back in full in the event of a buyout. The company's longer-dated convertible debt would earn an additional premium above par if Tesla were taken private.
The savvy bet now is: short the convertibles and long the high-yield junk, because that spread will collapse in the event Tesla files for bankruptcy
I believe bankruptcy is the path for Tesla if it does not find a buyer because of its high leverage compared to EBITDA.
A Tesla spokesperson declined to comment.
Mr. Musk said in his Q-2 shareholder letter that the company can be sustainably profitable from Q-3 onward, the market is skeptical
Tesla investors have raised their bets against the convertible bonds. Short positions in the 3 converts have risen, from $38.14-M on 6 August to $49.47-M on 16 August according to IHS Markit.
Tesla's convertible bonds due in Y 2021 are trading around 107.20c on the USD, about  20.8c shy of where they should trade if a deal at 420 was fully priced in.
Note: If these bonds were priced for a takeover, they would trade at a serious premium to the conversion value compared to when the deal was announced. The convertibles are certainly not trading as if this company is going to be taken private at 420, they never did.
Longer-dated convertible bonds benefit from take-private deals, which give bondholders additional shares. In a 420/share deal, the Y 2021 convertible bond would receive an additional 11% above face value, or 11% more stock.
On the day of Mr. Musk's '420' buyout Tweet, the share price hit an 11-month high of 387.46, more than 27 above the Y 2021 conversion rate. The highest the Y 2021 note traded that day was 120.46c on the USD.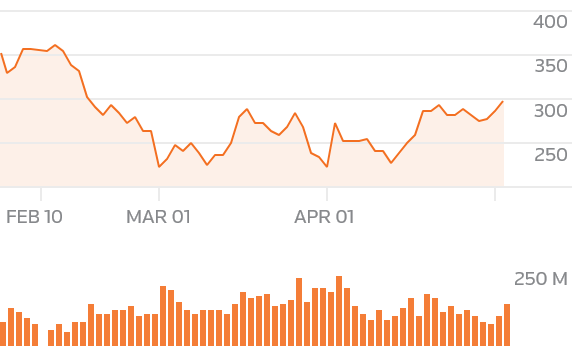 Tesla's debt is now trading below the price prior to the '420' deal Tweet, as well as below its price before its solid Q-2 earnings call on 1 August.
Traders in the US equity options market also doubt whether Mr. Musk can make good on his proposal, options data showed.
Data from Chicago-based volatility and options data firm ORATS showed that while traders had initially displayed some confidence Mr. Musk might be able to pull off the '420' deal, conviction has dropped.
"Initially options traders reacted with a little bit of belief, now there is disbelief," said the founder at ORATS.
Stripped of the impact of earnings on 1-year implied volatility of Tesla options, this gauge of how much traders expect the shares to move in the future is roughly back to where it was before the Musk '420' weet, ORATS data showed.
Had there been significant expectation for the Tesla to be taken private in the near future the volatility embedded in these contracts would have dropped.
Tesla shares finished flat to unchanged at 321.64 Wednesday in New York.
It is rumored M3 refunds are outpacing new deposits. Mr. Musk denies that.
HeffX-LTN's Overall Outlook on TSLA is Neutral
The Big Q: Where is Elon Musk, and how much trouble is he in?
The Big A: He has dropped out of sight and is perhaps sojourning in Spain.
Note: Big promises unmet mean Big problem…
Stay tuned…
The following two tabs change content below.
HEFFX has become one of Asia's leading financial services companies with interests in Publishing, Private Equity, Capital Markets, Mining, Retail, Transport and Agriculture that span every continent of the world. Our clearing partners have unprecedented experience in Equities, Options, Forex and Commodities brokering, banking, physical metals dealing, floor brokering and trading.