Key Stock Indexes, Crude, Gold & Silver Markets Briefing
$DIA, $GLD, $SLV, $OIL, $USO, $CU
Commentary
European stocks climbed, pushing a benchmark all-country index to within 1.5% of its record high.
The USD rebounded, strengthening against most major peers.
Copper touched the highest price since November after reports of lower production.
Global government bonds extended declines as France's 10-year yield breached 1% for the 1st time in more than a year.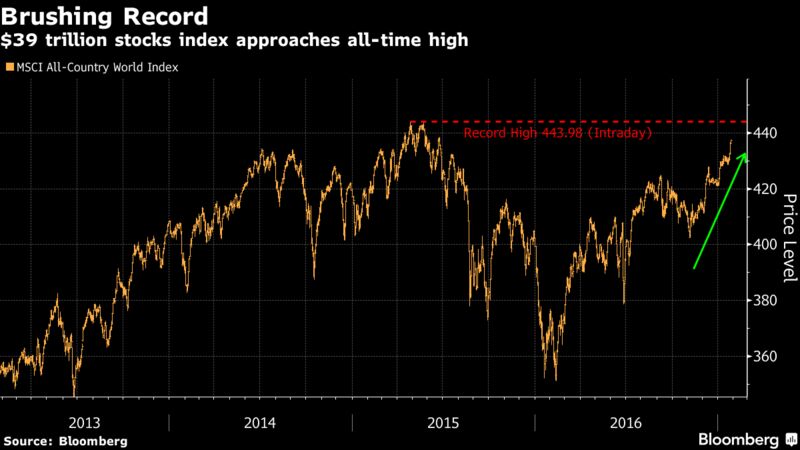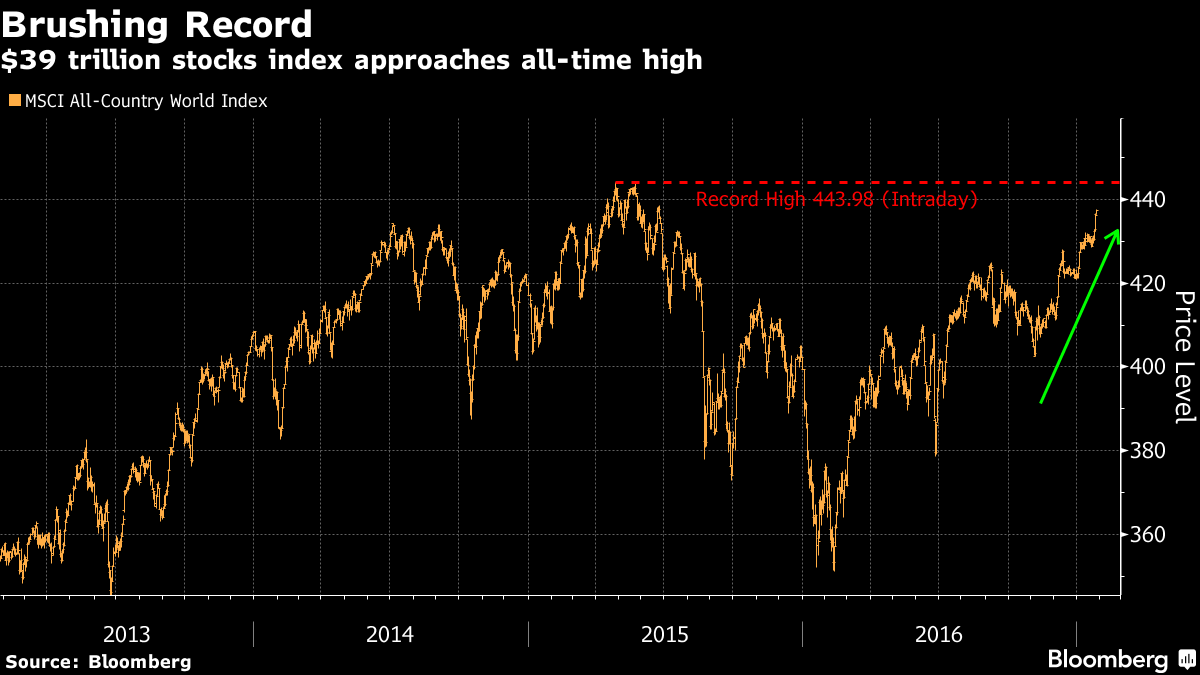 Record highs in the world's biggest equity indexes is fueling optimism that renewed growth in the US will filter through into other major global economies, creating demand for commodities exports and driving investors out of fixed-income assets and Gold.
The rally may meet resistance from economic indicators that have reached the upper reaches of historical ranges, according to Deutsche Bank AG strategists.
The surge in growth momentum that has been a Key driver of the sharp moves in global equity and rates markets, it will slow and adjust in the weeks and months ahead.
The Stoxx Europe 600 Index climbed 0.5% at 10:49 a London time, while Germany's DAX rose to a 20-month high.
S&P 500 futures were up 0.1% after the underlying index jumped 0.8% to 20,068.51 Wednesday.
Gold fell 0.6% to 1,193.24 oz after dropping 1.4%over the previous 2 sessions as optimism around corporate earnings fueled risk appetite.
WTI Crude Oil rose 0.3% to 52.91, paring Wednesday's declines as investors weighed output cuts from OPEC and other producing nations against expanding US Crude Oil stockpiles.
Copper for delivery in three months was little changed on the London Metal Exchange (LME) after climbing to the highest since 28 November 2016 at 6,045.50 a ton after miner Anglo American said output fell.
As I write this report at 6:46a EST on 26 January, the major US stock market index futures are trading flat with a Bullish bias.
The market know what the market knows, for now take what it gives, and pay attention.
Stay tuned…
The following two tabs change content below.
Paul Ebeling
Paul A. Ebeling, polymath, excels in diverse fields of knowledge. Pattern Recognition Analyst in Equities, Commodities and Foreign Exchange and author of "The Red Roadmaster's Technical Report" on the US Major Market Indices™, a highly regarded, weekly financial market letter, he is also a philosopher, issuing insights on a wide range of subjects to a following of over 250,000 cohorts. An international audience of opinion makers, business leaders, and global organizations recognizes Ebeling as an expert.
Latest posts by Paul Ebeling (see all)