FLASH: Speculative-grade bond yields have retraced nearly all of Y 2018's selloff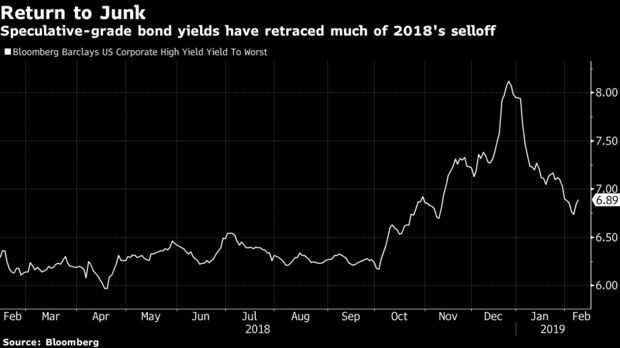 This action is the latest sign that investors have returned to the market with a after fleeing for safer asset classes at the end of Y 2018.
Here is how the market has been acting since 31 December, as follows;
Investors have been shoveling cash into funds that buy high-yield debt, with data provider Lipper reporting an inflow of $3.86-B last week, the biggest since July 2016
US junk bonds have had the best start to the year since Y 2009 and have been the best asset class in fixed income with YTD returns of 4.83 %
The biggest gains have come in the riskiest part of the market, with triple-C rated notes returning 5.53%.
The markets resilience augers well for equities going forward.
Remember, always take what the market gives.
Stay tuned…
The following two tabs change content below.
Paul Ebeling
Paul A. Ebeling, polymath, excels in diverse fields of knowledge. Pattern Recognition Analyst in Equities, Commodities and Foreign Exchange and author of "The Red Roadmaster's Technical Report" on the US Major Market Indices™, a highly regarded, weekly financial market letter, he is also a philosopher, issuing insights on a wide range of subjects to a following of over 250,000 cohorts. An international audience of opinion makers, business leaders, and global organizations recognizes Ebeling as an expert.
Latest posts by Paul Ebeling (see all)