Bitcoin (BTC) has held its market cap above $90-B as the markets look to be winding up for another attempt to break through the next Key overhead resistance psych mark at $6,000.
Bitcoin is currently trading at $5,025.6602 off 139.85 on the day,
If the market can establish support above $5,000, then another Bullish move may well take the decentralized asset back above a $100-M valuation.
After closing the weekly candle with a Doji, traders are signalling indecision in the market and calling for a no-trade zone.
But, since breaking up from $4,200 early this month, and cutting through multiple long-term moving averages such as the 200-DaySMA), the global asset is looking to build confidence for another break towards $6,000, which supported the asset 5X during the course of the Y 2018 Bear market.
Other indicators also on the up from a trading perspective are daily spot trade volume and open interest, which was over 500,000 BTC on the go-to high leverage exchange BitMEX.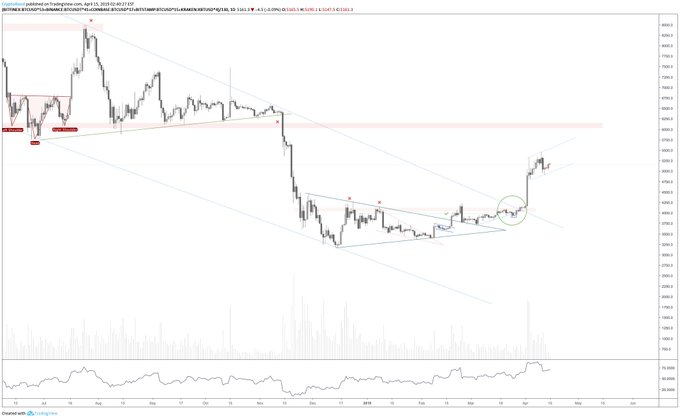 There has been an increase in order book strength, which currently stands at $310-M. This is a substantial increase since the start of the year when it was holding around the $150-M mark.
The metric tracks buy support for each cryptocurrency. It does this by working out the sum of the buy orders at 10% distance from the highest bid price.
Coinmarketbook.cc sources data for this metric from major exchanges including BitMEX, Binance, Bithumb, Bitfinex, OKEx, Huobi, Bittrex, Poloniex, Kucoin, and Cryptopia.
The data takes into account both spot and leverage liquidity and also makes the buy support calculation based not just on USD books, but also altcoin liquidity.
A local high for order book strength was last seen just before the early April price spike when the buy support sat at just over $250-M.
Stay tuned…
The following two tabs change content below.
HEFFX has become one of Asia's leading financial services companies with interests in Publishing, Private Equity, Capital Markets, Mining, Retail, Transport and Agriculture that span every continent of the world. Our clearing partners have unprecedented experience in Equities, Options, Forex and Commodities brokering, banking, physical metals dealing, floor brokering and trading.
Latest posts by HEFFX Australia (see all)