FLASH: Asia's biggest producer of cocoa beans is looking to diversify and make more Top-quality beans.
The farmers in Tabenan, Bali, set aside 80% of their output for the single origin Bali bar made by Pipiltin, the Jakarta-based company founded in Y 2013 to produce premium chocolate from Indonesia-grown beans.
Malaysia aims to be the Chocolate King of Asia
Indonesia has been 1 of the world's Top producers of cocoa beans for years, almost all of it gets exported to be processed into chocolate abroad.
Some growers believed Indonesia could be a producer of high-quality chocolate as well, and saw potential in its domestic market of 264-M consumers.
Pipiltin is among several brands which have emerged in recent years making small batch chocolate in Indonesia from home-grown beans.
Krakakoa, founded in Y 2013, produces 2 tonnes of Organic "farm-to-bar" chocolate a month, for sale across the archipelago, in Singapore and the EU.Pod, based in Bali, makes more than 20 chocolate products or about 10 tonnes a month, said founder Toby Garritt, sold only in Indonesia.
"We're making chocolate where it's grown, creating a great local product that rivals better known European chocolates," said Mr. Garritt. Top-quality chocolate starts with a sustained supply of premium beans which are processed with care from harvest.
"We have to make sure farmers are motivated to maintain their cocoa plantations and have proper processes in place to make quality beans," said Pipiltin's founder Aunilla, who works directly with farmers growing the beans she uses.
Industry experts say Indonesia is facing a decline in the quantity and quality of its cocoa beans, and more needs to be done to ensure sustainability of the sector. Not only are its cocoa trees ageing, but farmers have in recent years faced pressure to switch to other crops.
Indonesia has accounted for nearly 20% of global cocoa production since Y 2000, and consistently been the only Asian nation among the world's Top producers, behind the Ivory Coast and Ghana.
New generation of chocoholics may turn China into a major chocolate market.
Although government figures put Indonesia's Y 2018 cocoa bean output at as much as 700,000 tonnes, the chocolate industry estimates actual output was less than 50% of that figure.
The archipelago's cocoa trees were mostly planted in the 1980's. The natural end of their 30-year lifespan is partly to blame for the recent decline in output, alongside unpredictable challenges such as pests and weather.
Its main cocoa-growing regions, including Sulawesi, North Sumatra and West Java, were hit hard last year by natural disasters like tropical cyclones, earthquakes and flooding.
Cocoa is also facing competition from other crops, said Diany Faila Sophia Hartatri, a researcher at the Indonesian Coffee and Cocoa Research Initiative (ICCRI), supported by the Ministry of Agriculture.
With the Indonesian government's increasing focus on food security, farmers are being encouraged with incentives to plant staple crops like rice or lucrative oil palm. "This can lead to cocoa which isn't well-maintained, further impacting productivity," she said.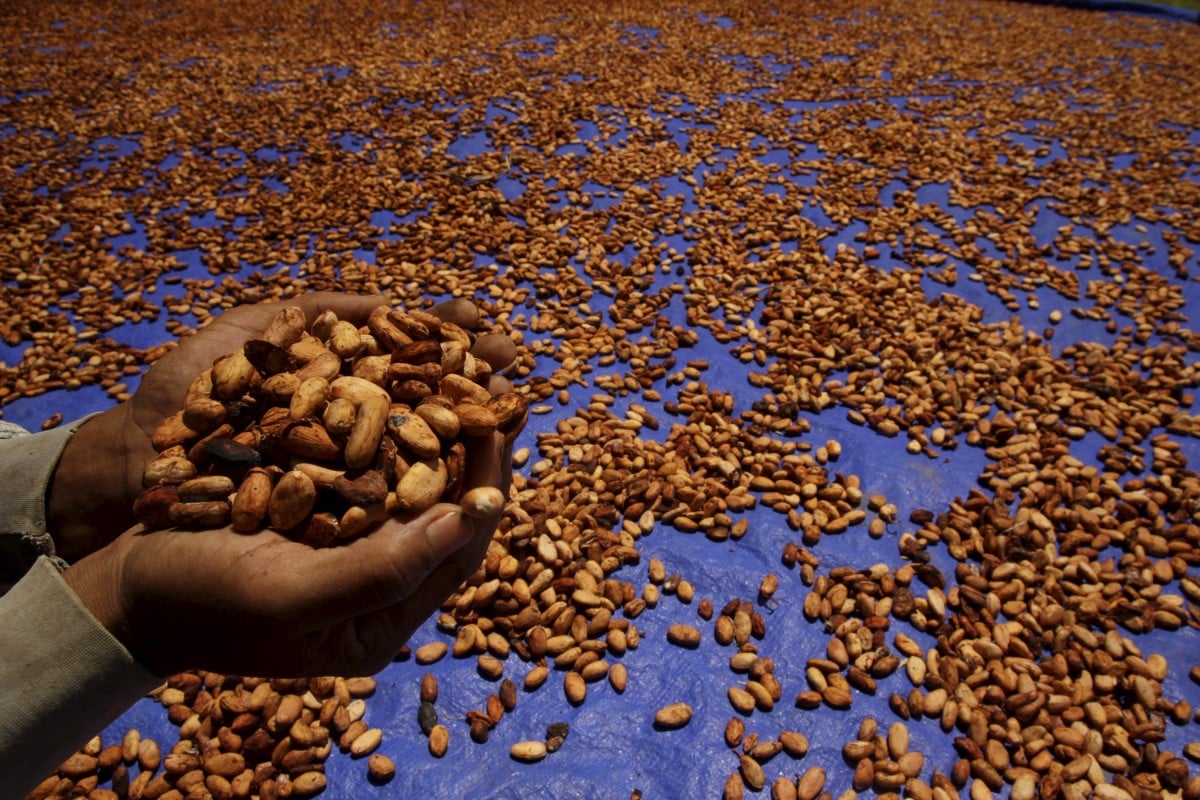 ICCRI, which trains farmers in good agricultural practices to improve the flavour and quality of their produce, has been encouraging younger people to grow cocoa too, she added.
Our love affair with chocolate goes back 1,500 years longer than we thought
Industry experts say major chocolate retailers and home-grown chocolate makers alike have an interest in supporting Indonesia's cocoa farmers to continue producing premium beans.
Richard Fahey, Asia-Pacific vice-president at Switzerland's Barry Callebaut, (OTCMKT:BYCBF) which claims to produce 25% of all chocolate products globally, said it is time to invest in a cocoa supply chain that can support farmers, improve the quality of their land and safeguard the environment to ensure that cocoa can continue to be grown into the future.
"Everything that's needed to improve output is also directly in line with what we mean by sustainable cocoa," he said.
The company has set its sights on sustainably sourcing 100% of its cocoa beans by Y 2025, up from 44% today.
Commodities giant Olam (OTCMKT:OLMIY), Asia's largest cocoa exporter, has spent about $20-M in the last 15 years to support 65,000 Indonesian cocoa farmers across 6 provinces in adopting sustainable growing practices, said Singapore-based Yeong Chye, head of global cocoa business for Olam's Asia-Pacific division.
This support has included seedling distribution, and training farmers in growing techniques to maximize their profits from cocoa.
"A successful initiative in Indonesia is the development of high-quality nurseries to provide the supply of seedlings farmers need, giving them confidence the seedlings they purchase will turn into high-yielding, disease resistant trees," Barry Callebaut Asia Pacific President Ben De Schryver told food industry monitor Food Navigator Asia this year.
There are 50 community-run nurseries across Sulawesi and Sumatra under this model, which in Y 2017 produced over 300,000 cocoa tree seedlings, he said.
Callebaut maintains multiple processing facilities across Indonesia, Malaysia and Singapore. Olam last year processed more beans than ever in its Singapore factory, and acquired Indonesia's largest cocoa processor, PT Cocoa.
A record high of 780,000 tonnes of cocoa beans were ground in Singapore last year, most of them from Indonesia, according to trade organisation Cocoa Association of Asia.
Richard Fahey, the association's Chairman, said Asia is not only a major producer of cocoa, but also has a growing appetite for chocolate products. "It starts with the beans being here, but it's really about the consumers being here," he said. "Asia is the fastest growing region for chocolate globally. It's not just chocolate bars, it is dessert cafes, bakeries, ice cream. Consumers here are constantly interested in new things."
Mr. Garritt also emphasises the importance of the trees and the farmers who cultivate them, taking a holistic approach to the chocolate supply chain.
"The creation of chocolate begins as a tree that's being cultivated by communities who we have relationships with."
The growth of local processing facilities for beans grown in the region means that increasingly, chocolate consumed in Southeast Asia is grown and produced within the region.
Bean to bar chocolate makers are springing up across the region. The likes of Malaysia's Chocolate Concierge and Singapore's Fossa and Lemuel are catering to the growing market for premium chocolate made and eaten in Southeast Asia.
Mr. Fahey said Southeast Asia's growing cafe and bakery scene represents the future of Asia's chocolate market.
In Jakarta, lawyer-turned-chocolatier Aunilla showcases her high-end products at Pipiltin's sleek dessert cafes.
Diners can try a selection of pralines, macarons and cakes, all made from grown-in-Indonesia cocoa beans and processed every step of the way at home.
"We're creating a new market for premium chocolate in Indonesia," said Ms. Aunilla. "Local Indonesians are our long-term target as our primary market, because the market is so big."
Have a Happy and Holy Holiday weekend.
The following two tabs change content below.
HEFFX has become one of Asia's leading financial services companies with interests in Publishing, Private Equity, Capital Markets, Mining, Retail, Transport and Agriculture that span every continent of the world. Our clearing partners have unprecedented experience in Equities, Options, Forex and Commodities brokering, banking, physical metals dealing, floor brokering and trading.