Hong Kong: HANG SENG INDEX (.HSI) stock market is part bear, part bull, posing challenges to investors
Hong Kong's stock market is part bear, part bull, posing challenges to investors.
China's semiconductor stocks are showing some virus immunity.Investors should look for stocks that will thrive in the post-coronavirus world. Here are some analysts like.
Five questions investors should be asking. How long until this mother of all grizzly bears goes into hibernation? Traders and analysts weigh in.
Global markets are unbelievably volatile.  Get used to it, analysts say. 
Shayne Heffernan Trade Idea
"Economics in the time of Covid-19 is a different beast, with the best data being real time that provides insight into the extent of the slowdown." I find myself up before dawn to check data from other parts of the world.
"I'm using more real-time data now than I ever have before. I would never ever care about initial US unemployment claims, but it is huge now. … I would never wake up at 2am to check it on such a regular basis."
"One of the more interesting ones is traffic data from TomTom. It shows the speed with which Houston went into a virtual shutdown, which both illustrates the ghost town outlook due to the collapse of the shale industry and mobility restrictions." Shayne Heffernan PhD in Economics
Why This Matters
Here are five questions investors should be asking.
1. When will markets hit bottom?
Volatility is generally expected to continue in Hong Kong and elsewhere for at least the next few weeks.
Powell, the global head of thematic research at Jefferies, thinks global markets have further to fall.
"What the market is trying to figure out is, 'Are we in for a global recession? Could it actually be a thing that starts with a 'D' – a depression? And how much stimulus might be needed to dampen the impact on people's lives?
"If the economy grinds to a halt globally, then maybe there could be another leg down in markets … This shock could be bigger than anything we've seen since WWII in terms of shock to global trade and global demand," Powell said.
Some analysts believe a bottom is likely already behind us – at least in Hong Kong and China, and possibly in the US.
"From now on, the Hong Kong market will stabilise a bit, because the wave of panic selling and liquidation is over."
Twice in recent weeks – on March 19 and March 23 – the Hang Seng Index closed below 22,000. It won't go lower, Wong predicts, saying it will now trade between 22,000 and 26,000, as traders finish shifting to more promising sectors and gain confidence in making larger bets.
2. Is anywhere a fairly safe place to invest?
Predictably, analysts point in different directions.
In Hong Kong, avoid retail, local property, as well as airlines, restaurants, casinos and anything else connected with tourism.
Last week saw investors shifting out of those sectors and into social media giant Tencent and other new-economy stocks likely to thrive on lockdowns and work-from-home directives.
Could coronavirus lockdown have big upside for China's new economy stocks as users and smartphones become BFFs?
Yet casino operator Galaxy Entertainment is one of the pummelled stocks liked by Morningstar's Lorraine Tan. She also points to Anta Sports, which like Galaxy is listed in Hong Kong, and US-listed Ctrip.com, a Chinese online travel agency.
"It has been difficult to keep on top of the rapidly shifting environment, but collectively we find more opportunities to buy than sell shares at the current level."
"We think there are a number of names with strong competitive advantage that investors should consider adding to their portfolios as well as heavily sold-down stocks that could see a good post-virus bounce."
In the US, We like e-commerce giant Amazon and Netflix.
Internet-based companies are seeing a surge in traffic, Goldman Sachs analysts note.
Those include Tencent Holdings, China Literature, office software maker Kingsoft, all listed in Hong Kong, and Chinese game-streaming platform Huya, and Baozun, which helps foreign brands sell to online Chinese customers, both of which are listed in the US.
3. Is a virus-triggered downturn different from an ordinary financial crisis?
US Federal Reserve chairman Jerome Powell stressed that the US economy, the world's largest, was fundamentally strong before the pandemic shutdown and predicted that it will rebound quickly once the virus's spread is controlled. That makes today's situation different from, say, the 2008-2009 global financial crisis, which was caused by underlying financial problems.
But the modern world has never been assaulted by a shutdown of this scale, and its threat to global GDP is undeniably real.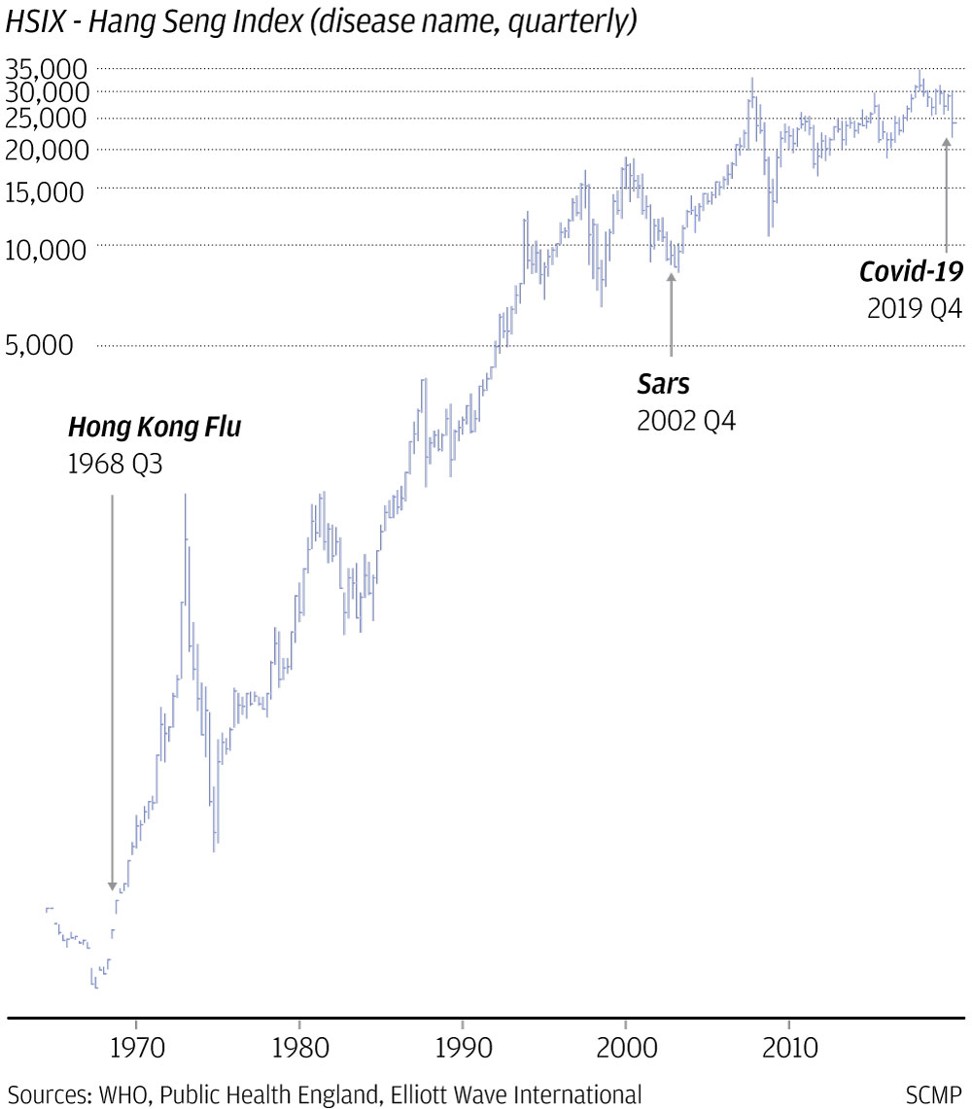 Indeed, US unemployment already has, skyrocketing to an unprecedented 3.3 million claims last week alone – up from about 200,000 just three weeks ago.
Yet Galasiewski, chief equity analyst for Asia and emerging markets at Elliott Wave International, is positively bullish. His study of infectious diseases has lead him to see them as long-term buy signals in the local markets. Sars in 2002, for example, led to a tremendous bull run in Hong Kong. He is now especially bullish on stocks listed in China, where the coronavirus outbreak began.
"A big advance has begun in the main Asia and emerging market indexes. This is not just a rebound. It's the early stages of a secular bull market," he said, referring to a long period of rising stock prices due to policy supports.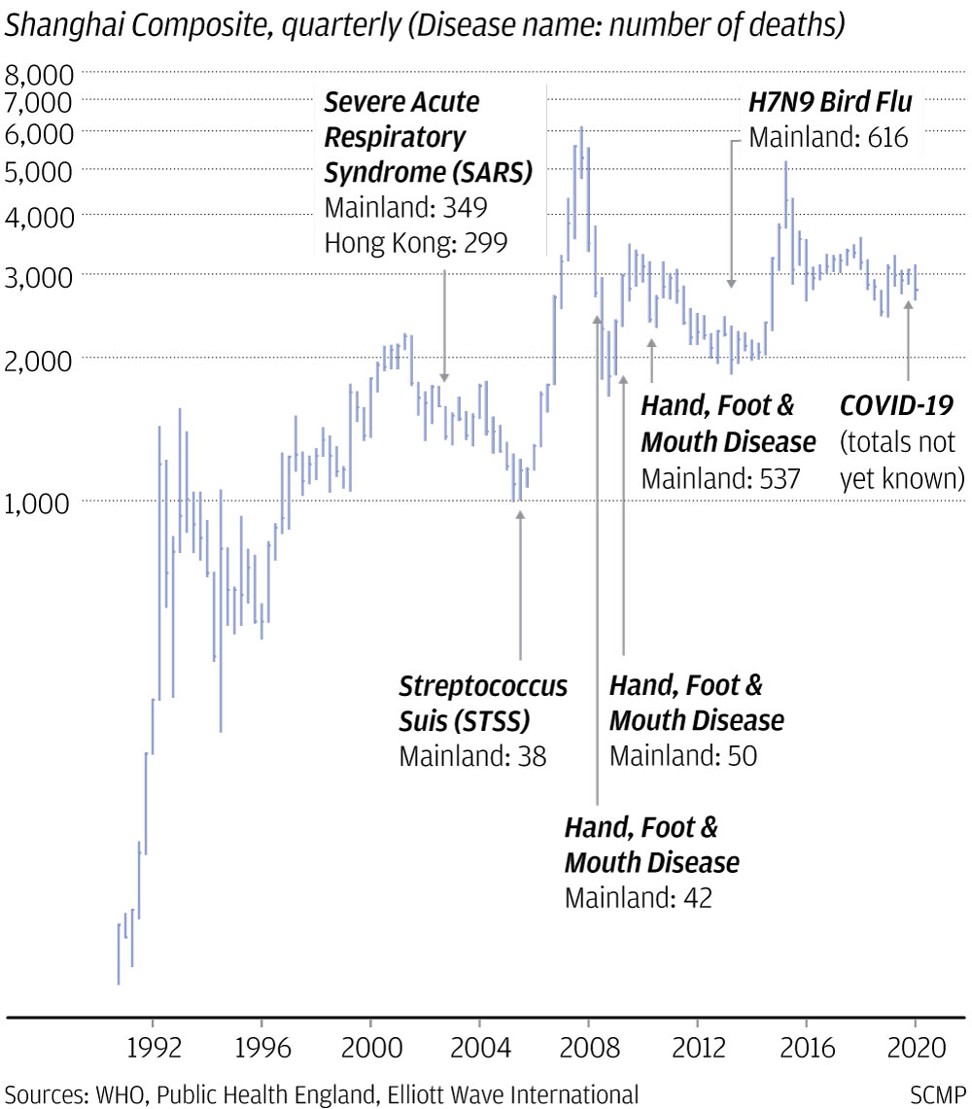 4. What data might offer clues for smart asset management?
Analysts are closely watching Italy's new infection totals to see whether its containment efforts are beginning to work. The numbers coming out of Italy will help analysts project the length and depth of the crisis in the world's largest economy, where the pandemic is much newer.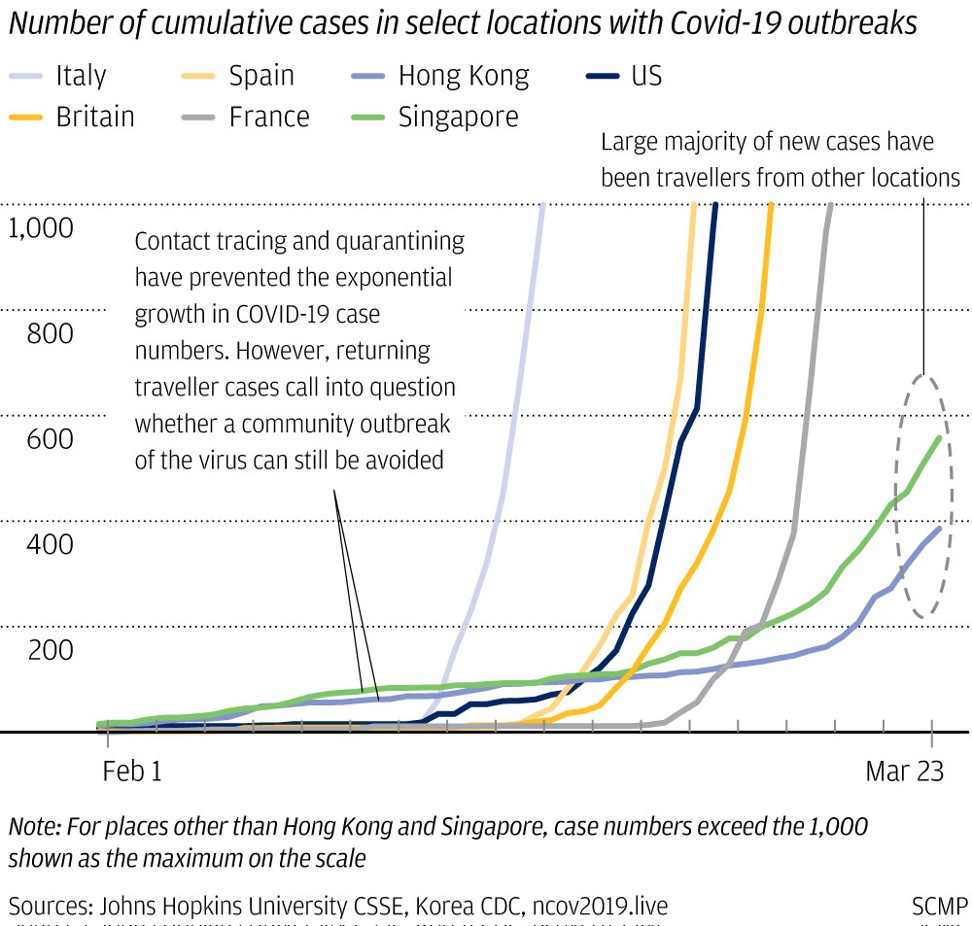 The US Federal Reserve and government have thrown in the "kitchen sink" to try to keep businesses and workers afloat. So analysts are looking for economic indicators that show that the US effort is having the desired effects of increased lending and stable stock markets, for example.
And, of course, analysts are watching for news of promising therapies generally not expected until next year.
Unusual windows into the virus include TomTom.com, which shows real time traffic around the globe, Kinsa's tracking of fevers in America through smart thermometers (healthweatherus.com), and the Centre for Disease Control and Prevention's website, which is tracking infections and deaths, as well as outbreaks of influenza-like illnesses on its FLUVIEW chart.
"I never thought I would be looking at the collective body temperature of people in the US."
5. What are the 'what ifs' ahead and do we even need a vaccine?
As we know very little about the COVID19 and most of the media reports are incorrect, has anyone even studied the fact if we even need a vaccine?
What if the pandemic dies away but comes back and Governments decided to shutdown our businesses once again?
What if people who recover build up antibodies to the COVID19? Do they still need a vaccine? These are very valid questions as we can see evidence online that a vast majority of people greatly attest to any sort of vaccine.
What if the pandemic explodes in India, a country with 1.3 billion people, an inadequate health care system and little sanitation for many countless slum dwellers? India has surprisingly handled the outbreak extremely well.
India, now under a nationwide lockdown for 21 days, is the world's largest supplier of generic drugs. It has already halted the export of ventilators and an antimalarial drug used with some success against the new coronavirus.
Despite everyone's endless "what ifs" about the future health of the world's people and finances, we remain hopeful.
"I am hugely optimistic that humankind can turn a veritable firehose of intellectual property and money and research and development at this virus to understand it and find a therapy not a vaccine and get it out. Humankind has defeated many pandemic viruses …
"But investors do need to be cautious."
Technical Indicators
Overall, the bias in prices is: Downwards.
Note: this chart shows extraordinary price action to the downside.
The projected upper bound is: 25,154.07.
The projected lower bound is: 22,183.59.
The projected closing price is: 23,668.83.
Candlesticks
A white body occurred (because prices closed higher than they opened).
During the past 10 bars, there have been 4 white candles and 6 black candles for a net of 2 black candles. During the past 50 bars, there have been 25 white candles and 25 black candles.
Momentum Indicators
Momentum is a general term used to describe the speed at which prices move over a given time period. Generally, changes in momentum tend to lead to changes in prices. This expert shows the current values of four popular momentum indicators.
Stochastic Oscillator
One method of interpreting the Stochastic Oscillator is looking for overbought areas (above 80) and oversold areas (below 20). The Stochastic Oscillator is 28.4095. This is not an overbought or oversold reading. The last signal was a sell 4 period(s) ago.
Relative Strength Index (RSI)
The RSI shows overbought (above 70) and oversold (below 30) areas. The current value of the RSI is 46.05. This is not a topping or bottoming area. A buy or sell signal is generated when the RSI moves out of an overbought/oversold area. The last signal was a buy 19 period(s) ago.
Commodity Channel Index (CCI)
The CCI shows overbought (above 100) and oversold (below -100) areas. The current value of the CCI is -40. This is not a topping or bottoming area. The last signal was a sell 2 period(s) ago.
MACD
The Moving Average Convergence/Divergence indicator (MACD) gives signals when it crosses its 9 period signal line. The last signal was a buy 17 period(s) ago.
Rex Takasugi – TD Profile
HANG SENG INDEX closed down -54.670 at 23,738.881. Volume was 69% below average (consolidating) and Bollinger Bands were 37% narrower than normal.
Open          High        Low         Close         Volume
23,540.5392   3,745.8402  3,483.3112  3,738.881     662,240,832
Technical Outlook
Short Term:           Neutral
Intermediate Term:    Bullish
Long Term:            Bearish
Moving Averages: 10-period      50-period        200-period
Close:           24,135.36      24,947.91        26,542.47
Volatility:      25             40               27
Volume:          1,805,934,336  2,544,803,584    1,819,822,464
Short-term traders should pay closer attention to buy/sell arrows while intermediate/long-term traders should place greater emphasis on the Bullish or Bearish trend reflected in the lower ribbon.
Summary
HANG SENG INDEX is currently 10.6% below its 200-period moving average and is in an upward trend. Volatility is extremely low when compared to the average volatility over the last 10 periods.
There is a good possibility that there will be an increase in volatility along with sharp price fluctuations in the near future. Our volume indicators reflect volume flowing into and out of .HSI at a relatively equal pace (neutral). Our trend forecasting oscillators are currently bullish on .HSI and have had this outlook for the last 6 periods.
We invite you to try out any MetaStock product (including Add-Ons) for 30 days. If you are not convinced that it helps you make more accurate, educated trading decisions, just return it to us within the 30 days for a refund of the purchase price. It's that simple. This policy does not apply to subscriptions.