Many conservative investors are looking for safer, dividend-paying stocks, there is a sub-set that outperform, the Aristocrat liquid, high dividend-yielding US stocks.
The 2 Key components used to screen for the stocks in the group are:
Free Cash Flow/Enterprise Value (High value is more attractive)
Return on Capital (High value is more attractive)
They are both rated Buy, and pay Strong dependable dividends.
Here are 2, as follows:
Lockheed Martin: LMT is 1 of the Top aerospace and defense stocks to buy, and many on Wall Street are expecting a very solid continuation of US and foreign defense spending. Lockheed Martin Corp. (NYSE:LMT) researches, designs, develops, manufactures, integrates, operates and sustains advanced technology systems, products and services. It also provides a wide range of defense electronics products and IT services.
Being the Pentagon's prime contractor, Lockheed offers a diverse mix of global aerospace, defense, security and advanced technologies. Its presence in the Army, Air Force, Navy and IT programs guarantees a steady inflow of follow-on orders, not only from the US government, but also from many US allies.
We are overall Bullish across the board on Lockheed.
See Strong support at 377.07, and little resistance above 400.90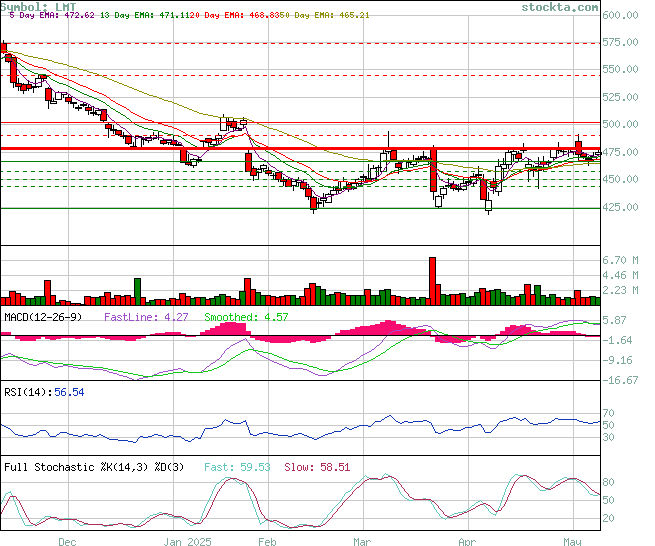 Lockheed Martin stock investors receive a 2.50% dividend. Our $500/share price objective compares with the 438.19 consensus target price and Tuesday's close at 390.30.
Philip Morris International: PM has continued to grow global market share and its stock makes good sense for total return investors now. Philip Morris International Inc. (NYSE:PM) is 1 of the largest international cigarette makers, with a 28% share of the international cigarette/heated tobacco market. Key brands include Parliament, L&M and Marlboro, 1 of the world's most valuable brands.
The company is commercializing IQOS, a heat not burn product, in over 40 markets, which could drive earnings in the years to come. Wall Street believes Philip Morris International offers superior underlying growth prospects, both near term and long term. The share price has been weak lately as investors question the growth potential of its reduced risk products, and the overall C-19 coronavirus market weakness contributed. All of its sales are outside of the United States.
We are overall Neutral with a Bullish bias PM a break out and hold above 75.03 augurs a move to 90.
Major support at 71.78, and Strong resistance at 75.03.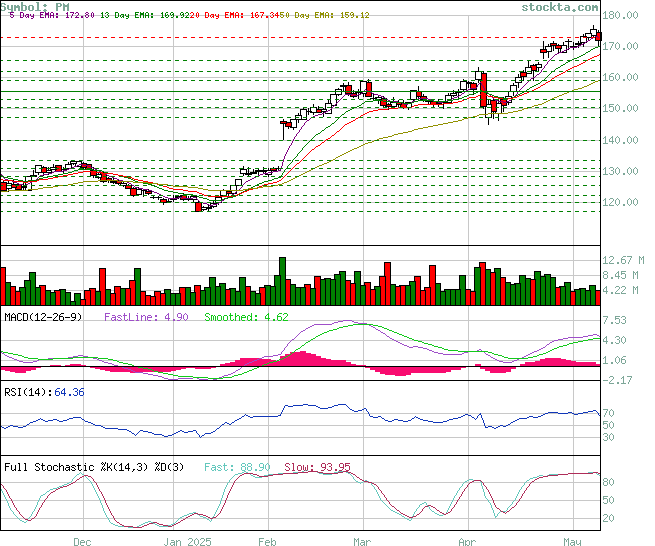 Shareholders receive a strong 6.39% dividend. We have a price target of 90.17. The consensus price target is at 83.47, Philip Morris International stock closed at 72.20 Tuesday.
Have a healthy day, Keep the Faith!