$XAU $GLD $USD
Gold is an asset that will never produce anything, but that does not mean it will never produce a profit for investors.
Gold prices moved lower Thursday and consolidated in a tight range as USD initially moved higher.
This happened despite slightly better than expected EU PMI Flash numbers.
The Jackson Hole symposium started Thursday and although there were no speeches, which appears clear is that the Fed is unlikely to ease rates substantially. The market is still pricing in another rate cut in September, but there is now a 10% chance of nothing being done.
Technical Analysis
Gold prices moved sideways and appear to be forming a Topping pattern. Prices are trapped between the August highs at 1,534 and last week's lows at 1,479.
Short term support is seen near the 10-Day MA at 1,506. Short term momentum remains negative as the fast stochastic recently generated a crossover sell signal.
Medium-term momentum has turned negative as the MACD index generated a crossover sell signal. This occurs as the MACD line (the 12-Day MA minus the 26-Day MA) crosses below the MACD signal line (the 9-Day MA of the MACD line.)
The MACD histogram is printing in the red with a downward sloping trajectory which points to lower prices ahead.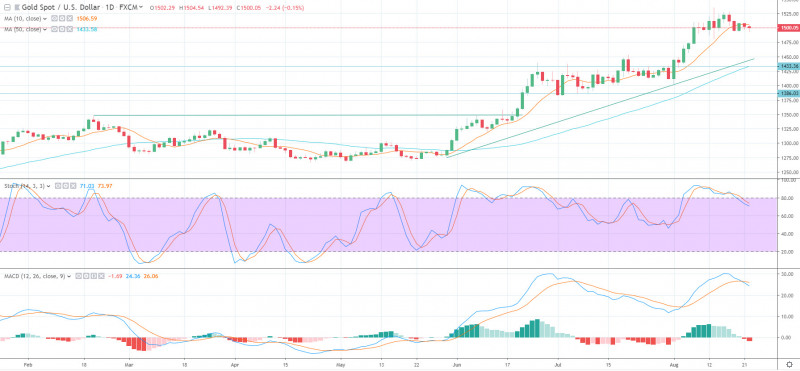 Stay tuned…
The following two tabs change content below.
Paul Ebeling
Paul A. Ebeling, polymath, excels in diverse fields of knowledge. Pattern Recognition Analyst in Equities, Commodities and Foreign Exchange and author of "The Red Roadmaster's Technical Report" on the US Major Market Indices™, a highly regarded, weekly financial market letter, he is also a philosopher, issuing insights on a wide range of subjects to a following of over 250,000 cohorts. An international audience of opinion makers, business leaders, and global organizations recognizes Ebeling as an expert.
Latest posts by Paul Ebeling (see all)