G-20 Finance Ministers Brush Off Bitcoin for Now
G-20 confirmed Tuesday the there is No need to regulate Cryptocurrencies right now.
Bitcoin is rallying, the Group of 20 (G-20) finance ministers do not call for a clampdown on the volatile cryptocurrency market.
Bitcoin, largest digital currency by market cap rose 5.5% to $8,889 after hanging between 8,400 and 8,600 Monday and overnight, and bouncing a 1-month low Monday.
Currently, Bitcoin is trading at: 
8,958.77, 
+335.68 or +3.8928%,

as of 11:21p GMT, 
the market is open.
Bitcoin is down more than 50% from its all-time high of nearly $20,000 in December.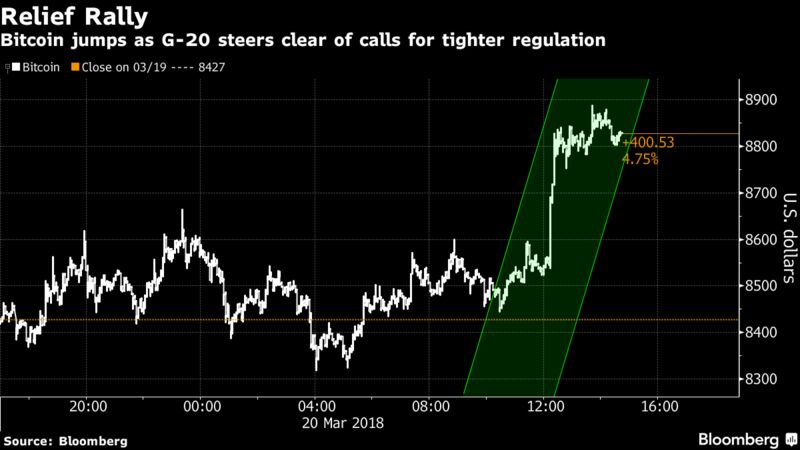 The G-20 did acknowledge the risk of cryptocurrencies, investors traders are pleased that the nations finance ministers did not call for tighter regulation, essentially ignoring the coins.
Investor were somewhat concerned about a coordinated clampdown after a spokesman for the G-20 finance ministers said they would discuss how to approach to cryptocurrencies at their meeting in Buenos Aires on Monday and Tuesday, the concern seems to have been merit-less .
The G-20 communique said that digital coins/tokens are assets, which "lack the Key attributes of sovereign currencies," and that "at some point they could have financial stability implications."
The G-20 set a July deadline to decide on cryptocurrency steps, without being more specific. We can assume then that the nation's finance ministers are looking at cryptocurrencies.
Stay tuned…
The following two tabs change content below.
HEFFX has become one of Asia's leading financial services companies with interests in Publishing, Private Equity, Capital Markets, Mining, Retail, Transport and Agriculture that span every continent of the world. Our clearing partners have unprecedented experience in Equities, Options, Forex and Commodities brokering, banking, physical metals dealing, floor brokering and trading.
Latest posts by HEFFX Australia (see all)