For Tesla (NASDAQ:TSLA) Winter is Trouble
$TSLA
For Tesla (NASDAQ:TSLA) there is chance to end the year on a high note, but Winter is coming and in much of the US pre-Winter is here.
1-H of Y 2018 was disappointing for Tesla given the many M-3 delays, the company did deliver a profit in Q-3, but much of that was not from cars.
Now it is time for the company to show this was not another 1-off accounting trick like in Y 2016. Count on it a repeat performance in Q-4 will not be easy
In Y 2017 Tesla was not delivering as many M-3 EVs during this time of year, and with a number of them in California where it is fairly temperate to warm , it was not a good test of the car in Winter conditions.
This year as deliveries expand to more states and Canada, customers are starting to have some major issues.
The door handles and power windows situation can be more than annoying, causing owners to have their window slightly open which is not good if you like a warm car or you are parked outside during times where there is precipitation.
The other major problem is the loss of range in cold temperatures.
When it is below freezing out, the estimated range loss in the M-S was about 22%, with the M-X being comparable.
Now, take a mid-range M-3 down to about 200 miles, it means the efficiency is much less, meaning your gasoline savings are a lot less. This is also a Key issue when gasoline prices are set to continue plunging post-Thanksgiving, likely at least another 15-20c further than they have already fallen.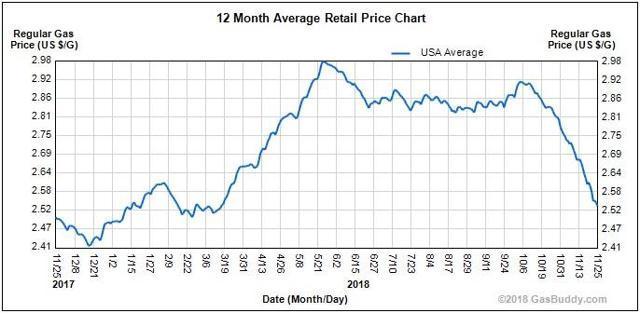 Now that Tesla is showing vehicle prices for all 3 models after gasoline savings on its site, those estimates become a lot more important.
Take away $1,000 of gasoline savings due to Winter weather, it's a big deal for consumers that thought they were getting a $35,000 M-3 with a full EV tax credit. Cut that credit by 50% or more before the standard battery model actually comes, and add in the extra interest costs due to rising rates for those borrowing to purchase, and the M-3 does not look as promising as it did when it debuted in Y 2016.
Hang on here is another
Tesla EV sales in China sank 70% last month from a year ago, the country's passenger car association said Tuesday, underscoring how the US-China trade dispute is hurting the fledgling niche electric carmaker.
HeffX-LTN Analysis for TSLA:
Overall
Short
Intermediate
Long

Bullish (0.42)

Very Bullish (0.57)

Bullish (0.44)

Bullish (0.26)
Stay tuned…
The following two tabs change content below.
Paul Ebeling
Paul A. Ebeling, polymath, excels in diverse fields of knowledge. Pattern Recognition Analyst in Equities, Commodities and Foreign Exchange and author of "The Red Roadmaster's Technical Report" on the US Major Market Indices™, a highly regarded, weekly financial market letter, he is also a philosopher, issuing insights on a wide range of subjects to a following of over 250,000 cohorts. An international audience of opinion makers, business leaders, and global organizations recognizes Ebeling as an expert.
Latest posts by Paul Ebeling (see all)