People are asking, can RACE sustained Monday's move?
Monday, Ferrari (NYSE:RACE) announced an EPS beat of 0.04 and a Top-line beat of over $25+M. On Top of the earnings results, management raised guidance for the year as Supercar shipments for the Quarter rose by a healthy 9%.
In the technical chart there is a large gap up to 169.99. Price came back down to test the bottom level of the gap in trading yesterday.
The Big Q: Can now stay above 169. From a Bullish perspective, it is Key that most of the gap remains unfilled.
Further the price managed to break through the down-cycle daily trend-line which had been in existence since July of this year. This, along with the fact that price yesterday broke above the July highs, leads us to believe that we may have a possible breakaway gap in play here.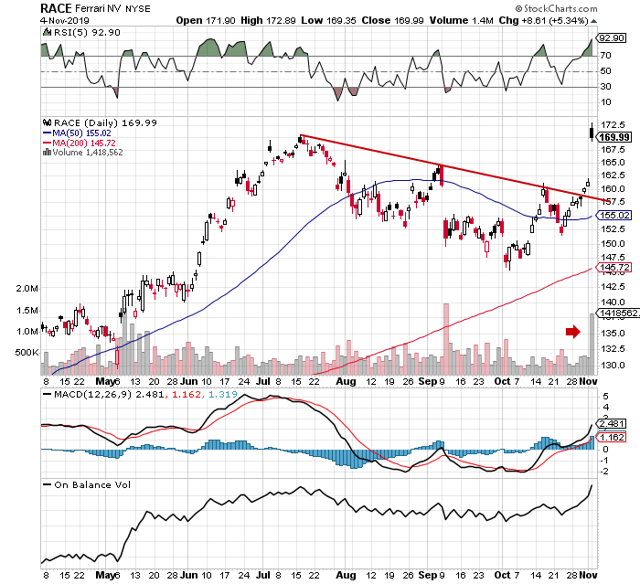 Despite how shares have consolidated over the past 4 months RACE shares still are trading well above their 200-Day MA.
The trend which we like on the balance sheet is in the current assets section where receivables and inventory both declined sequentially and also compared to the same Quarter 12 months prior. Receivables dropped to just under $350-M in Q-3, and inventory dropped to $426-M. Ferrari's total amount of current assets for Q-3 came in at $2.92-B. That is good.
Companies with growing liquidity gives management far more flexibility with respect to how management runs its operations. Being able to continually invest behind the brand is only possible if the company is liquid. And Ferrari's liquidity position has not been better over the past 6 years, the current ratio stands at a healthy 3.61.
Shareholder equity of $1.52-B dropped sequentially by just over $53-M, but increased substantially compared to the same Quarter of 12 months prior. Total liabilities, including long-term debt of $2.29-B, comes to $4.3-B.
Considering that the amount of equity is less than the amount of interest bearing debt, means that Ferrari's debt to equity ratio is greater than 1.0. And if we stripped the intangible assets and goodwill out of the firm's assets, we would get a negative equity number.
It is not the actual numbers but how those specific line-items have been trending which interests us more. Shareholder equity growth continues to outperform the growth in the firm's intangible assets. This principally is taking place because of how management has been controlling its current assets.
Swing play here will be to the Northside in the days ahead.
Ferrari is the Aristocrat of the automotive sector.
Enzo Ferrari's iconic Italian Supercar manufacturer claimed the title according to the latest Brand Finance Global 500 2019 report launched at the World Economic Forum in Davos.
HeffX-LTN overall technical outlook for RACE is Bullish, overhead resistance is 168.25 at and support at 164.48 as 3 of our 3 Key indicators are Very Bullish and the stock has established long term support ahead of this breakout.
Ferrari finished at 165.60, -4.39 Tuesday in NY.
Ferrari will continue to create value in the long term. Ferrari is a quality 1st long term luxury products investment, and I see it at 200+/share in that frame.
Stay tuned…
The following two tabs change content below.
Paul Ebeling
Paul A. Ebeling, polymath, excels in diverse fields of knowledge. Pattern Recognition Analyst in Equities, Commodities and Foreign Exchange and author of "The Red Roadmaster's Technical Report" on the US Major Market Indices™, a highly regarded, weekly financial market letter, he is also a philosopher, issuing insights on a wide range of subjects to a following of over 250,000 cohorts. An international audience of opinion makers, business leaders, and global organizations recognizes Ebeling as an expert.
Latest posts by Paul Ebeling (see all)