Ferrari (NYSE:RACE) stock price has been very resilient during this virus crisis. At its current price, it is around 20% off its 52-wk highs, far outperforming the S&P 500.
This is despite operating a luxury automotive business in Italy that has been heavily hit by the virus.
Ferrari designs, engineers, produces and sells ultra Supercars mostly in advance of production worldwide. Though with this virus outbreak, some people may cut back on extravagant purchases, but I believe Ferrari's sales numbers will not be hit hard owing to the makeup of the marque's worldwide clienti.
Moody's cut its global vehicle sales forecast by 2.5% 4 days ago, and luxury cars sales could suffer more, but Ferrari is not a luxury car it is a Supercar, the Aristocrat of the automotive sector that does not hope you come in to an official showroom with cash to buy 1, but tells you if it will sell you 1. It owns its market and it has no equals, not Aston Martin, Lamborghini or McLaren, though those cars go fast too.
Over the next 2 Q's deliveries may be down as much 10%, or 1000 cars due to the virus related shutdowns, but remember Ferrari sells its cars before they are made, so those sold orders are stacked up for later to fill the gap.
When the virus abates and things goes back to normal, Ferrari's results will come back up and the stock will return to previous marks. Betting against Ferrari is a fool's game if you are not a very savvy player. As a retail investor for value, look at the company out 6 -12 months and the price looks very attractive down here.
Note: Many automotive analysts do not and have not understood Ferrari since its IPO. It is a luxury brand that is supported by luxury good, theme parks and F1 racing, + the Ferrari's control parties and insiders are not sellers.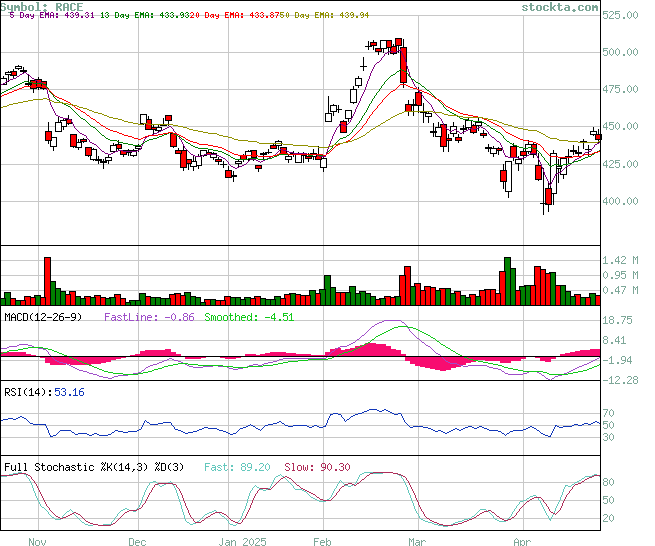 Ferrari is the Aristocrat of the automotive sector.
Enzo Ferrari's iconic Italian Supercar manufacturer claimed the title according to the latest Brand Finance Global 500 2019 report launched at the World Economic Forum in Davos.
HeffX-LTN overall technical outlook for RACE is Neutral to Bearish, there is Key resistance 167.54 and support is NIL, 2 of my Key indicators have turned Very Bullish as the stock is very oversold in here.
Ferrari finished at 134.05, or -2.56 Wednesday in NY, and shares were raised to Buy from Hold at HSBC.
Ferrari will continue to create value in the long term. Ferrari is a quality 1st long term luxury products investment, and I have called it at it at 200+/share long term, adjusting it to 200/share short term (after the virus) and siding with BAML to 230 long term for now.
Have a healthy day.