Ferrari (NYSE:RACE) is not like any other automakers. To understand Ferrari you must think of it as a company with a different peer group, it is a luxury goods company with perhaps the world's #1 Luxury Brand.
Ferrari should not be valued by analysts as an automaker
Former Ferrari CEO Sergio Marchionne was right to argue that Ferrari's pricing power and profitability made it more like a luxury goods company than like an automaker. Specifically, he argued that it deserved a valuation more like a ultra successful luxury group say 40X rather than like a big automaker's. I agreed with him at the beginning, and continue to be Very Bullish the stock.
Below is a look at how Ferrari's operating margin and ROIC compare to those of the big publicly traded luxury companies. Here are the operating margins, over the same frame period as in the charts below.
Here is a chart that compares Ferrari's operating margin to several big automakers'. The time frame used in all of the following charts is from the beginning of Y 2016, shortly after Ferrari's IPO, through the end of Y 2019, before the C-19 coronavirus chaos. 
And while Ferrari is a capital-intensive business, its ROIC, is very far ahead of the others'. 
The Big Q: Is Ferrari stock a buy in here?
The Big A: Yes.
Ferrari's stock is expensive relative to other automakers, but it looks a lot less expensive when compared to luxury companies' valuations. And while the C-19 coronavirus chaos set back Ferrari's profit-growth plan a bit, it is back on track as the world recovers. 
Long story short: Ferrari's stock looks pretty good to me.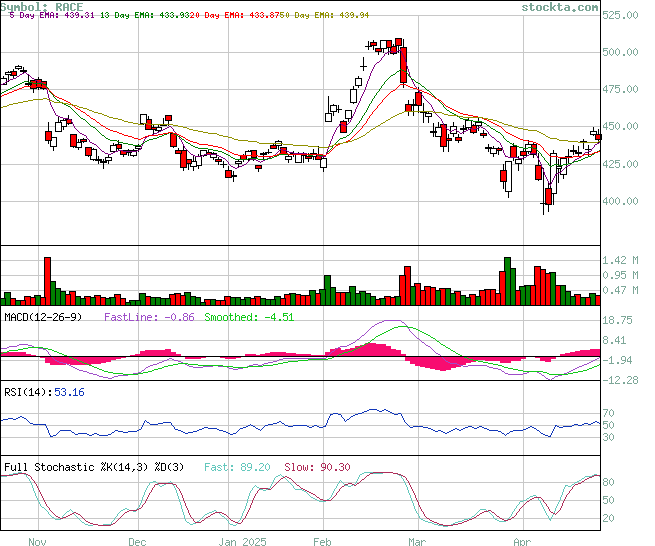 Ferrari is The Aristocrat of the automotive sector.
Enzo Ferrari's iconic Italian Supercar manufacturer claimed the title according to the latest Brand Finance Global 500 2019 report launched at the World Economic Forum in Davos
HeffX-LTN overall technical outlook for RACE is overall Bullish with a Very Bullish bias, the Key resistance 175.72, and Key support is at 161.96.
Our overall technical outlook is Bullish in here, as all Key indicators are Bullish to Very Bullish as it approaches its all time highs at 179.21 marked on 18 February 2020.
Ferrari (NYSE:RACE) finished Monday at 169,70, +1,81 in NY.
The Maranello Outfit's shares were raised to Buy from Hold at HSBC.
Ferrari will continue to create value in the long term. Ferrari is a quality 1st long term luxury products investment, and I have called it at it at 200+/share long term, adjusting it to 200/share short term (after the virus) and siding with BAML to 230 long term for now. The stock is now considered defensive in the sector.
Have a healthy day, Keep the Faith!