Shares Ferrari (NYSE:RACE) whose iconic Supercars have proven to be very resilient during the worldwide health crisis downturn, and the company appears well-positioned to weather the overall slowdown in auto manufacturing.
Since the market hit a coronavirus crisis-level low point on 23 March Ferrari stock has made a comeback, rising over 20% since then. The stock, which currently trades at 155.76 share, is up 12% in the last week alone, outpacing the benchmark S&P 500 index.
Auto manufacturers have been hard-hit by shutdowns and a lack of demand due to the ongoing coronavirus crisis. In the US, big companies like Ford (NYSE:F) and General Motors (NYSE:GM) have seen their shares plunge 43% and 36%, respectively, so far this year. By comparison, Ferrari managed the downturn far better, dropping less than 7% so far in Y 2020. 
That is in large part thanks to its positioning as "a luxury goods company with the capital intensity of an automaker," according to JPMorgan's sector analyst. Ferrari is the most famous brand in F1 racing history, which contributes to "the high esteem in which the brand is regarded."
Ferrari looks to have been well-positioned before the coronavirus downturn thanks to significant earnings growth over several years thanks to higher profits from increased sports car sales and a consistent base of wealthy clients.
"Demand currently far outstrips supply," as Ferrari's customers often wait a year or more for delivery. The fact that the company sells its sports cars in advance of production means that despite the virus shutdown, sold orders can be stacked up for later in the year. I have been told that there has not been 1 cancellation in this crisis.
"The company has confirmed that demand remains solid and they have seen no cancellations." Morgan Stanley maintains a "buy" rating for the stock, which it believes "offers sustainable returns through a volatile and unpredictable 2020 trading environment."
Ferrari's positioning is more than solid order book capability in managing deliveries and waiting lists, and its structural strong commitment in prioritizing margins and future cash flow on revenues guarantees a higher resilience and better protection to the current challenging scenario," writes Banca IMI research analyst, saying the stock could rise further, to nearly 182/ share in here.
Piero Ferrari, the current head of the luxury race car company, is worth $3.4-B, according to estimates. His father, Enzo, founded the company in Y 1949.
A large majority of Wall Street analysts are Bullish on the stock: 16 give it a "buy" rating, 5 give it a "hold" rating and 2 analysts give it a "sell" rating.
Other big Wall Street firms, like BAML, HSBC and Morgan Stanley think the stock has Northside potential: They put its price target at 200, 180 and 163/share, respectively.
Ferrari is facing some supply chain issues in April and May which could potentially impact the company's shipments, and have pushed the reopening of its Maranello and Modena plants to 3 May from 14 April, we will know more during the annual shareholder meeting in Amsterdam on 16 April. Tune in.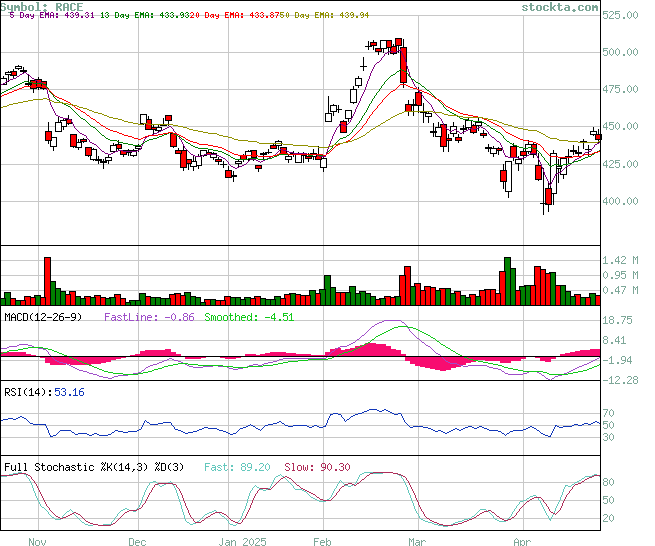 Ferrari is the Aristocrat of the automotive sector.
The Maranello Outfit will hold its annual shareholders meeting 16 April in Amsterdam.
Enzo Ferrari's iconic Italian Supercar manufacturer claimed the title according to the latest Brand Finance Global 500 2019 report launched at the World Economic Forum in Davos.
HeffX-LTN overall technical outlook for RACE is Bullish, there is Key resistance 167.47, and support is 154.84.
Our overall technical outlook is Bullish in here, as 3 of my key indicators are Very Bullish.
Ferrari finished at 155.76, +2.34 Tuesday in NY, the Maranello Outfit's shares were raised to Buy from Hold at HSBC.
Ferrari will continue to create value in the long term. Ferrari is a quality 1st long term luxury products investment, and I have called it at it at 200+/share long term, adjusting it to 200/share short term (after the virus) and siding with BAML to 230 long term for now.
Have a healthy day, Keep the Faith