Ferrari (NYSE:RACE) Shares Up as Higher Supercar Output Lifts Profit
$RACE, $TSLA, $GM, $F
Last week Tesla (NASDAQ:TSLA)  grabbed the headlines by becoming America's most valuable carmaker, but it is the small iconic Italian carmaker Ferrari (NYSE:RACE) that is rewarding shareholders lately, with a 74% rise in the company's stock price over the past year.
Ferrari's gain has been driven by earnings that beat expectations as CEO Sergio Marchionne,  anni, increased production of higher-margin, Special Edition Supercars, like the $2.1-M LaFerrari Aperta convertible.
That compares with a 25% increase for California-based Tesla, which capitalizes on investor enthusiasm for founder Elon Musk's vision of a future dominated by EVs (electric vehicles) of which there is little proof of consumer market demand.
Tesla and Ferrari have perhaps 2 things in common, they are as follows:
The valuations are higher than peers, though Ferrari has no peers,  and Tesla has a plethora of them including VW, MBZ, Chevy and BMW.
They are both embarking on expansions of their business models. Tesla into the mass-market segment with its Model 3 sedan, and Ferrari adding supercars to meet the worldwide demand.
Investors have been discovering Ferrari and its ability to boost margins since the IPO, while Tesla, which benefits from being seen as the front-runner in the electric vehicle market, still needs to show it can sell its cars and generate real profits in a crowded market.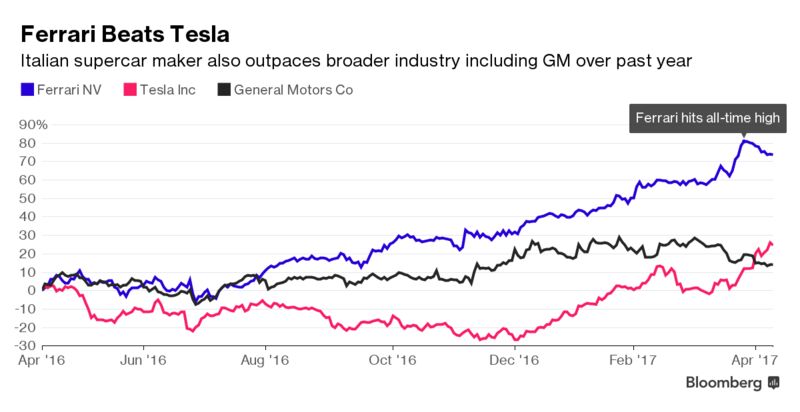 Tesla has never reported a profitable year, while Ferrari earned $450-M 2016. That compares with multibillion-dollar profits for mass-market carmakers: General Motors Co. (NYSE:GM) expects to earn more than $9-B this year and analysts see Ford Motor Co (NYSE:F). will have profit of $6.3-B.
Again, last week Tesla briefly became the largest US carmaker by market value, with a capitalization of $50.3-B. Ferrari, which has a $13.6-B market value.
Relative to earnings, Tesla's valuation is about 10X Ferrari's. The Italian carmaker trades at 26X next year's estimated profit, Vs Tesla's multiple of 257X.
Large-capitalization car companies on average have a price-earnings multiple of 7.8X, according to the data compiled
In March Ferrari unveiled the 812 Superfast, the fastest production car in its history, as the Italian manufacturer pushes to supply the demand for its Supercars.
Mr. Marchionne sees Ferrari reaching his target of selling 9,000 cars annually by Y 2019.
The company, which previously limited production to 7,000 vehicles annually to protect its image as a Superluxury brand, sold 8,014 in Y 2016 and expects to sell about 8,400 in Y 2017.
Ferrari is on its way to EUR 1-B in EBITDA this year, Mr. Marchionne said in an interview in March.
"We believe Ferrari is about to embark a growth phase as we see potential for volumes to double in a decade," Michael Tyndall, an analyst at Citigroup Inc. (NYSE:C), wrote in a note to clients on 23 March as he upgraded his recommendation on the stock to Buy.
Tesla delivered fewer than 80,000 vehicles globally last year. Its "more-affordable" Model 3 sedan, scheduled to roll out later this year, will be Key to CEO Musk's ambitions for the fledgling EV maker to transform from niche carmaker into a mass-market manufacturer.
A Ferrari is the ultimate luxury purchase. They are expensive, and very exclusive. There are long waiting lists to get one, and Ferrari can frustrate or satisfy demand as it sees fit. They are lusted after by many, but kept in short supply.
The person who buys a Ferrari does it not just for moving from one place to another in an eco-friendly way. He/She does it for passion and the fun of driving a Supercar.
Further, Ferrari racing team is the winningest marque in the world's Top Tier motorsports competition, Formula One, its vintage and classic cars are the most expensive in the world commanding prices in the tens of millions of dollars.
| | | | | | | | |
| --- | --- | --- | --- | --- | --- | --- | --- |
| Symbol | Last Trade | Date | Change | Open | High | Low | Volume |
| NYSE:RACE | 71.2 | 17 April 2017 | 0.57 | 70.87 | 71.54 | 70.85 | 122,434 |
HeffX-LTN Analysis for RACE:
Overall
Short
Intermediate
Long

Bullish (0.40)

Neutral (0.18)

Bullish (0.48)

Very Bullish (0.54)
Stay tuned…
The following two tabs change content below.
HEFFX has become one of Asia's leading financial services companies with interests in Publishing, Private Equity, Capital Markets, Mining, Retail, Transport and Agriculture that span every continent of the world. Our clearing partners have unprecedented experience in Equities, Options, Forex and Commodities brokering, banking, physical metals dealing, floor brokering and trading.
Latest posts by HEFFX Australia (see all)