Ferrari (NYSE:RACE) is expected to deliver a Y-Y increase in earnings on lower revenues when it report s results for Q-2.
This widely thought consensus outlook gives a good sense of the company's earnings picture, but how the actual results compare to these estimates is a powerful factor that could impact its near-term stock price. Ferrari has a history of surprising to the Northside.
The earnings report, set for 2 August 2019 will drive the stock higher if these Key numbers are better than expectations. On the other hand, if they miss, the stock could move lower.
The Maranello Outfit's management's discussion of business conditions on the earnings call will determine the sustainability of the momentum run and future earnings expectations.
The Street's Big Q: What are the odds of a positive EPS surprise.
The iconic Italian luxury super and hyper super car maker is expected to post Quarterly EPS of 1.03 its Q-2 report, which represents a Y-Y change of +3%.
Revenues are expected to be $1.08-B, off 0.5% from the year-ago Quarter.
The consensus EPS estimate for the Quarter has been revised 2.51% lower over the last 30 days to the current marks. This is a reflection of how the covering analysts have collectively reassessed their initial estimates over this frame and the stock has pulled back a bit on that negative sentiment
But, keep in mind, opinions by the covering analysts, most often do not always, reflect the the direction of the analysts, most do not understand the company luxury valuations. And because they do not, it is difficult to predict if Ferrari will beat the consensus EPS estimate or not.
Price, Consensus and EPS Surprise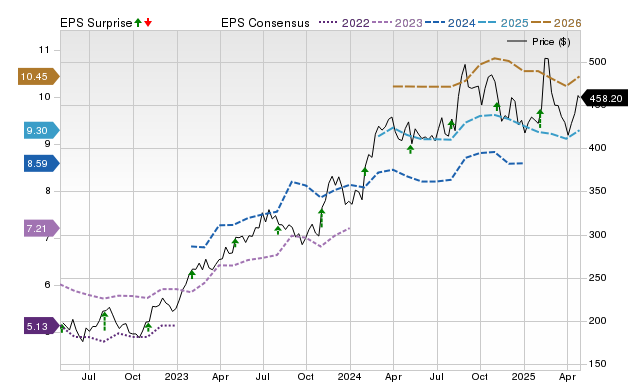 When calculating estimates for a company's future earnings, analysts often consider to what extent it has been able to match past consensus estimates. So, let's take a look at the surprise history for gauging its influence on the coming numbers.
For the last reported Quarter, it was expected that Ferrari would post earnings of 0.89/share when it actually produced EPS of 1.08, delivering a surprise of +21.35%.
Over the last 4 Quarters, the company has beaten consensus EPS estimates 4X.
The whispers that I am reading almost hope that Ferrari not be a compelling earnings-beat candidate. But, investors should focus on other Key factors for buying the stock ahead of its earnings release next week.
Ferrari is the Aristocrat of the automotive sector.
Enzo Ferrari's iconic Italian Supercar manufacturer claimed the title according to the latest Brand Finance Global 500 2019 report launched at the World Economic Forum in Davos.
HeffX-LTN overall technical outlook for RACE is Neutral to Bullish, overhead resistance is at 163.87, and support at 158.69, all Key indicators are flashing Bearish in here. Ferrari finished at 160.14, -4.54 Tuesday in NY.
Ferrari will continue to create value in the long term. Ferrari is a quality 1st long term investment, and I see it at 200/share in that frame.
The final race before the mid-season break is this weekend, with the F1 circus moving to the Hungarian Grand Prix, tune in.
Stay tuned…
The following two tabs change content below.
Paul Ebeling
Paul A. Ebeling, polymath, excels in diverse fields of knowledge. Pattern Recognition Analyst in Equities, Commodities and Foreign Exchange and author of "The Red Roadmaster's Technical Report" on the US Major Market Indices™, a highly regarded, weekly financial market letter, he is also a philosopher, issuing insights on a wide range of subjects to a following of over 250,000 cohorts. An international audience of opinion makers, business leaders, and global organizations recognizes Ebeling as an expert.
Latest posts by Paul Ebeling (see all)