There is a savvy Wall Street adage that advises: "be fearful when others are greedy, and be greedy when others are fearful".
A Key way to measure the level of fear in a given stock is through a technical analysis indicator called the RSI (Relative Strength Index), RSI measures momentum on a scale of 0 to 100. A stock is considered to be oversold if the RSI reading falls below 30 on the index.
In trading Monday, shares of Ferrari (NYSE:RACE) entered into oversold territory, hitting an RSI reading of 27.0, after changing hands as low as 137.73/share.
By comparison, the current RSI reading of the S&P 500 ETF (SPY) is 28.7.
A Bullish investor will look at RACE's 27.0 RSI reading Monday as a sign that the recent heavy selling is in the process of exhausting itself, and begin to look for entry point opportunities on the buy side.
The chart below shows the performance of RACE shares dating to October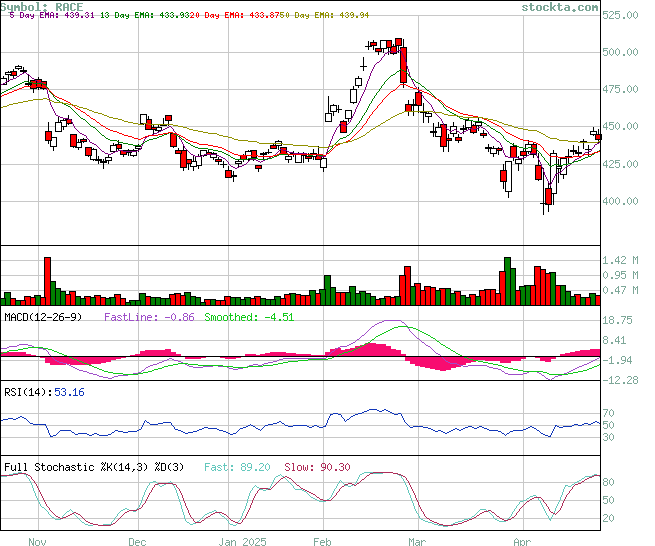 Looking at the chart above, RACE's low point in its 52 wk range is 128.50 per share, with 180.95 as the 52 wk high, that compares with a last trade of 143.00.
Ferrari is the Aristocrat of the automotive sector.
Enzo Ferrari's iconic Italian Supercar manufacturer claimed the title according to the latest Brand Finance Global 500 2019 report launched at the World Economic Forum in Davos.
HeffX-LTN overall technical outlook for RACE is Neutral to Bullish, there is resistance 164.05 and Key support is NIL, 1 of my Key indicators the RSI has turned Bullish as the stock is very oversold in here.
Ferrari finished at 138, -14.28 Monday in NY.
Ferrari will continue to create value in the long term. Ferrari is a quality 1st long term luxury products investment, and I have called it at it at 200+/share long term, adjusting it to 200/share short term and siding with BAML to 230 long term for now.
Stay tuned…