Ferrari (NYSE:RACE) HyperSupercar Production Drives Record Profits
$RACE, $FCAU
Ferrari (NYSE:RACE) projects profit spike of at least 8% in Y 2017 with more Special Edition SuperCars like the $2.1-M LaFerrari Aperta, which boosted revenue and earnings to record highs in Y 2016.
Ferrari's shares to all time highs last week marking 65.12 on Friday, 2 February.
EBITDA (adjusted earnings before interest, taxes, depreciation and amortization) in Y 2017 will increase to more than $1.02-B, the iconic Italian manufacturer said Thursday in a statement. Q- 4 earnings on that basis surged 38%, soundly beating the Street's estimate.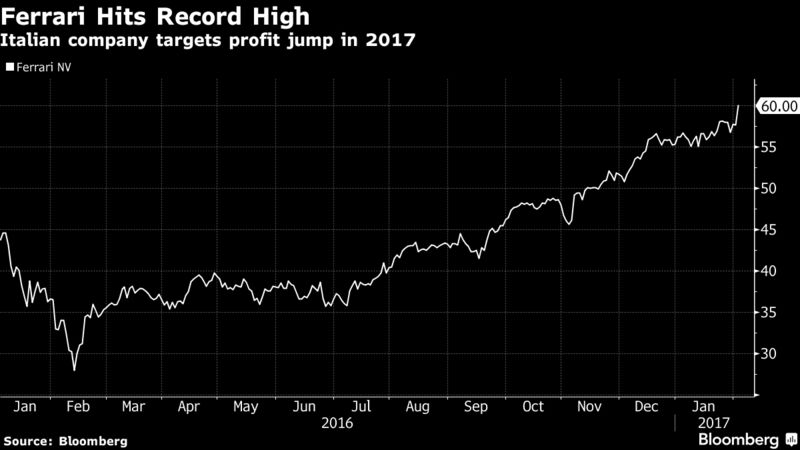 Profitability was a strong Street beat as many investors have underestimated the product-mix impact the world's #1 automobile brand, and the same could be true again for the Y 2017 guidance, with profit higher than expectations.
That said my new price target is 80-85/share this year.
Demand for the LaFerrari Aperta, the open version of LaFerrari, was 3X the planned production run, and sold out on its announcement in September Y 2015.
In addition, this year Ferrari will bring out Special-Edition, 70th anni, versions of its 5-cars lineup, totaling 350 cars.
The strategy is the brain child of CEO Sergio Marchionne to woo the world's elite buyers.
CEO Marchionne's goals for the iconic brand is the continuing expansion beyond Super and HyperSuperCars and challenge luxury retailers like LVMH Moet Hennessy Louis Vuitton SE and Hermes International, he is making headway, and demand for Ferrari's cars has continued to rise.
| | | | | | | | |
| --- | --- | --- | --- | --- | --- | --- | --- |
| Symbol | Last Trade | Date | Change | Open | High | Low | Volume |
| NYSE:RACE | 64.61 | 2 February 2017 | 2.47 | 65.01 | 65.12 | 64.2 | 896,600 |
HeffX-LTN Analysis for RACE:
Overall
Short
Intermediate
Long
Very Bullish (0.51)

Bullish (0.46)

Bullish (0.46)

Very Bullish (0.62)
Have a terrific week
The following two tabs change content below.
Paul Ebeling
Paul A. Ebeling, polymath, excels in diverse fields of knowledge. Pattern Recognition Analyst in Equities, Commodities and Foreign Exchange and author of "The Red Roadmaster's Technical Report" on the US Major Market Indices™, a highly regarded, weekly financial market letter, he is also a philosopher, issuing insights on a wide range of subjects to a following of over 250,000 cohorts. An international audience of opinion makers, business leaders, and global organizations recognizes Ebeling as an expert.
Latest posts by Paul Ebeling (see all)