Ferrari (NYSE:RACE) Hitting New Highs
$RACE
It appears that the stock is pricing in production capacity gains that are realistic, expectations are strong for the world's most recognizable automobile brand during it 70th Anniversary year.
Ferrari (NYSE:RACE) since its IPO in October 2015 has amazed lots of analysts in the automotive sector. Of course they all know about the Formula One racing and iconic brand pedigree which is 2nd to none.
All of those things add to the aura of Ferrari and what makes it so greatest name in the automotive world
There is no car maker anywhere in the world that elicits the same sort of admiration and respect and that in part translates into a higher stock price
Ferrari hit 60.63/share last Thursday, and closed Friday at 59.83, 60 was my target price announced back in mid-2016.
There is light resistance on the monthly at 60.51 and 61.08 and nothing above
The stock is trading at  25X forward earnings and that is a lot for a typical car manufacturer, they trade for 6 to 9X forward PE ratios.
Ferrari is not typical, it is a luxury brand, and perhaps the most recognized in the world. Most people cannot and will  not ever own a Ferrari, but they still can own a piece of the iconic company via the shares.
No other car maker's shares are pricing like a luxury brand. That being the case, I see more to the Northside long term.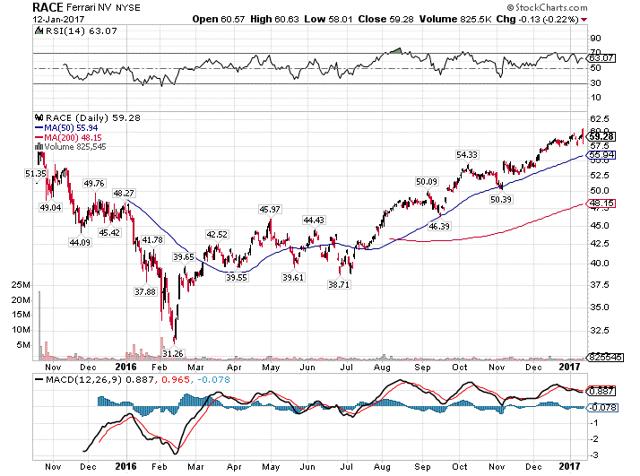 Ferrari has been in an upward trend since last July when it hit a low of 38/share. When it cracked the resistance at 40 I called it a bargain and that has proved correct.
The move is better than 50% in about 7 months.
Several analysts called the IPO a hype, and hammered the stock.
The Big Q: Have they changed their mind?
Notably, early Ferrari car from the 50's, 60's and 70's are the most expensive and sought after in the world.
| | | | | | | | |
| --- | --- | --- | --- | --- | --- | --- | --- |
| Symbol | Last Trade | Date | Change | Open | High | Low | Volume |
| NYSE:RACE | 59.83 | 13 January 2017 | 0.55 | 60.1 | 60.26 | 59.52 | 376,700 |
Heff-LTN Analysis for RACE:
Overall
Short
Intermediate
Long
Very Bullish (0.54)

Bullish (0.36)

Very Bullish (0.58)
Very Bullish (0.67)
Have a terrific week.
The following two tabs change content below.
HEFFX has become one of Asia's leading financial services companies with interests in Publishing, Private Equity, Capital Markets, Mining, Retail, Transport and Agriculture that span every continent of the world. Our clearing partners have unprecedented experience in Equities, Options, Forex and Commodities brokering, banking, physical metals dealing, floor brokering and trading.
Latest posts by HEFFX Australia (see all)