Ferrari (NYSE:RACE) a Bullish 'Battleground' Stock
$RACE, $FCAU, $F
Ferrari (NYSE:RACE) is an issue that I am strong on. On the 60 open the stock was an easy short, but as the subsequent decline bottomed, many analysts turned Bullish on a valuation basis.
Ferrari is not a "me-too"  car company and it deserves a much higher multiple than Fiat Chrysler (NYSE:FCAU) or Ford (NYSE:F).
That Ferrari a an iconic luxury brand deserves a premium is not a debate but how much of a premium is and so Ferrari continues to be battleground stock.
All of my Key technical indicators are Bullish to Very Bullish with a 56.50 price target mid-term
| | | | | | | | |
| --- | --- | --- | --- | --- | --- | --- | --- |
| Symbol | Last Trade | Date | Change | Open | High | Low | Volume |
| NYSE:RACE | 50.12 | 27 September 2016 | -0.22 | 50.08 | 50.65 | 49.87 | 352,100 |
HeffX-LTN Analysis for RACE:
Overall
Short
Intermediate
Long

Bullish (0.31)

Neutral (0.17)

Very Bullish (0.50)

Bullish (0.25
We are about a month from Ferrari's next Quarterly report, and the stock has been preforming very well into the event.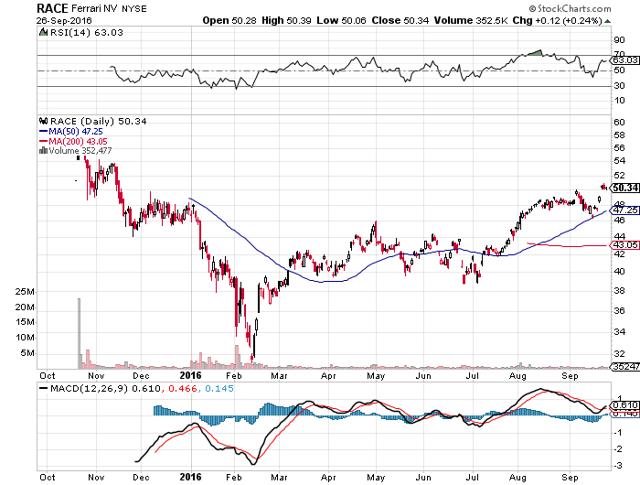 We can see from the chart that RACE has spent the last 4 months or climbing in a straight line after it hit the February low at 32. the stock bounced back into the low 40's extending to its present mark.
Since, then, Q-2 Y 2016 very strong meaning that demand for the stock is coming from elsewhere. That is the tricky part because Ferrari is not a startup it is a $10-B iconic company that primarily gets its revenue from Supercars and expanding into full luxury brand.
Stay tuned…
The following two tabs change content below.
Paul Ebeling
Paul A. Ebeling, polymath, excels in diverse fields of knowledge. Pattern Recognition Analyst in Equities, Commodities and Foreign Exchange and author of "The Red Roadmaster's Technical Report" on the US Major Market Indices™, a highly regarded, weekly financial market letter, he is also a philosopher, issuing insights on a wide range of subjects to a following of over 250,000 cohorts. An international audience of opinion makers, business leaders, and global organizations recognizes Ebeling as an expert.
Latest posts by Paul Ebeling (see all)