Ferrari (NYSE:RACE) Beat Analysts Expectations
$RACE
Ferrari NV's (NYSE:RACE) Q-2 profit beat expectations as Supercar sales in China rose along with plans to boost margins with more Special-Edition vehicles.
Adjusted earnings before interest and taxes jumped 26% to EUR 156-M ($175-M), beating an average estimate of EUR 134.9-M from 7 analysts surveyed. Revenue increased 5.9% to EUR 811-M
 In light of the Q-2 numbers, The profit targets for Y 2016 are looking increasingly conservative.
Ferrari has risen 11% since the beginning of Q-2, compared with a 7.2% decline in the STOXX Europe 600 Automotive & Parts Index, as the company's advance orders help insulate it from economic concerns, such as the UK's vote to leave the EU, that have weighed on the rest of the industry.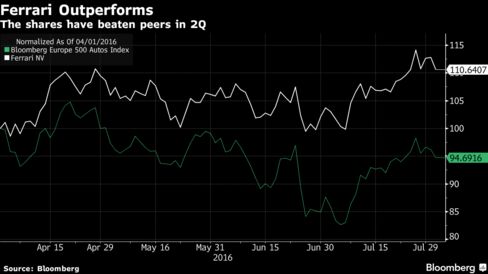 The company confirmed its full-year forecast of adjusted earnings before interest, taxes, depreciation and amortization, aka  EBITDA totaling at least EUR 800-M. Q-2 profit on that basis amounted to EUR 217-M.
Sales in China rose 26% as Ferrari shipped 4,096 vehicles in 1-H,  The company's goal is to sell about 8,000 Supercars this year.
Tuesday Ferrari finished in NY at 4:30p EDT at 46.510, or +0.73 (1.59%) on 1,894,297 shares
HeffX-LTN Analysis for RACE is Overall Bullish
Stay tuned
The following two tabs change content below.
Paul Ebeling
Paul A. Ebeling, polymath, excels in diverse fields of knowledge. Pattern Recognition Analyst in Equities, Commodities and Foreign Exchange and author of "The Red Roadmaster's Technical Report" on the US Major Market Indices™, a highly regarded, weekly financial market letter, he is also a philosopher, issuing insights on a wide range of subjects to a following of over 250,000 cohorts. An international audience of opinion makers, business leaders, and global organizations recognizes Ebeling as an expert.
Latest posts by Paul Ebeling (see all)