Ferrari F1: Vettel, "MercedesAMG is Ahead, My Goal is to Catch Them"
$RACE
Thursday in an interview ahead of the British Grand Prix, Sebastian Vettel said he could not single out an area where Ferrari are losing time to Mercedes and admitted there is "something still missing".
The Scuderia are without a win in Y 2016 and have only outscored the reigning Constructors' champions once this season, when Lewis Hamilton and Nico Rosberg crashed out in Barcelona.
Improvements to the SF16-H have been slow and steady and they now have just three development tokens remaining as Maurizio Arrivabene strives to reignite a title challenge. Asked where Ferrari must focus, Mr. Vettel said they needed improvements across the board.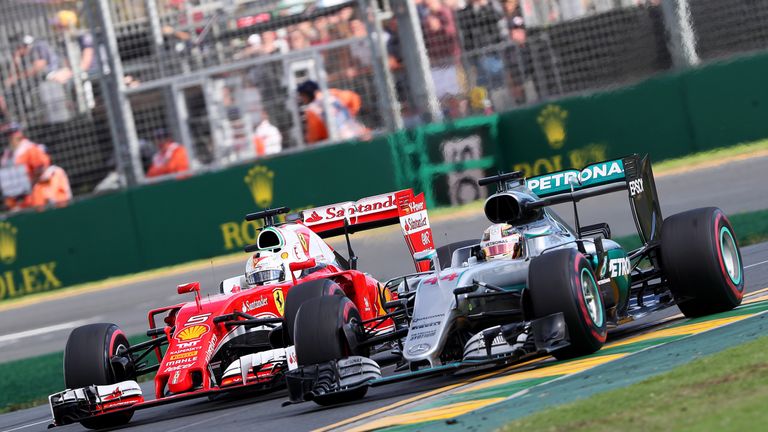 "We need a little bit more everywhere. Slow speed corners is a strong point for us at most tracks, but in high speed we're lacking a bit. Top speed, talking about power, I think we've made massive improvements which you can see but we also know, especially qualifying, MercedesAMG are able to turn it up.
"All of a sudden they have 30 horsepower, or 35 horsepower more. It's something that you see, it's something that you feel. You do not necessarily see it in the sectors, but it's something that is still missing."
However, Mr. Vettel insisted Ferrari had made "phenomenal" progress during his one and a half years on board and he remains confident that their ambition will convert into championships in the near future.
"My goal when I started here was to be part of the Ferrari team that gets back to the top," he added. "Nothing has changed."
Kimi Raikkonen, 36 anni, is now level on 96 pts with his team-mate, helped by reliability problems in the sister car, but echoed Mr. Vettel's views about Ferrari's will to win again.
"We are here to try and win," he said. "It's the same goal for the team, we want to win and we want two cars there, then we can be more happy.
"Until that happens, it's painful."
| | | | | | | | |
| --- | --- | --- | --- | --- | --- | --- | --- |
| Symbol | Last Trade | Date | Change | Open | High | Low | Volume |
| NYSE:RACE | 39.54 | 7 Jul 2016 | -0.55 | 39.8 | 40.23 | 39.49 | 475,500 |
HeffX-LTN Analysis for RACE:
Overall
Short
Intermediate
Long

Bearish (-0.34)

Bearish (-0.35)

Very Bearish (-0.50)

Neutral (-0.15)
Stay tuned…
The following two tabs change content below.
Paul Ebeling
Paul A. Ebeling, polymath, excels in diverse fields of knowledge. Pattern Recognition Analyst in Equities, Commodities and Foreign Exchange and author of "The Red Roadmaster's Technical Report" on the US Major Market Indices™, a highly regarded, weekly financial market letter, he is also a philosopher, issuing insights on a wide range of subjects to a following of over 250,000 cohorts. An international audience of opinion makers, business leaders, and global organizations recognizes Ebeling as an expert.
Latest posts by Paul Ebeling (see all)